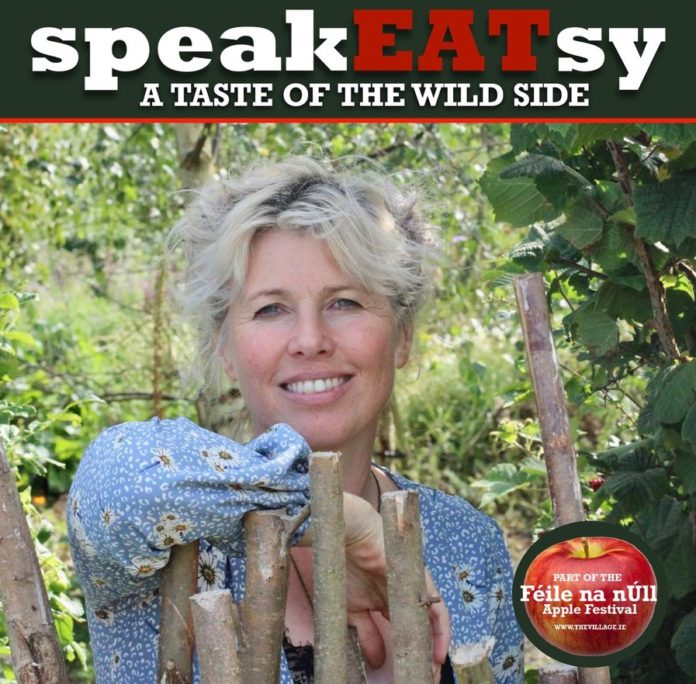 Join Mary Reynolds and Ella McSweeney in conversation for a very special upcoming SpeakEATsy on 21st September in Cloughjordan Ecovillage, from 7PM.
Tickets €40 (€35 early bird).
SpeakEATsy features an incredible locally sourced meal, poetry, live and DJ music, and, as a centrepiece, a compelling conversation between two people who are really worth listening to. This time, we are excited to announce reformed landscape gardener, Chelsea Flower Show winner and founder of the We Are The Ark global movement Mary Reynolds will be interviewed by Ella McSweeney of RTE, BBC and the Guardian.
We Are The Ark is a new movement to allow and encourage nature to re-emerge in the spaces we have available to us – our gardens, our parks, wherever land is not being used for food or amenity. In a context of climate and biodiversity collapse, We Are The Ark has rapidly grasped the imagination of people the world over. It stands for Acts of Restorative Kindness, and Mary will discuss her motivation in establishing this now global initiative with Ella. Launched in March of this year, We Are The Ark facebook group already has over 7000 followers, and is helping create ARKs the world over, from Vancouver Island to Thomastown to Tasmania 600 have already been established..
Our September SpeakEATsy will treat the ears and feet too. It features music from Deirdre O'Leary, clarinettist with renowned music collective Crash Ensemble, which has performed in The Royal Opera House (London) and Carnegie Hall (NYC). Performance poetry with award winning poets Sarah Clancy (The Truth and other Stories) and Mel White (Extinction Rebellion) will engage us with searing, soaring, striking words that resonate with the times we are in.
To finish Pressure Drop DJs Ollie and Paul will play global roots music to earth us all into fierce dancing and wobbly prancing so necessary for a complete evening out!
Don't forget the grounding of it all – an incredible, super-local super-natural multi-course meal. A joint venture between the Cloughjordan-based windfall apple juice company the Night Orchard and the Cloughjordan Community Farm, the member owned and operated farm which provides weekly veg for 80 families in the region.
21st September is already Cloughjordan's Applefest day, and Europan day of Sustainable Communities – a great day to visit Cloughjordan.
This speakEATsy is guaranteed to see out, so we really encourage you to book early – when you can also avail of a discount! Saturday 21st September from 7PM in the WeCreate centre, Cloughjordan. Book now, to guarantee your slot. BYOB.