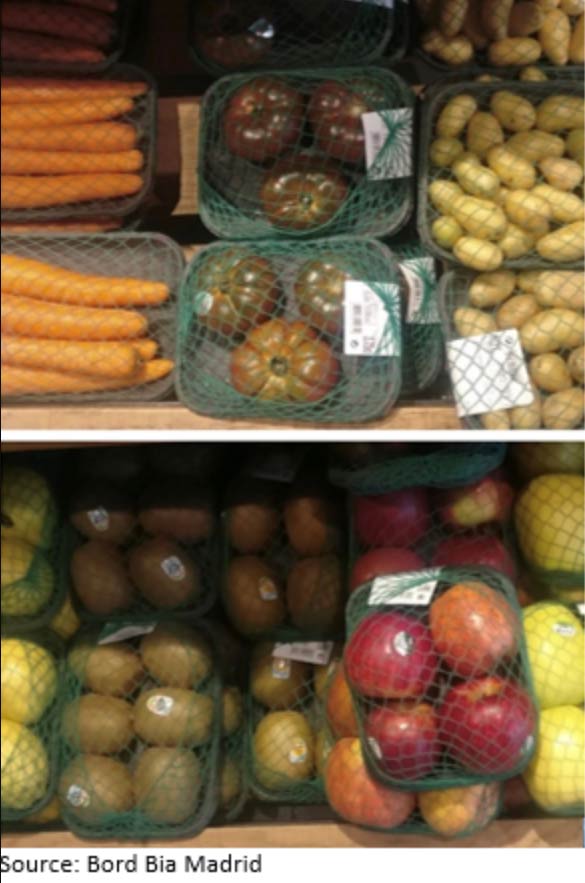 The War on Plastics is a global issue constantly present in the media and in our daily lives as consumers. A hot topic that was highlighted recently in a food alert by my colleagues in the German Market and that is gaining traction in the Spanish market also.
At a recent event organized by Danone in Madrid, Sander Defruyt, manager for the New Plastics Economy initiative of the Ellen MacArthur Foundation stated that "Eight million tons of this material, both versatile and polluting, end up in the oceans every year. If we continue like this by 2050 there will be more plastic than fish in the sea." At the end of 2018, this organization launched a global commitment in collaboration with the UN, which was joined by 250 companies, many of them multinationals like Danone. The objective: that in 2025 100% of the plastics they produce are reusable, recyclable or biodegradable. "The need is clear, the global system needs to change and all parties must collaborate," adds Defruyt.
Many claim that recycling is not enough. We must strive to first prevent the waste from being generated which is forcing manufacturers to rethink their designs and look to innovate with new materials that still comply with food safety requirements.
Global manufacturers such as Nestlé have pledged for its part that 100% of its containers will be recyclable or reusable by 2025 while working on new proposals: for example in Spain, they have launched a Nesquik product in a paper bag and their first recycled PET water bottle.
Key retailers in Spain are also facing up to the challenge. According to a Greenpeace Spain report published in January, Eroski is the most committed supermarket in Spain to reducing its plastic footprint.
Lidl eliminated plastic bags for purchase last year and have introduced in its 23 stores in the Balearic Islands – a measure that will expand throughout the country – bio compostable bags for its fruit and vegetable section. The German company ensures that the plant materials used for its production imply a CO2 impact three times lower than the conventional ones.
Carrefour has launched a new initiative in its centers to reduce packaging consumption and encourage the use of reusable packaging. Since March 2019 it is permitting customers to use their own containers to make purchases at the deli, butcher, fishmonger and fruit sections and will eliminate plastic bags for fruits and vegetables in their Bio stores. The measure, called #Reutiliza, (#Reuse) corresponds to action 101 of the Act for Food program, which includes concrete initiatives to help the consumer eat better and aims to make the company the leader in the food transition. The containers must be transparent with a lid and can be both glass and plastic. Once the products are weighed, they are wrapped in paper, labeled and served in the customer's packaging. In the case of bulk fruits and vegetables, the consumer may use their own bag or transparent mesh.
Finally, Alcampo (Auchan Retail Spain) have also introduced new reusable mesh bags to the range of solutions they are developing to reduce the consumption of plastic. The mesh bags for bulk fruit and vegetable purchase were being trialed in their Hypermarket store – Alcampo de Pio XII in Madrid initially and will be available in all Alcampo centers with free service fruit and veg sections in the coming months.
The new mesh bag is washable and ensures by its composition the food safety of the products it holds. This bag adds to the range of solutions that the company has put in its lines to favour the reduction of the consumption of plastics, such as paper from sustainable forests, which it included in the last quarter of last year. Auchan Retail Spain started a plan in 2009 to reduce single-use plastic bags, withdrawing them definitively in February 2012. Taking a further step, in 2018 it stopped distributing slogan bags, avoiding the use of 100 tns of plastic annually.
A global demand in which more companies are striving for excellence, both home and abroad, in order to fight against the war on plastic. Our own client companies who are verified members of Origin Green will be familiar with these initiatives as signing up to the Origin Green Sustainability Charter means you adhere to promote best practice in the design, implementation and reporting of environmental and sustainability practices.
Sources:
https://www.ellenmacarthurfoundation.org/our-work/activities/new-plastics-economy
http://www.infopack.es/es/noticia/nuevas-bolsas-reutilizables-para-el-mercado-de-frutas-en-alcampo
https://elpais.com/sociedad/2019/06/08/actualidad/1560007670_224020.html
https://es.greenpeace.org/es/trabajamos-en/consumismo/plasticos/ranking-de-supermercados-contra-el-plastico/
https://www.foodretail.es/retailers/carrefour-medidas-contra-plastico-envases_0_1307569234.html
https://www.origingreen.com/en/what-is-origin-green/charters/?_ga=2.106606979.1859682139.1565944612-1299329797.1516205927