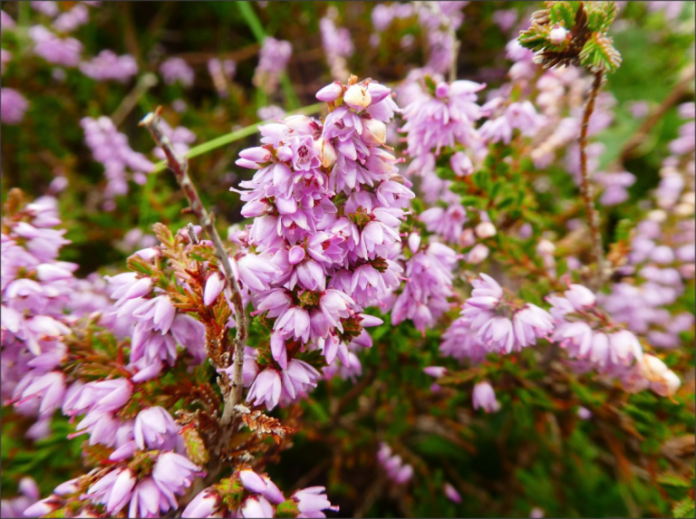 A very significant milestone was reached over the weekend when the number of records submitted to Ireland's Citizen Science Portal in 2019 passed the 100,000th mark. The 100,000th records was of heather (Calluna vulgaris) from Valentia Island [grid ref. V387774] on 22nd August, 2019 submitted by Margaret Cahill. It was appropriate that this milestone was reached during Heritage Week, 2019 for biodiversity is an important and increasingly threatened aspect of our natural heritage.
2019 has seen a phenomenal rate of recording of Ireland's biodiversity, with on average almost 3,000 records having been submitted each week since the start of the year. This includes 31,498 records of plants, 27,084 birds, 12,255 butterflies and 5,618 of mammals.
This huge rate of recording is tangible proof of the growing interest that Irish people have in biodiversity and reflects the concern for nature in light of our biodiversity emergency.   The more high-quality data that we have about biodiversity the stronger is the case that can be made for its conservation.
Ireland's Citizen Science Portal https://records.biodiversityireland.ie/ provides an easy online system for people to submit records so that everyone can contribute to building the knowledge base on what species we have, to better understand how they are distributed and how these distributions are changing. In addition to helping to build a national picture of Ireland's species, anyone who submits biological records can view and map their own data, thereby having access to their own personalised online record management system.
When informed that her record of heather was the 100,000th record submitted to the Ireland's Citizen Science so far in 2019, Margaret Cahill gave us an insight into what the recording of biodiversity means to her.  'I record for two main reasons. The first is to keep in touch with and learn about the natural world around me, learning about flowers, insects and other creatures, noticing when certain flowers blossom, what habitats suit one butterfly over another, and seeing the differences in biodiversity across various areas and habitats in Ireland. Recording also gives me an added push to get out and explore the countryside and places I haven't been to before. I now plan my holidays to include visits to wildlife sites like Abbeyleix Bog, the Burren, Pollardstown Fen and Lullymore Bog this summer'.
'The second reason I record is to contribute to the national data collection that is maintained by the National Biodiversity Data Centre. We need evidence-based legislation to protect our biodiversity and recording and analysing current data is an important first stage in that process. Harnessing the power of nature lovers around the country like myself allows us to contribute to the work of the centre's ecologists, scientists and policymakers in this invaluable way. I'm very proud as an amateur to have contributed 974 records across 320 different species from 6 different counties so far this year. I've learned an incredible amount while doing that and it only makes me want to learn more, find more and record more'.
The remarkable growth in recording activity over the last 12 months reflects the growing interest in nature and biodiversity shown by individuals and local communities across the country, according to Dr. Liam Lysaght, Director of the National Biodiversity Data Centre. 'Across all aspects of our work, from the activity of biodiversity recording, to participation in our training workshop programme, to demand for our publications and just even from the increased level of calls for information to our office, people are engaging more and more with biodiversity, which is wonderful to see and needs to encouraged.'  'You cannot conserve what you don't know you have, so we are very pleased that so many recorders are using Ireland's Citizen Science Portal to build a detailed picture of biodiversity in their locality', Lysaght added.
Ireland's Citizen Science portal is available to be used by anyone; if you see a species of note and are sure of its identification, please submit the details to https://records.biodiversityireland.ie so the observation can be added to the biodiversity database. This will allow us to continue to build the knowledge base on what species we have in Ireland and to better understand how they are distributed.