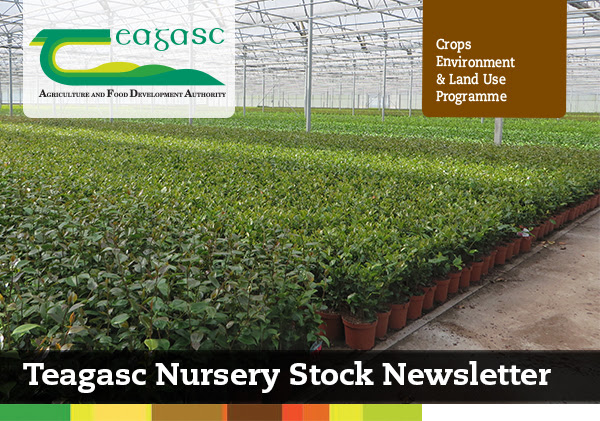 I hope that you, your family and colleagues continue to stay safe and well during the pandemic. As always I'm heartened by the support growers get from each other. Seeing multiples place large orders with Irish growers leading up to Easter and Irish nurseries buying from each other to fill these orders will help some to alleviate a serious crisis for the sector.
Garden centres continue to see very strong online trade. Sales volumes that can be handled over the phone or online are small compared to an open store but it is welcome to see stock moving. Many centres are taking different approaches and interpretations to the official guidance.
Landscapers have been guided by ALCI that in some circumstances landscapers may continue their work See https://www.alci.ie/news-and-events/item/103/advice-to-members-during-covid-19-restrictions 
Teagasc continue weekly briefings to DAFM of the situation in horticulture including labour. I will continue to keep in touch with as many as I can to report the impact on growers. It is important that on the ground information is available to relate to them.
European  situation
The Dutch government has committed to a €600 million support package for the horticulture sector. Royal Flora Holland reports "The first 30% of the drop in turnover is considered an entrepreneurial risk. The remaining 70% of the damage will be compensated to a considerable extent". Garden centres and nurseries in the Netherlands continue to trade relatively freely. All of Germany now has Garden Centre and DIY stores open as the only 3 regions to close them have now reopened. Austria and Denmark have implemented a gradual return to work with Garden Centres open while maintaining social distance etc- Austrians now need to wear face masks when shopping, in garden centres. Belgium has allowed its garden centres to trade in advance of a step down of its restrictions, this was aimed to make their extended restrictions more bearable. Belgian retailers are not due to reopen until May 3rd. All UK garden centres remain closed to the public for a further 3 weeks with massive pressure on their online sales and distribution channels.
Digital future – and summer at home
Reports from other European countries that are reopening some businesses are that unsurprisingly footfall is significantly down. As people gradually adjust to going about their business they may decide to avoid busy places, and picking quieter times or places for their shopping, or staying online.
In Ireland, it was reported by Wolfgang Digital that in week 15 online traffic rose by 58% and online revenues were up 200%. These trends will have time to bed in and become new habits during the lockdowns. Wolfgang Digitals assessment of the online trend of sales is "2020 is preparing to host "the summer of the garden party". Last week saw pint glasses, sun loungers and trampolines flying off the shelves in advance of the sunny long weekend. It is expected restrictions on small gatherings will be among the first to be eased while restrictions on bars, restaurants and events among the last." The analysis suggests a benefit to growers and garden centres with strong demand to continue. "This paints a picture of the nation enjoying vibrant "at home social activity" this spring and summer. We expect spend to follow consumers into their homes and gardens." With significant restrictions to licensed events announced on April 21st, entertainment and socialising looks set to take place in the home this summer. Cancelling of large events like the RDS Horse Show will invariably have an impact on bedding growers.
Bord Bia Market Insight Reports, as part of their Understanding COVID 19 actions, are updated every few days and highlight trends in a range of sectors in Ireland and further afield.
Teagasc Horticulture Development Department have a range of specific relevant documents and information available in response to COVID-19.
See Teagasc COVID 19 Information and Advice for horticultural producers
Horticulture Sector Recruitment Campaign
A national recruitment campaign has begun with the aim of recruiting a large number of temporary workers for the horticulture sector from the Live Register within Ireland.
DAFM and Teagasc, with the support of Horticultural producers represented by IFA, have partnered with DEASP to support this development.  As an employer looking for horticultural workers, you can participate in this recruitment campaign by following the link directly below. We will pass the information to DEASP every few days so that they can seek to match people to the open positions in your business.
See Seasonal Workers Recruitment Campaign
---
UK trade restriction in Xylella hosts and other plant health controls
DEFRA regulations came into force for England in April 21st, however, there are reports of challenges to this by the European Commission. Under the new measures, the import of Coffea and Polygala myrtifolia is prohibited, with stronger import requirements for other high-risk hosts (i.e Olive, Almond, Nerium Oleander, Lavender and Rosemary). The restrictions also see changes to prevent Elm yellows disease and Emerald Ash Borer. To date, none of these pests or diseases have been reported in Ireland.
---
Pest and disease
As plants develop quickly at this time of year, it's important to keep a regular check for pests and disease. Early detection of the pest, in particular, will allow timely intervention with biological control agents.
Aphids
Aphids will become increasingly troublesome as temperature rises. As they can produce eggs and live young, their numbers build quickly. A once their numbers are high the spring they quickly spread to fresh stock. They can damage growing points and leaves by feeding, their honeydew excretion is food for sooty moulds. High levels will damage flowers emerging and reduce the salability of the crop.
IPM  requires identification of the aphids to match appropriate controls. Early introduction of predators on banker plants that can support young populations with nectar and pollen as well as non-damaging aphids that do not thrive on ornamental species i.e. grasses.
The use of rolls of yellow sticky traps and in particular rolls of sticky traps increases in each year. They are a simple and cheap system for the monitoring and control of flying insects. They should be used at the same level as the crop for maximum efficiency
Biological options vary with parasitic wasps, lacewing, ladybird and predatory midge ( it needs 15+hours of daylight which is roughly May 1st.)
For specific recommendations and advice contact on the selection of plant protection products please contact me or your advisor.
Vine weevil
Adult weevil are emerging and causing damage to foliage
IPM  control requires good housekeeping to be effective; separating old and new stock, eliminating intermediary hosts, regular disposal of waste compost heaps.
Nematode control is generally focused on late summer, however, AHDB research indicates earlier regular low rate applications may be more effective
In the last few years, nighttime spraying has become more popular as a strategy to control nocturnal adults. health and safety of working outside of office hours on your own should be considered.
Some ULV sprayers or foggers have been used on timers making a safer application and minimising risk to the user. Products such as Naturalis/Botaniguard are well suited to this application system.
Fungicide
Chlorothalonil which is a  broad-spectrum fungicide will have a use-by date is fast approaching. From May 20th products such as Bravo 500, Daconil, Fielder, Fezan Plus, Folio Gold etc. will not be permitted.
These products can be used now in your fungicide programme while still permitted instead of being left with the product for disposal, which is very expensive.
See full list on PCS web site of products being withdrawn, and the summary below.

Plant protection products.
Met 52 production to end. 
I've been informed by the Met 52 distributors in Ireland, NAD, that the Vine Weevil control product will no longer be made by the manufacturer. There are sufficient supplies available for growers for the next few months.
There are no plans for its removal from the PCS listing so there are no use up guidelines.
A new Vine Weevil control product based on the active properties of garlic should be available in Ireland shortly. ICL are manufacturing Pitcher which can be sprinkled on pots surfaces for egg and young larva control. Details to follow once its registered.
PCS- COVID 19 sanitisers and disinfectants
The PCS have developed useful resources of information on products for the prevention of the spread of COVID-19. It includes lists of products and guidance if developing a product for sale.
---
Weed control – Oxalis 
This minor but troublesome glasshouse weed can be extremely difficult to control. It is highly effective at spreading- its seed pods are explosive and the seeds are sticky, helping them to disperse easily. The rhizomes are hard to remove effectively from pots or even in noncrop areas under benches etc. Good housekeeping, eliminating cracks and crevices where ever possible and strict early control are essential to stop it growing. In many cases, the only option of control is dumping of stock and thorough cleaning of beds- using contact nonselective herbicides control new seedlings in noncrop areas.
The Michigan State University Oxalis fact sheet (pdf) will be useful to growers who have seen this weed on their nursery.
There are limited chemical weed control options available in Ireland that will control seeds germinating under protection or in the field. Contact me for further guidance.
---
Netherlands Fleuroselect trials event cancelled
The week 24 summer event had seen a major increase in visitor numbers especially from overseas, including Ireland. This year as the event has been cancelled there is an online presentation of new plants and products.
Online newsletters are available that showcase the 50+ exhibitors' stock. It may be of interest if growers looking to diversify their supplier lists or seeking out some new stock.
SCSI/Teagasc Agricultural Land Market Review and Outlook Report 2020
Average national land prices fell by 6% year on year in 2019 driven in the main by a decrease in the prices for dairy, beef and cereals. The Society of Chartered Surveyors Ireland / Teagasc Agricultural Land Market Review and Outlook Report 2020 found the average price of an acre nationally without a residence was €8,823 in 2019. This compares to a national average of €9,346 in 2018.
The main findings:        
Nationally average land prices fell by 6% in 2019
Average price of an acre nationally without a residence in 2019 was €8,823 compared to €9,346 in 2018
Rental values were up in most categories in 2019 – by up to 14% and 12% respectively in the case of potato and cereal cropland relative to 2018
Short-term economic impact likely to be quite negative, but the agri-food sector should be one of the first to see the benefits of a return to normal activity.
Long term land leasing factsheet Teagasc advice
Teagasc have also produced an advice factsheet for long term leases. This will be of special interest to field trees producers as the tax benefits are encouraging for the landowner to rent for a longer period.
---
SEAI Energy Academy – Report by Barry Caslin Teagasc
The Sustainable Energy Authority of Ireland (SEAI) launched the SEAI Energy Academy, on the 1st of April to Irish businesses. It offers free online training courses on energy efficiency and management. Through these courses, businesses and their employees can learn about effective energy management and behaviour change which can help lower energy bills spend by as much as 10%. On registration, users will be auto-enrolled to a relevant course tailored to your business sector, which will take a maximum of 2 hours to complete. Completion of this course leads to a certificate for each learner.
Alternatively, you can choose to complete an individual module. The modules take an average of 15 minutes to complete and those currently available include: Energy and Climate Change; Business Energy Efficiency; Energy Technologies; Electric Vehicles; Electricity Bill Analysis; Behavioural Change; and an exciting Home Energy Challenge (suited to all potential users).
More information on the SEAI Energy Academy is available in the press release which is attached.
To register for any of these courses go to www.seai.ie/energyacademy
Business Briefing Webinar
SEAI are also hosting their second Business Briefing of 2020 on Tuesday 28th April at 12:30 pm via webinar. Please see below the agenda and if you would like to register to attend please click here.
Agenda:
12:30 pm – 12:35 pm: Fergus Sharkey, Head of Business and Public Sector Department at SEAI
 "SEAI's response to COVID-19- supporting businesses during this time."
12:35pm – 12:45pm: Andrea Carroll: SME Programme Manager
"Introduction to the SEAI Energy Academy and an update on business supports."
12:45pm – 13:00pm: Maeve Morrissey: SME Programme Executive
"Live demo of the SEAI Energy Academy"
13:00-13:15pm: Q&A
Teagasc Advisory – Nursery Stock & Ornamentals Newsletter April 2020