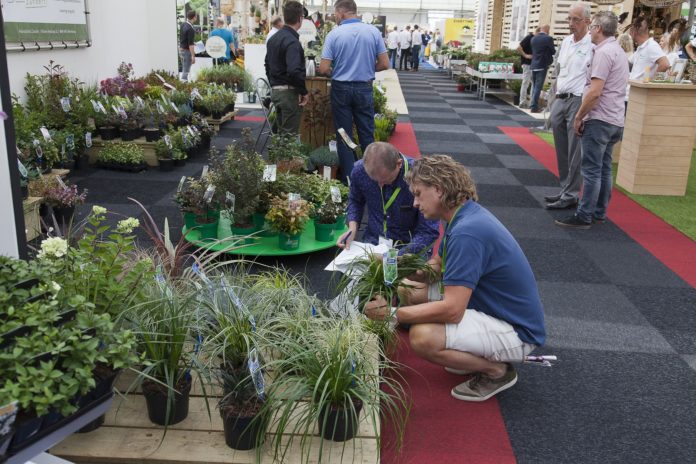 Plantarium 2018 is almost fully booked, there are only a few places still available. The first registrations for the novelty showcases and the press award have been received. "As an organisation, we are happy with the progress of the registrations. We notice that the sector is once again in a positive flow", says trade fair manager Jos van Lint.
"Of course, a lot of things still have to be arranged over the coming months, but a positive mood makes this even more of a pleasure. We notice that the participants are also enthusiastic about their participation and they are already very busy preparing for their participation in the trade fair", says Van Lint.
Royal Flora Holland team
Recently, Plantarium launched an appeal for 11 growers to take in a special position at the trade fair. Royal Flora Holland, in the person of Hans Vlekken, reacted spontaneously and will take up this special position with 11 growers. These are: Andre van der Burg Plantenkwekerij, Arno Gerdes, Hemmje Baumschule, Huelsmann Baumschule, Je-Deco, Boomkwekerij Laban, Lehei GMBH, Boomkwekerij 't mannetje, de Meyer, Saterplant GMBH and Warnken Baumschule.
Making good use of additional space
De Jong Tuinplanten from Made has also already started preparations. They are specialised in the growing of a large assortment of ground cover garden plants in pots. "This year, we have a slightly larger stand than previous years, and we want to make the most of these additional square meters. Apart from our current assortment, we will prominently display our novelties, which we have also registered for the novelty showcase", says Piet de Jong.
Technology
Agricom from Langbroek is a new participant as a supplier. During the trade fair, they will re-introduce the Combi-trac, a light machine which is imminently suited to container fields. "The Combi-trac can be widely used because it can be driven on both firm and loose ground. Thanks to its low weight and with optional double air at the front and the four wheels at the back, the machine is very suitable for driving on the container field", says Hans van Blokland. "The hydraulic turntable ensures that the Combi-trac is very manoeuverable, and with the bespoke forked rake for pots and the pallet fork, the machine can be used in a multifunctional way at the nursery." The Combi-trac will be put through its paces on the outside demo-square.
Largest stand ever
This year, Arie Bouman Tuinplanten B.V. will be prominently present at Plantarium. With over 250 m2, their stand is the largest stand they ever had at an external trade fair. But then, they do have a lot to present. Dennis van Willegen was happy to give us a glimpse:  "At Plantarium, we will be presenting two totally new rose concepts. The first line is to replace the current concept, which has already been around for about ten years. The second concept has a limited number of varieties, super high-end and an amazing way of presenting. A way which has never been seen in the plant world! Both concepts will have a brand name, but we are keeping those under wraps for now. Our aim is to work with the best varieties of the known rose-breeders, in order to contribute to the ultimate garden experience of the consumer.
Plantarium 2018 will be held from 22 to 24 August 2018 at Denemarkenlaan 9, which can be reached via the familiar car park at the Greenpark Boskoop. A few places are still available. Information and registration forms can be found on www.plantarium.nl. Registration is done on a first-come-first-served basis if locations are still available.