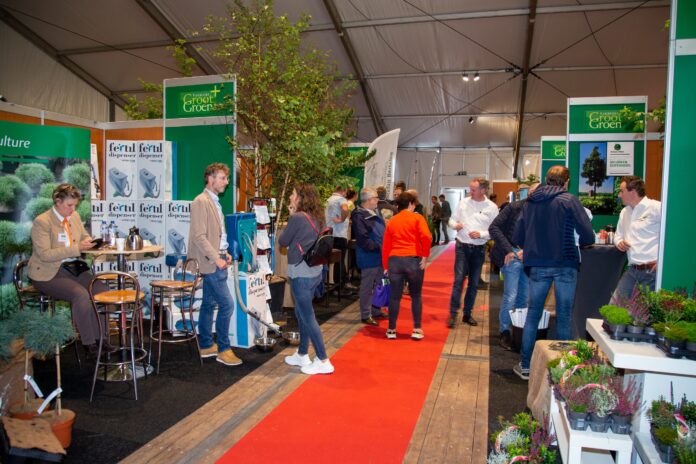 It took two years of preparations to bring GrootGroenPlus 2021 to fruition. The digital edition of 2020 resulted in a lot of lessons, which helped inform this year's hybrid event.
And on 6-8 October, the vision became reality: a 31st edition of the GrootGroenPlus trade fair, combined with a digital program and very expansive participant profiles, including a search engine of the current stock of all participants. This search engine will remain active for a few weeks.
Transit location
As of July, a trade fair setup was chosen that included transits, 1.5-metre distance, one-way traffic, and a food terrace. Even though, just before the trade fair, corona passes made it possible to maintain the old setup of the trade fair, the decision was made to stick with the new plan.
This turned out to be the right decision; approximately 35 to 40 per cent of all those who were attending the trade fair, cited this as their reason. People are still very careful, and flu season has started. GGP has never taken any risks, but made some careful decisions to take more measures than strictly necessary.
Satisfaction
Many participants and visitors have been asked about their experience, and they were all very excited to be able to see each other, to see the living products, to smell the products, to be able to meet clients and drink a cup of coffee with them. The audience felt welcome. The ticket registration had to be shut down twice, because the maximum number of visitors for that moment was reached. The atmosphere was great again, and that is what GrootGroenPlus is known for: an excellent relationship platform.
Warm blanket
As additional security measures, staff, organisation, and shuttle drivers were tested daily. Professional businesses were hired for cleaning the toilets and smooth surfaces. There were many stewards to manage the flow of people. Wednesday started with a bit of rain, but Thursday and Friday were sunny and warm. And even though this edition cannot be compared to other editions, it really felt like a warm blanket – the feeling that all the attendants were familiar with. The terrace offered a nice vibe.
Visitors and participants were positive and satisfied. Participants were proud to be able to show their products again and tell people about them. The trade fair had 220 participants, with a route of 1 kilometre. A little less than normal, due to the limited number of square metres and rules for maintaining the flow.
There was a technical area, novelties, and award ceremonies for multiple awards, such as the Jan van Dongen and Jac Lodders Awards, the Zunderts Groen Imago Prijs, the Boomfeestdag label, the medals for novelties and the KVBC Awards.
Hybrid
Every day had a great program. Like always, Thursday was again the busiest day. On Friday, the group was a little smaller, but of high quality. Many visitors and participants were also active at social media, which caused a great buzz. Of course, there was an online program during this event, which can also be found in video, photos and words on the website, the trade fair app and the web app.
The external press tours can be viewed through the YouTube channel.
It was obvious that everyone was happy to see each other again. The number of international visitors was also striking. Many countries and languages were represented. Tree growers, architects, garden centres, gardeners, and traders knew how to find their way to the participants. Does knowing the numbers and percentages make a difference? It is a special, one-time edition. Not to be compared with previous years, and hopefully not with future editions. However, to give an idea: on Wednesday, 32% of all visitors were counted, 38% on Thursday and 30% on Friday. 30% of all visitors were international, of which 42% from Belgium, 12% from Germany, 7% from Poland, 6% from France, 4% from England, 3.5% from Ukraine, 3.5% from Italy, 2.5% from Denmark. The rest was divided over another 22 countries. Of the trade visitors, 60% indicated to be owner of the business in name of which they visited the trade fair. 49% were growers or producers, the rest suppliers, technical, government, education, gardeners, green organisations, and architects.
Thanks
GrootGroenPlus is very grateful for the patience and involvement of participants, suppliers, and press. Without them, it could not have been done. Grateful for the confidence of the thousands of visitors. They visited the participants en masse, and were very welcome, which made everything a success.
Now, it is possible to register for Groenbeurs Zundert on 19 and 20 January 2022
and trade fair GrootGroenPlus on 5-7 October 2022, using the registration forms
here.