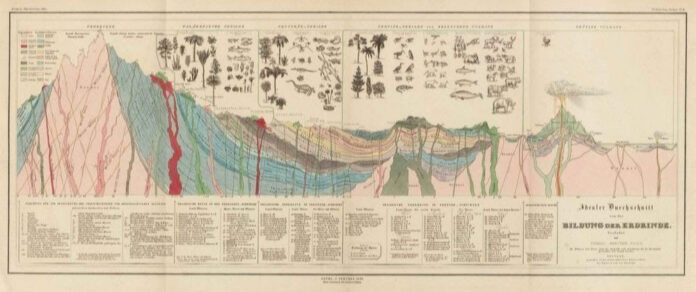 Alexander von Humboldt (1769 – 1859) 
Visionary ideas on the web of life and holistic thinking a few years ago, I stumbled across the book "The Invention of Nature – The adventures of Alexander von Humboldt, the Lost Hero of Science" by Andrea Wulf. A few chapters in, and I was Googling to check if it wasn't fiction; I couldn't believe I had never heard of this guy. The sheer quantity of incredible expeditions he took and avenues of exploration he pursued in his life, from geology to botany, biology to chemical make of things, was almost unbelievable. He meticulously recorded everything in the landscape, the species of every visible living thing, the altitude, air pressure, and even the sky's blueness.
Although celebrated and influential during his life, the Prussian adventurer von Humboldt has in some ways been forgotten by history, even though he has mountains, rivers, oceanic currents and even a penguin named after him. He was ahead of his time and railed against the rise of reductionist thinking. He believed the natural world operated as a whole – and saw the earth as one great living organism with an infinitely complex web of connections. He laid the groundwork of the science of ecology and inspired many, including Darwin, who had all his books (heavily dog eared with notes in the margins) with him on board the Beagle.
Von Humboldt had an insatiable appetite for knowledge and recording. While travelling the world, he was also reputed to have an incredible memory for the tiniest fact and details of previous recordings. He invented isotherms and plant climate zones as a way of connecting commonalities across regions.
He observed that the colonialist activity of the Spanish in South America, clearing land and monoculture plantations, were directly impacting the local climate, affecting the water cycle and causing flooding. Circa 200 years ago, he was the first person recorded to highlight human-induced climate change.
Evident by the beautiful illustration above, his cartography skills would stack up with the best infographic designers today. Both cataloguing flora and fauna and describing the geological, mineral, and water cycles in one powerful image.
The most powerful thing about von Humboldt and what is most relevant to organic producers is his worldview, the connectedness of everything, how all forces of nature are interlaced and interwoven, and how he viewed the whole earth as a living organism. His influence during his lifetime was the foundation for much of what we still aspire to today.
---
In Memory of Aroul Aarts


Aroul Aarts was born in the Netherlands. His mum is from Surinam, of Indian heritage, and she built a home wherein food was central – delicious home cooking, traditional family gatherings, elaborate meals. It's not too far of a stretch to see how Aroul would come to set up Purple Squirrel Farm years later with his partner, Rachel Waldock.
Aroul studied communications and media before coming to work in Ireland. Although he was excellent at his job, the office environment and routine did not suit his free spirit. He decided to try WWOOFing and found himself based in Creagh Castle, in Doneraile. Rachel had been studying photography in Scotland, so when she joined him there, it was their first opportunity to plan for their lives together. (They met through a mutual friend, on an evening's swing dancing!) After WWOOFing, they travelled in South America for 6 months, using the time to learn yet more about sustainability and organic farming. They eventually wound up back in Scotland for another stint on an organic holding there.
The couple had a simple goal, which was to create a healthy, sustainable, low-impact life together. A quiet life. The walled garden of Creagh Castle seemed like the perfect location. With an open-minded and willing landlord, in 2018 the couple decided to put everything they had into building their dream. They lived within the walls of the garden, with their ducks, and Purple Squirrel Farm became their purpose.
Organic growing suited Aroul's philosophy perfectly. He believed in systems being right from the bottom up and he had identified the many flaws in current agricultural policies. To his mind, no two pieces of land are the same, and therefore, should not be treated the same. He had become massively interested in fungi, so much so that he eventually wanted to grow mushrooms. But first, he wanted Purple Squirrel to excel at vegetables and he wanted to practice his theories on fungi through the slow transformation of the soil via no-dig. The soil in the walled garden was never turned, simply added to. For a hard soil structure, the results were slow, but, over time, the soil was becoming easier to work. Rachel says they were learning so much about themselves too, as part of the natural order. More and more, the couple were embodying the belief that we, as humans, are not separate or superior to nature. Through their craft, they were able to subscribe to the idea of being kind to themselves, their customers, their land and through taking care of their immediate surroundings, contribute to greater overall care for the environment.
Aroul died tragically on 7th July 2021, at the age of 36.
His and Rachel's friends and colleagues at NeighbourFood Cork set up a GoFundMe page to support Rachel with farm labour for the coming months. People came to help with the harvest. Messages of grief and sadness flooded the farm's social media, from all over the country. Overwhelmingly, these messages speak to Aroul's kindness and warmth, and this is validated by his friends, who say he was always the one to go to for a proper conversation, for an honest or forthright response, for help. He was a giver, they say. They were mad about him.
Aroul's parents took him home to the Netherlands, celebrating his short but brilliant life with a Hindu ceremony in their garden. Rachel says he was her teacher. He taught her, in many ways, how to deal with life. She says that he had a simple way of looking at things, which made their life together interesting and easy and complicated, all at once. His favourite quote was Frank Egler's –
"nature is not more complicated than we think: nature is more complicated than we can think".
---
BioFarm 2021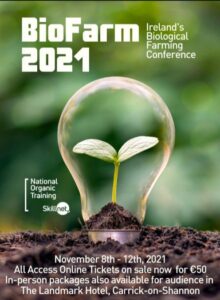 Ireland's Biological Farming Conference – is back for the fourth year! The highly-anticipated conference will take place across five days from November 8th – 12th, 2021.
Like 2020's Conference, all 5 days will be streamed live online, with "All Access" online tickets for just €50 for Irish residents. However, there will also be a small in-person audience in The Landmark Hotel in Carrick on Shannon each day. These tickets are limited, so please book ASAP to ensure your place!
Each day of the conference will have a specific theme centred around Biological / Regenerative farming and will feature the usual high-level mix of Irish and international farming experts.
Click here for more details, updates and ticket sales.
We have 4 renowned international speakers confirmed so far – with many more to come!
Zach Bush, MD (USA)
Dr Christine Jones (Australia)
Nicole Masters (New Zealand)
Emma Nayulima (Uganda)
Jim Cronin (Ireland)
Gerry Gillespie (Australia)
Josiah Meldrum (UK)
Iain Tollhurst (UK)
Miah Smith (New Zealand)
Cathal Mooney (Ireland)
Klaus Laitenberger (Germany)
Mike Harrington (UK)
James Foley (Ireland)
Dr Jim McAdam (N. Ireland)
Clive Bright (Ireland)
Sean Condon (Ireland)
DANÚ Group (Ireland)
Talamh Beo (Ireland)
Robbie Byrne (Ireland)
Sean McGloin (Leitrim)
We also have four exciting guest hosts on hand to chair each of the days live in Carrick-on-Shannon:
Manchán Magan
Ella McSweeney
Philip Boucher Hayes
John Gibbons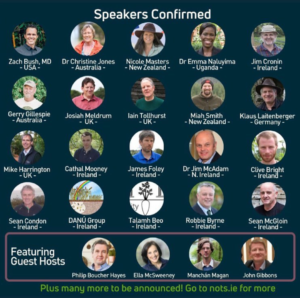 ---
The Irish Agroforestry Forum is Hiring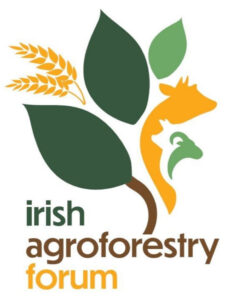 Are you interested in being a pivotal part of the future of agroforestry development in Ireland?
The IAF offering an exciting part-time post of
Agroforestry Project Coordinator
Click here for a link to the full job specifications.
---
Applications for Trees on the Land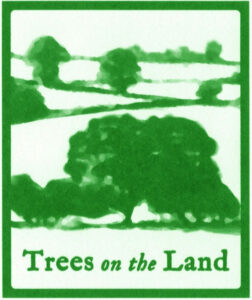 Trees on the Land is a cross-border initiative working to establish young native trees across the 32 counties of the Republic of Ireland and Northern Ireland. They run an annual tree planting event with trees distributed and planted between December and March each year. Applications for trees are now open for the Winter 2021-2022 planting project.
Application Deadline: Applications for trees will close at 6 pm on Friday 8th October 2021
For more about the project and details for making an application are on the website at this link.
---
Online Gardening Course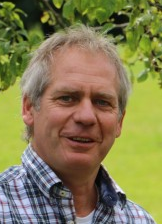 Klaus Laitenberger is giving an online gardening course for beginners and semi-advanced gardeners who want to learn how to grow some of their own food – vegetables, salads, herbs and fruit. Professionally filmed, the course will be packed full of tips, demos as well as some theory.
Ten 40-minute classes, starting the 3rd week of September, will run every fortnight until mid-February.
With the option of a follow on course from February to May to accompany gardeners throughout the growing year.
For more info, click here