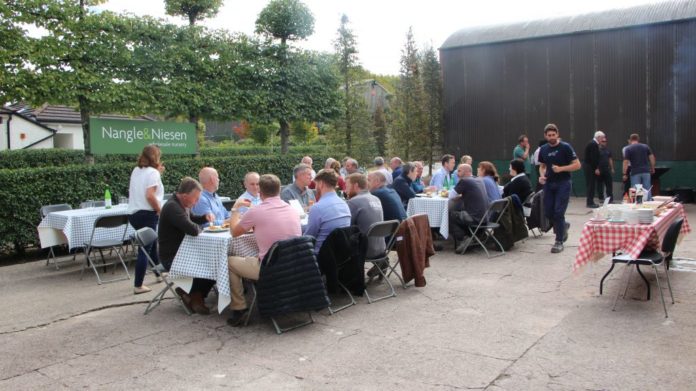 Nangle and Niesen held their second annual open day at their nursery in Aherla, Co Cork on Wednesday, September 25th October which again proved to be very successful.
Attendees were significantly up from last year and were drawn from both the public and private sectors with local authorities, landscape architects, garden designers and landscape contractors all well represented. Ronan Nangle led the nursery tour with visits to the fields to see the amenity and ornamental stock, their multistems and newer plantations, and the mature specimens. The tour also took in the extensive clearance, advanced soil improvement techniques and replanting works that are on-going in the nursery.
Practical demonstrations included the process of lifting and rootballing trees, lifting of bare root trees with an examination of the vitally important fibrous root systems and correct tree care techniques. Discussions centred on the importance of correct nursery practices like transplanting, effective pruning and overall crown development, and how this provides for a much stronger healthier tree well suited to Irish conditions. Lunch on the day was centred on the barbeque with venison burgers from our own deer stock and organic salad from nearby Robinson's Organic Farm, Toons Bridge mozzarella and local Mealagulla Orchard apple juice and cider.
Lifting of their rootball and bare root stock for sale will begin in earnest from the beginning of November. Nangle and Niesen welcome enquiries from both trade customers and the private sector and visits to the nursery are always welcome by appointment.
More at nangleandniesen.ie ✽