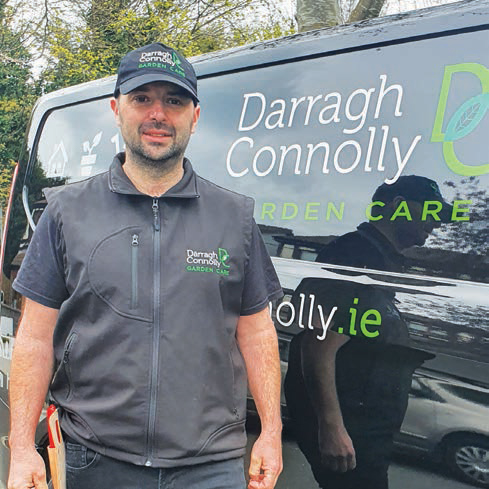 Barry Lupton talks to Darragh Connolly of Darragh Connolly Garden Care about finding the path to his business model, succeeding through the pandemic and taking time for family
---
Landscape and garden maintenance can be a tough job and a tough market in which to
make a healthy margin. To be successful these days, you either need to scale up, box clever or stand out. One operator who reckons he's found the right pitch is Darragh Connolly of Darragh Connolly Garden Care. With an experienced team, a solid service offering and returning customer base, he's making a name for himself as the man to go to for bespoke maintenance solutions. Despite hectic work commitments, he found time to
share thoughts on his business journey.
B. What inspired you to pursue a career in horticulture?
D. For as long as I can remember, I was into nature and the outdoors and my parents were florists and owned a floristry business, so I was always around plants, flowers, and horticulture. When filling out the CAO form during 6th year, nothing appealed to me until I came across a horticulture course in Ringsend, so I started my studies there, which led
to going to Writtle College in the UK.
B. Looking back, how do the initial ideals of horticulture compare with the realities of setting up and running a business?
D. Maybe the ideal of working in horticulture is working in shorts on a hot summer's day, in a nice garden and living the dream, but setting up a business and implementing your
business plan is a different thing altogether, it is rewarding but it's hard work. You must be driven, focused, and determined to face daily challenges and overcome them. You must have a huge element of flexibility as plans change, but you will get there in the end. Having
a plan is the key to business success. Starting out, I'm not sure I had an ideal of what a horticultural business should be, but if I look back from 20 years ago to what I am doing now, I would say that I'm doing exactly what I wanted to do.
B. You achieved your horticultural qualifications through Writtle College in the UK? Why choose the UK over Ireland?
D. I was introduced to Writtle College while undertaking a PLC Horticulture course in Ringsend. We were invited to go and have a look at the college and its facilities and once there, I thought the college was amazing and nowhere else in Ireland was offering the same.
B. How did you go about setting up a business when you returned to Ireland?
D. I came home after college and worked for various landscapers for a couple of years, learning on the job. I then set by myself, as jobs came in. At that time, I didn't really specialize in anything. I bought a van from my dad, saved up for a mower, a strimmer, a
blower, added a few tools such as a hoe and a spade and off I went. I have never had a day without work from that day, even through the last recession. I believe if you are willing to work, are open to learning, if you are driven and can take some knockbacks, you can succeed in anything. I believe in living life to the fullest without any regrets.
B. What would you say were the key lessons in those early years of operating?
D. Work hard, show up when you are meant to show up and do what you said you would do.
B. You changed your business focus around a decade ago, why?
D. I used to do design, build and maintenance like a lot of others, but struggled doing all of them well. I knew if I were to succeed, I would have to focus on one area and decided on care and maintenance for designed, high-end gardens. I thought garden maintenance was more scalable than trying to do everything and I prefer the maintenance sector of the industry. My background in horticulture has trained my eye for the level of detail required in a high-end, designed garden.
B. One of the challenges of running any modern business is having a USP (Unique Selling Point). What's yours?
D. I was talking to a business consultant friend a long time ago and she suggested offering different design and build packages. I thought about this and figured that there were too many variables involved but I was sitting on the sofa on a rainy afternoon in January
(we all know these days!), when I had my 'Eureka' moment, which was to package garden care and maintenance plans to suit the client's garden requirements. So we package our
services by using time and man hours to create the package, ranging from bronze, silver and gold to diamond and platinum and starting from 1.5hrs x 2men to 1day x 3men. My job is to assess the needs of the client and build the package. We let designers design,
landscapers build, and we care for and maintain. We're experts at what we do, and we focus on that.
B. How do you promote your business?
D. Our clients do most of our promotion. Our mission statement, which is on our vans, is Building Business Through Client Referral and Satisfaction. We also do a lot of online activity via several websites and all the usual social media platforms. I believe branding is important, so all vans are branded with our logo, and all staff wear black branded jackets,
hoodies and T-shirts. This is great for brand building and presents a nice company identity. We cluster deliver flyers around where we are working, ten up ten down type of thing.
B. Where do you see the key opportunities for your business over the next five years?
D. My five-year goal is to get recognised as the go-to company for the care and maintenance of high-end gardens and to evolve each garden into a great space which the client can enjoy and that we are proud to call one of our gardens. Another focus is to become known for our garden health programme, a lot of people ask designers for low
maintenance gardens but the plants used are high maintenance such as box, bays, yews and so on. We have developed a garden health programme to feed plants, fertilise lawns and condition soil, as a service to our maintenance customers and for other customers, as a three times per year service. We also have a team called 'The Garden Concierge', who do the jobs that the care teams can't get to; replanting pots in a garden, planting bulbs in the
Autumn etc. A great thing about The Garden Concierge is that if a client is having a party or a get-together, they can call us for an extra visit or to plant that dash of colour.
B. How has the pandemic impacted your business?
D. The pandemic has been tough for every business. There has been a great degree of uncertainty and not knowing where it ends has been difficult. Gardening seems to be the new thing, so it has been a thoroughly busy time, especially with inquiries. I try to get
back to every inquiry that comes in and sometimes this has been a struggle. The person has taken time to reach out to us so the least I can do is get back to them. The pandemic has brought Health and Safety issues also and our safety statement had to be edited due
to Covid-19.
Every year as a business we set turnover and profitability targets to
meet. This year it's a case of getting through the period and being ready to drive on when it ends. The closure of business has been tough, but it does focus the mind and you get time to do stuff that you normally wouldn't have. I think this pandemic has hopefully thought us a lesson to slow down a touch and focus on the important things in life.
B. What measures did you have to put in place to keep your business afloat?
D. I have used cash reserves to keep the business afloat, it's a case of 'suck it up', I think. The positive is that it makes you realise that you have a sustainable business and can crack on when it's over. It's all about communication with clients. We kept everyone informed
about our plans for after the pandemic by sending emails on a regular basis. Along with updates, I gave lots of gardening jobs to clients to carry out and received lots of gardening questions from clients. It was nice to sit down and answer them.
We have tried our best to keep employees in bubbles, so that if one member of staff contracted Covid it wouldn't shut the whole business, just that bubble. We have two staff
members per van to reduce risk and each vehicle has PPE; masks, wipes, disinfectant sprays, and sanitizer. The pandemic has been hard, trying to keep business going and staff happy with their working environment. We have kept in touch with the ALCI over the
pandemic and have taken their advice on board.
B. What, if any, positives have you noted during the pandemic?
D. I used the lockdowns as a positive. The first lockdown I did some things that you wouldn't normally get a chance to do, such as setting up a YouTube channel, Darragh Connolly Garden Care, and re-doing our website and writing blogs. I also took the time to go through the hoops with the bank to set up direct debits facilities for customers. It's handy for the client but it took time to get it done. I also set up an online store for garden tools as I was getting asked about the hand tools we use. So I took the opportunity to create sets of garden hampers which are now for sale on dcgardencare.ie. I am really excited by this project.
During the second lockdown, I was also the head homeschooler. I am happy to announce that my talents lie in horticulture!
B. What is the most rewarding aspect of your work?
D. I like stepping into a garden that hasn't been cared for and bringing it up to what it should be. I also really enjoy building relationships with clients. We get to know each
other and that builds trust. We are often around for family milestones such as communions, confirmations, weddings etc so that's nice. In addition, seeing customers using their gardens excites me, gardens should be used.
A very rewarding part of my work is meeting a designer during a garden build. We have developed a service called Garden Plus, we get to know the garden, the designer, and the client during the build so we can step in and care for it upon completion. It's a seamless process that is going well.
D. I have always enjoyed being an ALCI member and it's like everything, you get out what you put in. The future, I guess, lies in a healthy active membership to achieve and maintain high standards in the horticultural industry. Being a member of ALCI offers opportunities for peer support and networking.
I think more young professionals should join the ALCI as it's an invaluable resource. I like that you can be sitting beside people who run the biggest landscape companies in Ireland and they are so open to chat. I recently had this experience and appreciated it so much.
It focused my mind on where I am going with the business. Plus, being a member
ensures that you carry out work to the highest standards.
B. It seems to be increasingly challenging to achieve a healthy, work-life balance. How do you manage?
D. It's an important area of life and I try hard to find this balance and hopefully do. I'm married to Nicole with three kids, Sam 15, Freddie 13, and Rose 11. I bring the kids mountain biking every week and yes, they are better than me! I like to windsurf too. Hobbies are important as it gives you time out. It's essential to book in your down time. I guess I work hard and play hard.
As a self-employed business owner though, you are always on call. But it's important to remember you can let calls go to messages, book a time in the day to listen to them and call back where necessary. For years I worked on Saturdays, but since the start of the pandemic I no longer do. It took me a long time but it has made a huge difference to my work-life balance. As I said, horticultural life is a busy one but also brings great joy so it doesn't feel like work to me, which is the key to life.
B. If one of your kids expressed an interest in pursuing a career in horticulture, what advice would you give them?
D. One of the main reasons for building my business was to give the kids the opportunity to take over, if they showed an interest. I think a career in horticulture is a good choice in life as the work is very rewarding and creative. Too many people these days clock in and out without any enjoyment. Yes, we deal with bad weather and so on, but if I was to give advice, I would recommend a career in horticulture to my kids. ✽