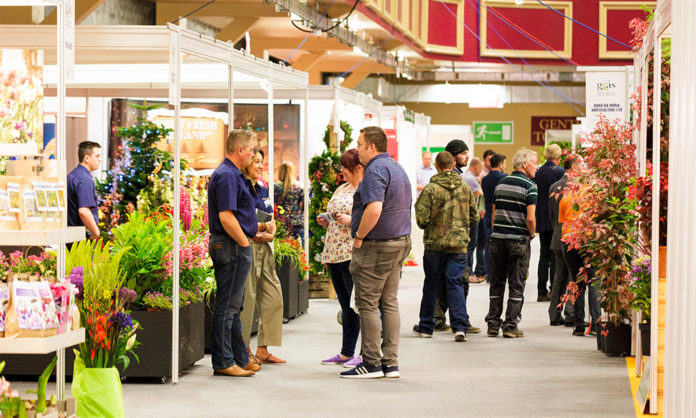 It is now just under one month until Ireland's largest horticulture trade show – GLAS. The Garden Landscaping and Amenity Sportsturf trade show will return once again to the Citywest events centre and hotel in Saggart, Co Dublin, on Thursday, July 19, from 9 am to 5 pm.
In 2017 the event, which showcased a sold-out show of 145 exhibitors, focused on its core value of bringing together market and industry leading professionals with just under 1,000 people attending the show from all areas of the business-to-business horticulture trade industry.
E-ticketing
This year, as GLAS strives to continuously improve and innovate, e-ticketing will now be an option available to attendees. GLAS is a free-to-enter trade event. While attendees can register at the door, it can get busy, so save time by bringing your already completed visitor registration form. Click here to access the registration form.
Organise Meetings
Another key feature available to attendees is the facility to set up and organise meetings with the exhibitors that you want to meet and discuss business with.
The ability to plan and organise meetings now benefits both attendee and exhibitor. From an attendee's perspective, the ability to secure a business meeting while attending a trade show is of immeasurable importance.
From the exhibitor's point of view, they will now be able to dedicate time to an interested party when it suits them.
A major problem at trade shows can be the inability to dedicate time to one potential customer without losing out on time with another potential customer.
With this service now debuting for GLAS 2018, exhibitors will be able to comfortably set aside a portion of their day at GLAS to meet with those interested in their business and not miss out on others.
Be sure to make the most of the service available to all at GLAS 2018. The entire exhibitor list is now live, listed A-Z, and beside each exhibitor's name is the ability to schedule a meeting with them. Simply select "Meeting Request" and fill out your details. You will find the full exhibitor list here.
Latest Exhibitors
Skoda Ireland, Excelerate, Caragh Nurseries, Herbst, and Whelehan Crop Protection are the latest to add their names to the list of those exhibiting at GLAS 2018.
Skoda need no introduction as one of the most respected car brands in Ireland; Excellerate provide high-performance wrapping solutions, specialising in the horticulture industry, with all of their products being 100% recyclable; Caragh Nurseries stock and deliver a fantastic range of trees plants and shrubs to complement any domestic or commercial landscaping project nationwide; Herbst Software is a leading Irish business management software provider, offering specialised and fully integrated ERP accounting software for industry; and Whelehan Crop Protection is one of Ireland's leading distributors of high-quality, branded garden products to the retail sector in Ireland.
Bord Bia
Supporters of GLAS, Bord Bia will be showcasing at GLAS so be sure to make the most of Bord Bia's Insight and Innovation services at their state-of-the-art Thinking House pavilion.
The Thinking House gives Ireland's horticulture industry unrestricted access to the latest global trends, research, consumer insights, and industry innovations.
The "Living Room" and its adjacent viewing room, allows Bord Bia to conduct qualitative focus and discussion groups, while the library presents invaluable access to a wide range of databases and reports that would heretofore have been financially prohibitive to source for many small to medium-sized companies working in the industry.
Bord Bia's Insight and Innovation services are open to all Irish producers, and a number of nurseries have utilised its brand development programme over recent years, with two projects currently in progress.
Visitors are invited to pre-register. Anyone wishing to exhibit should go www.glasireland.ie
GLAS 2018 is 'proudly supported by Bord Bia'.