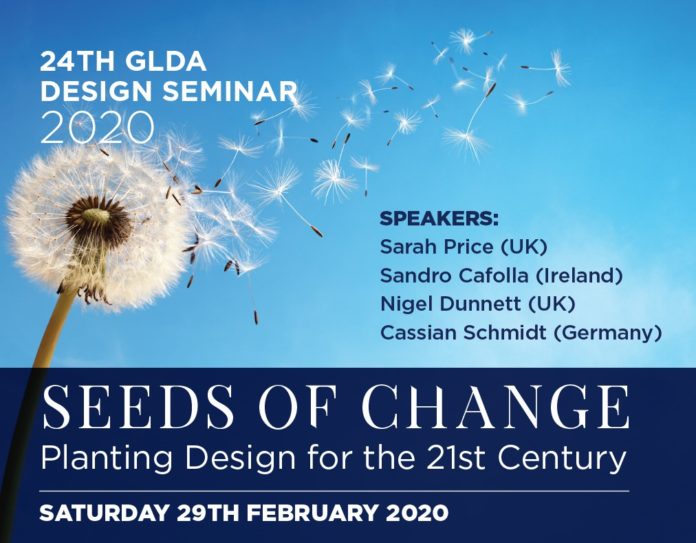 SPEAKERS ANNOUNCED FOR "SEEDS OF CHANGE – PLANTING DESIGN FOR THE 21ST CENTURY"
THE GLDA 24TH INTERNATIONAL GARDEN DESIGN SEMINAR
In a world where climate change is increasingly a reality in our lives, our gardens should be a haven for biodiversity and a refuge from the world, not only for ourselves but for the rest of the wildlife with whom we share the earth. It is something we all aspire to, but the reality can be somewhat different. Every plant we plant produces plastic waste in the form of pots and labels, our composts may contain peat, and the plants we choose may have travelled long distances bringing with them the risk of introducing alien pests and diseases. The issue of maintenance may influence us towards increased use of hard landscaping rather than wildlife-friendly alternatives.
Trying to be greener isn't easy and it leaves us with many questions:
Has the prevalence of pot grown plants influenced our entire approach to planting design?
Are there other ways to plant or perhaps sow a garden that would produce a more self-sustaining plant community attractive to wildlife?
When planted, how do we maintain that garden without the use of pesticides and herbicides?
Is the maintenance of a wilder more biodiverse garden more difficult?
Does nature herself have the answers?
Our speakers this year will help us to explore these questions and will address some of the challenges. They will share with us the knowledge gleaned through years of research, experimenting and working with plants, seed mixes and plant combinations. Cassian Schmidt (Germany), Sandro Cafolla (Ireland), Nigel Dunnett (UK) and Sarah Price (UK), all work at the cutting edge of planting design and they will share with us their insights into new approaches to resilient and biodiverse planting for the 21stCentury.
We are delighted to announce Bloom as our main sponsors this year. Bloom is now in its 14th year and showcases the very best in garden design and horticulture. Attracting more than 115,000 visitors each June Bank Holiday Weekend, the Show Gardens, which are created by some of Ireland's top garden designers, are the heart and soul of the five-day Bloom festival, offering visitors a taste of the latest planting and design trends in Ireland. In addition, plant inspiration comes from the Plant Village and the Nursery and Floral Marquee.
Visiting Bloom is a must for garden designers, landscape architects and landscape contractors, so the involvement of Bloom, as a sponsor in our cutting-edge Seminar 'Seeds of Change -Planting Design for the 21st Century is all the more fitting.
Cassian Schmidt  www.sichtungsgarten-hermannshof.de
Sandro Cafolla  www.wildflowers.ie
Nigel Dunnett  www.nigeldunnett.com
Sarah Price  www.sarahpricelandscapes.com
"Seeds of Change – Planting Design for the 21st Century" takes place on Saturday 29th February 2020 at Crowne Plaza Hotel Dublin, Northwood Park, Santry, Dublin 9.
Tickets available to purchase on www.glda.ie
Tickets: GLDA Full Members, Pre-Reg & Friends €95
Non-member & Friend membership for the year €145
Non-member €120
Students €55 (includes membership for the year)
Group of non-members (min 10) €110 pp
DON'T DELAY – BOOK TODAY!