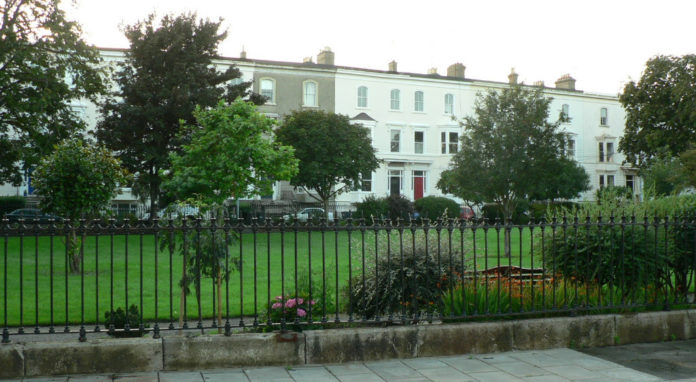 Dublin Garden Squares Day moves to Dún Laoghaire this year with a half-day seminar hosted in The Studio – DLR Lexicon theatre. It will feature local and international speakers focusing on the historical evolution of Dún Laoghaire-Monkstown within the wider context of garden square development in Europe.
The seminar will be followed by a walking tour of Victorian Dún Laoghaire with well-known artist and historian, Peter Pearson.
The event is free but booking is required. Full programme and booking details below.
SEMINAR PROGRAMME
09:30
Registration
09:45
Welcome & Introduction
Geraldine Walsh, CEO, Dublin Civic Trust
09:55
Garden Squares of Dublin
Graham Hickey, Conservation Director, Dublin Civic Trust
10:25
Historic Development of Dún Laoghaire
Laura Johnstone, Architect & Ph.D. candidate
University College Dublin
10:50
Managing Parks & Squares of Dún Laoghaire-Rathdown
Ruairi O'Dulaing, Senior Parks Superintendent, DLR County Council
11:20
Tea/Coffee Break
11:45
From Pleasure Ground to Garden Square – Belgrave Square, Monkstown
Rebecca Jeffares, Landscape Historian & Hon. Secretary, Dublin Civic Trust

12:05

The Locals' Perspective – Managing Change
Justin Tuite & Ross Cahill O Brien
Architects & residents of Clarinda Park & Crosthwaite Park

12:35

'Square Pegs & Square Holes'
Chris Sumner, London Parks & Gardens Trust
13:05
No Pasaran – Taksim Square Istanbul
Ozlem Gul, Taksim Square, Istanbul, Turkey
13:30
Close
14:30
Guided Tour of the Squares of Dún Laoghaire
Led by Peter Pearson, Artist & Historian
Meet at the north door of DLR Lexicon near Brambles café
Light refreshments are served at 11:20. Lunch is not included.
This seminar event is free but places are limited and strictly by booking only.
Date: Friday 22nd June 2018
Time: 09:45-13:30 (registration from 09:30)
Location: The Studio – DLR Lexicon, Dún Laoghaire, Co. Dublin
Location Map: https://goo.gl/maps/Nbnz7Uuzsov
Dublin Garden Squares Seminar 2018 is generously supported by:
A Dublin Civic Trust event