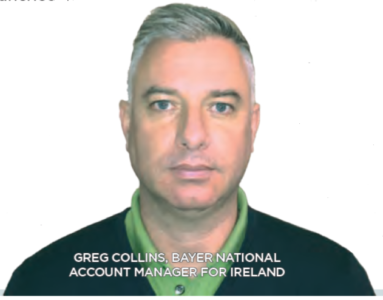 Bayer's latest new fungicide to be launched in Ireland introduces a radical preventative approach to disease management, offering a new active ingredient and new chemical group to the turf industry.
Greg Collins, Bayer national account manager for Ireland, says Signature® Xtra Stressgard® is Bayer's most advanced turf formulation to date and has been scientifically proven to maintain overall plant health, providing consistency of playing surfaces and increasing golfer satisfaction.
"This new active ingredient fosetyl-Al combined with Stressgard® Formulation Technology has been engineered to optimise the product's performance and to tackle two of the most prevalent golf course diseases, Microdochium Patch and Anthracnose."
Signature® Xtra Stressgard® is the first true systemic fungicide to offer shoot to root protection.
"This fully systemic solution allows the fungicide to move up the plant's xylem, and also down into the phloem. This means plants are healthier and better equipped to combat disease and mitigate stress," explains Greg. ✽