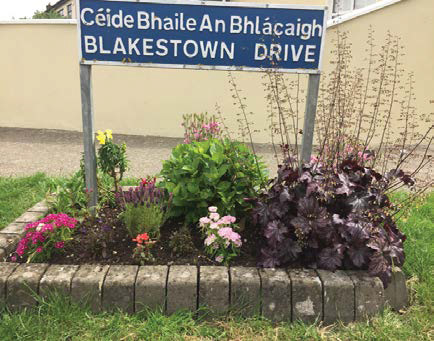 In 2016, Rachel Freeman wrote of the role of horticultural education within communities in Ireland and the wide ranging benefits for community, students and the industry. In this follow up article she reviews the impacts of those engagements five years on.
The 2016 article described a community project with Blakestown Drive Community Group with horticulture students from Technological University Dublin Blanchardstown Campus, focusing on the role horticulture education can play in wider society, on the benefits of learning for students outside the university and for the community and local school. The article also highlighted challenges and positive social impacts of community green space. In the period since much has changed, and looking at the impacts five years on there is much more to consider, this green educational injection into the local Dublin 15 community had a ripple effect few could have imagined. But in order to look forward we must first look back.
The first year students of September '15 engaged in a community horticulture module as part of their practical learning, which was unusual as this was off campus in Dublin 15, with a community and school, acting as the client. Community engaged learning is unique in allowing students to engage in learning in a real world environment, with a real client. Outside the shelter of the classroom, they encounter challenges that provide opportunities to hone their skills, work as a team and engage in problem solving. They become familiar with the iterative process of developing a project, with the added complexity of doing it with a client, and in the community. Students took the opportunity to design and build, working alongside their client at all stages of the process, and transferred knowledge, allowing the community to maintain the space once finished.
The Dublin 15 community, the Blakestown Drive Community Group (BDCG), seized the opportunity to learn from and to share knowledge with students. Multiple benefits for
participants were realised, from socialisation for older residents, sharing an apple pie and cup of tea with the students and community members, to schoolchildren and the students connecting. Among other things, the students demonstrated ground preparation, planting, watering, seed sowing and pruning, promoting learning. This allowed the school and community to grasp the learning opportunities, and take the learning forward. The school children and their teachers raised seed and planted their school garden and the community worked on their garden, improving the aesthetic of what was once a litter black spot, creating a beautiful garden which not only enhanced the entrance to their road, but also linked and enhanced the school entrance. The placement by the university of its teaching and learning in and with the community was a catalyst for change and even changed one community member's life course. Michelle Maiben who now works in the landscape sector, and enjoys it immensely, shares her story:
'For as long as I can remember, I have had an interest in what I now know is horticulture! At the age of 11, I successfully grew lettuce sown straight into the ground. From then on I was hooked. In secondary school I studied agricultural science and enjoyed it immensely. After finishing school, it didn't occur to me that a career in horticulture could be a career option. I didn't know what horticulture was at that time. Over the following twenty five years the garden was where I felt happiest. Even before I decided to study horticulture in college, I would research the latin names for plants and cultivation techniques. As my knowledge grew so did my desire to keep learning.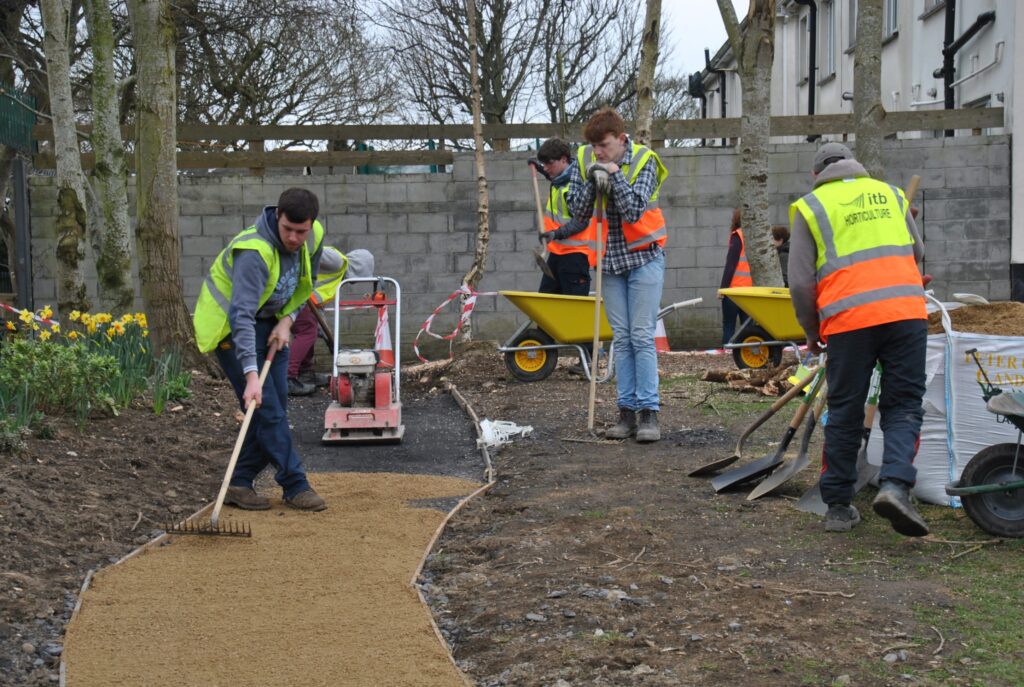 My decision to study horticulture as a mature student was prompted by my involvement in a community project with Blakestown Drive Community Group and students from TU
Dublin Blanchardstown Campus as part of their horticulture in the community module. After speaking with the students, I decided to enrol for the following semester in September
2016. At that time I was also at a crossroads in my life. My youngest child was 8 years old. I needed to return to work after taking a 5 year break. The prospect of returning to
office work did not appeal to me.
Being a mature student was a pleasant experience. Studying something you have a real interest in is not a chore. Although studying full time whilst parenting alone was quite
difficult at times, my determination to learn, succeed and be a role model for my children spurred me on to graduate in May 2020 with a level 8 Honours degree in Horticulture'.
Blakestown Drive Community Group (BDCG) have connected and shared the knowledge gained over the past 5 years with other community groups throughout Dublin 15
through their Community Connect partners.
Scoil Mhuire Junior and Senior Blakestown, Clonsilla Road, Blanchardstown Dublin
This school garden is within a large site hosting two primary schools, surrounded with groupings of large, mainly deciduous trees, all tagged, assessed and labelled. Sited within this boundary are an assortment of open grassy areas, hard surface play space, and several smaller dedicated growing spaces, which facilitate growing of a mix of ornamental plants and food, including seasonal bulbs, flowering shrubs, herbaceous flowers, herbs, salad crops, fruit, and potatoes. The garden features a bug hotel, composting facility, growing beds and containers, bird and hedgehog houses, log piles, outdoor seating and a nature trail. Over the years, this garden has developed into an outdoor educational, recreational, and environmental haven. The input of the TU Dublin students and the local community is central to its success, and the school agrees that it would not be possible without the continued involvement of the local community. The space, like any garden, is a continual work in progress. The goodwill of a few individuals, organised by Maria Tormey from BDCG has helped its inception, continued development, and success, the owner of a show garden at Bloom gave plants to get the garden started, neighbours and local community activists help regularly in the garden, the green school activities, and inputs
from the horticulture students from TU Dublin (Blanchardstown Campus). Yet engaging volunteer help hasn't been easy. Each person, volunteering in the school garden, is required under law to be Garda vetted, a necessary step to keep children safe. However, it can put volunteers off as it is often a cumbersome process, fraught with delay, particularly if an applicant has lived overseas. The school garden not only provides a valuable
recreational space, it also supports nature-based teaching elements of the curriculum and the Green Schools Programme, from which Scoil Mhuire Junior and Senior are the recipients of numerous green flags. Scoil Mhuire Junior has also recently won a Gala Supermarket competition and received a geodome which was officially opened on June 11th 2021.
The garden programme at Scoil Mhuire is managed and resourced by the teachers and its usage extends across all classes, however, the garden is also a key resource for
learning support teachers, working with children with additional learning needs. Each day on rotation one class eats their lunch and spends time at free play in the garden,
exploring, and engaging with the features of the garden. During class time, teachers use the willow dome as an outdoor classroom, and the garden as a teaching aid in the
delivery of nature-related topics. The garden also promotes creative play through its features and access to a range of natural materials such as sticks, leaves and flowers.
Commenting on the role of the garden in school activities, teachers observed, "The early start pupils cycle through the garden on their bikes. They dig, they plant, they play, they
get mucky, education there is via the garden, it's becoming an outdoor classroom. Observing the primary children at lunchtime, they sit on logs eating lunch, they get twigs and create houses. The bug hotel has offered such a wealth of joy and knowledge to the children, during planting, they're in heaven, the muck, the feeling on their hands…it's far better than any education in a book, we have samples of everything here, the children don't have to go to the park to find it. You can see it all here. We're the luckiest school in Ireland with our facilities right now."
It is well known that enabling children's participation in school and community, supports healthy outcomes for children, their parents and the wider community. For many children the school garden is the space where they engage most. As an industry, our interest in the school garden is one of hope, a collective hope that this interest is carried through their lives to entice interested individuals into our industry who see it as a real career choice.
In a world altered immeasurably by a pandemic, society has changed, in particular society's engagement with the outdoors. This change should make us think about our
choices, the value of the environment and our health. People are considering their daily routine, their work life balance. Over the past eighteen months, the garden was the only
space that people could enjoy and socialise in safety, whether it was the back garden, the local green or the Phoenix Park. The connection with and restorative effect of nature offered opportunities to de-stress. Access to and connecting with nature has maintained and improved peoples' mental health during the past year and half, and people have understood and acknowledged this.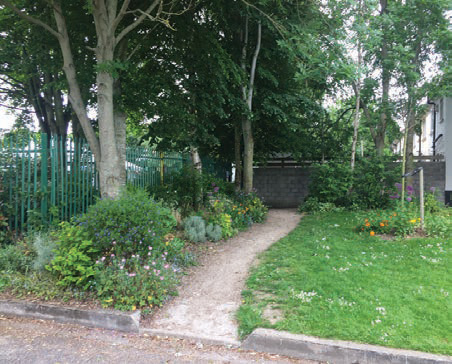 People have taken up gardening as never before, Bord Bia figures published in March show Irish consumers spent 1.2 billion Euros on their gardens last year, up 50% on 2018, with spending on herbs, fruit and veg at an all time high. The increased spending has taken many forms, from increased frequency of maintenance, to the installation of outdoor rooms, but people often want to undertake a garden project themselves with some expert advice and support, a professional, open to discussion and perhaps collaboration in the work, sharing their expertise. A qualified advisor who can do some of the 'heavy lifting', part consultancy, part landscape work, and here lies a niche area ripe for the picking. We can capitalise on this positive change, horticulturists can develop opportunities for a professional practice, in nature based therapeutic activities, or fostering continued engagement in the garden for older adults, and young families. This might take the form of supporting vegetable growing areas in domestic gardens, perhaps helping those new to gardening with plans for crop rotations and 12-months cropping plans, all whilst earning a living. Communities all over Ireland are keen to engage professional horticulturists and get expert input to their gardens, they do this though the county council, professionals working
locally but also with the help of industry. This in turn leads to opportunity for industry, through increased plant sales and demand for landscape services.
Educational qualifications are no longer something that a student must travel for, that must take place on campus or in a classroom. From our community-engaged learning with BDCG we already knew that off-site learning was possible and Covid forced our hand to teach and learn off campus. Through it, we now know it is possible to learn at home, in your own community, to do online teaching and demonstrations remotely, with focused labs and practicals on site. Students all over the country have utilised their parks and open spaces, community gardens, and their own window sills to learn. At TU Dublin Horticulture, the pandemic has changed our teaching and learning delivery mode, yet in many ways it just accelerated what was already happening with the move to more online delivery for students. In this way, we also broadened our geographical scope and student base. This flexibility makes it possible to learn from anywhere in the country, with the need to be on campus reduced to encompass essential activities.
We retain an emphasis on quality education for our students, with these flexible learning programmes, through small class sizes and a supportive learning environment with the uniqueness that learning in and with community brings. In a world where environmental sustainability is key, we have an enhanced focus on the interrelated TU Dublin themes
of people, planet and partnership, and continued close connection to industry.
At TU Dublin, teaching through the lens of the UN sustainability goals, gives an approach to educational, research and engagement practices, which will enhance Horticulture programmes at TU Dublin, delivering real educational change, innovation and impact for society and environment as a whole. Horticulture at TU Dublin – Watch This Space! ✽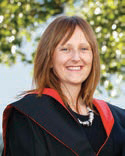 RACHEL FREEMAN is a lecturer in horticulture at Technological University Dublin (TUD)