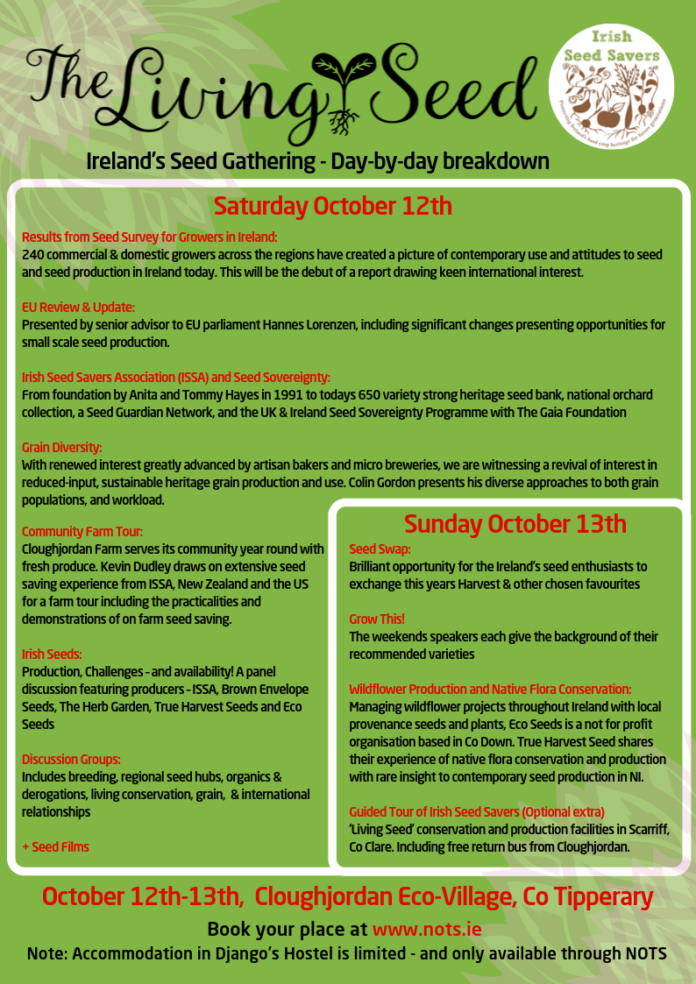 National Organic Training Skillnet has teamed up with the Irish Seed Savers Association to provide reduced-cost ticket prices to "The Living Seed – Ireland's Seed Gathering".
The day-by-day breakdown of speakers and presentations has just been confirmed – see below for details.
This unique agro-ecological event will take place on Saturday and Sunday, October 12th and 13th in Cloughjordan Eco-Village, Co Tipperary.
We are offering a range of terrific value ticket packages including a Full Board ticket for just €140 which gives you access to both days of the Conference, a night's accommodation in Django's Hostel, all meals, and a return bus trip to Irish Seed Savers HQ in County Clare.
Results from Seed Survey for Growers In Ireland: 240 commercial & domestic growers across the regions have created a picture of contemporary use and attitudes to seed and seed production in Ireland today. This will be the debut of a report drawing keen international interest.
EU review and update: Presented by senior advisor to EU parliament Hannes Lorenzen, including significant changes presenting opportunities for small scale seed production.
Irish Seed Savers Assoc., (ISSA) and Seed Sovereignty: From foundation by Anita and Tommy Hayes in 1991 to today's 650 variety strong heritage seed bank, national orchard collection, a Seed Guardian Network, and the UK & Ireland Seed Sovereignty Programme with The Gaia Foundation
Grain Diversity: With renewed interest greatly advanced by artisan bakers and microbreweries, we are witnessing a revival of interest in reduced-input, sustainable heritage grain production and use. Colin Gordon presents his diverse approaches to both grain populations, and workload.
Community Farm Tour: Cloughjordan Farm serves its community year-round with fresh produce. Kevin Dudley draws on extensive seed saving experience from ISSA, New Zealand and the US for a farm tour including the practicalities and demonstrations of on-farm seed saving.
Irish Seeds: Production, Challenges – and availability! A panel discussion featuring producers – ISSA, Brown Envelope Seeds, The Herb Garden, True Harvest Seeds and Eco Seeds
Discussion Groups: Includes breeding, regional seed hubs, organics & derogations, living conservation, grain, & international relationships
+ Seed Films
Seed Swap: Brilliant opportunity for Ireland's seed enthusiasts to exchange this year's Harvest & other chosen favorites
Grow This!: The weekend's speakers each give the background of their recommended varieties
Wildflower Production and Native Flora Conservation: Managing wildflower projects throughout Ireland with local provenance seeds and plants, Eco Seeds is a not for profit organisation based in Co Down. True Harvest Seed shares their experience of native flora conservation and production with rare insight into contemporary seed production in Northern Ireland.
(Optional extra) Guided Tour of Irish Seed Savers 'Living Seed' conservation and production facilities in Scarriff, Co Clare. Including a free return bus from Cloughjordan.
Ticket Options:
Standard 2-Day Weekend Ticket (includes meals) – €90
Tour Package (Standard Ticket + ISSA Bus Tour on Sunday, Oct 13th) – €115
Accommodation Package (Standard + 1-night Hostel Accommodation on Saturday, Oct 12th) – €115
All-Inclusive / Full Board Package (Ticket + Bus Tour + Accommodation) – €140