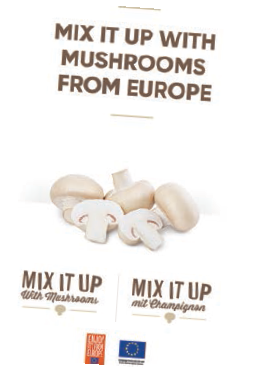 An application for more EU co-funded mushroom promotion in the UK, Ireland and (for the first time), Germany was made on June 3. The €3.18 million "Mix it up with Mushrooms from Europe" campaign, will start in 2021 and last for three years. The spend split is approximately 80% in the UK and 10% each in Ireland and Germany.
The three-year programme aims to broaden the role of mushrooms in the UK, Irish and German diets by reinforcing health benefits and increasing understanding of their versatility and quality credentials.
Consumers in the UK, Germany and Ireland are all trying to eat more healthily and the interest is highest in younger consumers, so it makes sense to lead with a health message.
Mushrooms are extremely versatile and can accompany a broad spectrum of meals, ranging from favourite dishes in the UK, Ireland and Germany, to exotic recipes from around the world.
A cornerstone of the new campaign will be promoting the concept of blending mushrooms and meat to make meals healthier, tastier and less expensive. ✽