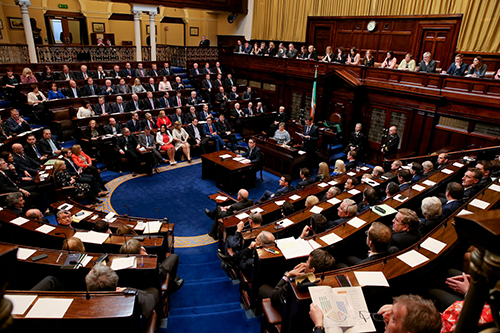 Written answers
Thursday, 5 July 2018
Department of Agriculture, Food and the Marine
Horticulture Sector
Charlie McConalogue (Donegal, Fianna Fail)
Link to this: Individually | In context
298. To ask the Minister for Agriculture, Food and the Marine the actions he is taking and supports he is putting in place to support vegetable producers who are facing an income crisis due to a combination of atypical weather, rising input costs and labour issues; and his views on a review of farm-gate prices to reflect the farm business environment. [29916/18]
Michael Creed (Cork North West, Fine Gael)
Link to this: Individually | In context
The Scheme of Investment Aid for the Development of the Commercial Horticulture Sector is the main support for individual growers within Ireland's horticulture industry. This State-funded scheme facilitates the development of the horticulture sector, by providing grant aid at a rate of 40% (50% in the case of young applicants under 35 years of age) on approved costs associated with capital investment in a broad range of specialised horticultural equipment and buildings. I was able to increase funding for the Scheme from €4.5 million to €5 million in 2017 and again for 2018.
Each year under this Scheme my Department provides grant aid to a number of horticultural growers that wish to invest in specialised crop irrigation equipment.
I recognise that in addition to the weather, competitiveness and a lack of available labour are other significant issues affecting the horticulture sector at present.
As part of a longer-term effort to address these issues Minister of State, Andrew Doyle, TD has co-chaired a number of meetings of the Horticulture Industry Forum. The Forum agreed its "Vision" document last autumn and work is underway to progress the necessary actions identified in that document.
The Government is acutely aware of the shortage of labour to work in horticulture and other sectors of the agrifood industry. This resulted in Minister Humphreys recently effecting changes to the Employment Permit Regulations. This will make it easier for certain businesses in the agri-food sector to source workers from outside the EEA. The changes, which will operate on a pilot basis initially, include provision for 500 employment permits for the horticulture sector.
In addition in recognition of the changed economy and labour market, the Department of Business, Enterprise and Innovation is currently undertaking a review of the economic migration policies underpinning the current employment permits system.
The issue of a review of farm gate prices to reflect the farm business environment is an issue between each grower and his or her customers. However, I would like to point out that Minister Humphreys has primary responsibility for matters relating to product pricing and competition.