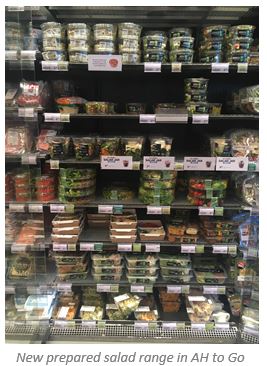 Ellen Codd, Amsterdam EOP, Bord Bia – Irish Food Board
As consumer lifestyles become busier, eating patterns in the Netherlands are changing. The traditional five meals a day being is replaced by five eating moments while eating at home is transitioning to eating on the go. As consumers fit meals around their hectic lifestyles, ready meals and snacks are growing in importance.
Millennials, in particular, are the driving force behind this trend, seeking out nutritious and fast meal solutions. However, the consumer base for this category is also expected to expand in coming years. As the range of healthy convenience products grows and consumers become busier and value their leisure time more, consumers such as families with children and older singles are also expected to contribute to growth in the category.
Ready meals in the Netherlands is one of the fasted growing categories within packaged food, registering 2.3% growth in 2017 (Euromonitor, 2017). Within this category, prepared salads registered the fasted current value growth in 2017 at 3.7% as demand for healthy convenience solutions increases. The range of organic ready meals is also expanding across both mainstream and specialist retail such as Marqt and Ekoplaza, with Dutch consumers willing to pay a premium for quality products.
Private label dominates the category, as retailers are increasingly focusing on their convenience categories, investing in new product development. Market leader Albert Heijn this year revamped their fresh product range, adding over 100 and improving over 70 fresh convenience solutions such as lunch and mealtime salads and meal boxes.
Along with revamping their convenience offerings, Dutch retailers are also transforming their shopping experiences to keep up with consumers' hectic schedules. Convenience formulas are increasingly popular, with Albert Heijn to Go, Jumbo City, and Spar all growing their presence in the last year. Both Albert Heijn (To Go) and Spar are testing cashless stores to cut down time spent in store, while Albert Heijn also launched a trial 'meal wall' in their head offices – a refrigerated vending machine, accessible 24/7, stocking fresh ready meals, salads, and meal boxes.
With sustained value and volume growth expected in the category, (healthy) convenience solutions offer exciting opportunities for Irish producers in the Dutch market.