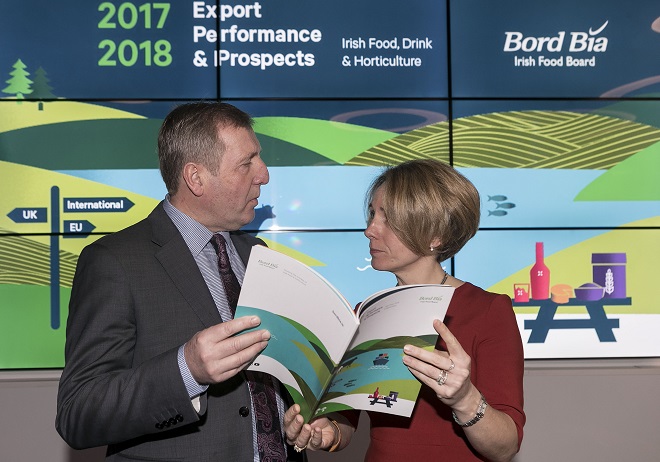 In a major boost for the sector, Bord Bia has today announced that it is commencing recruitment for 29 new positions to support the continued growth and development of Ireland's world-class food, drink and horticulture industry. This is the largest-ever recruitment drive for the organisation enhancing Bord Bia's capabilities in the areas of consumer and market insight; marketing and communications; and business development. The new employees will be located in Bord Bia offices in Dublin, Continental Europe, North America, the Middle East and Asia.
Commenting on the announcement, the Minister for Agriculture, Food and the Marine, Michael Creed, T.D. said, "Today's news is hugely positive for the sector and demonstrates my Department's commitment to supporting the continued growth of Ireland's largest indigenous industry which we are proud to say grew to reach over €13.5 billion in exports for the first time in 2017. Notwithstanding our export success, the sector continues to face uncertain times with market challenges such as Brexit. This recruitment drive will allow  Bord Bia and the industry to further meet these challenges through the development of new opportunities around the world."
Meanwhile, Bord Bia CEO Tara McCarthy said the recruitment campaign is central to Bord Bia's growth and market prioritisation strategy. "The continued growth of our sector hinges on our ability to effectively identify and deploy insight-led strategies in the promotion of Irish food, drink and horticulture. To facilitate this, it is crucial that we have the best possible talent and infrastructure in place both in Ireland and overseas. Today we commence our search to identify a range of highly skilled marketers, analysts and business development strategists to join our teams already in place around the world. Through this strengthened global presence and enhanced skill-set, Bord Bia will continue to deliver valuable insights and identify opportunities to allow the Irish agri-food industry to meet our ambitious growth targets as set out by FoodWise 2025." 
Roles and Locations
The 29 positions on offer include roles in Branding, Marketing, Insights, PR, Digital Marketing, Events and Business Development as well as more specialist Meat, Dairy, Seafood, Beverages, Retail and Sustainability roles. Almost half of these new jobs will be based in Bord Bia's Dublin office (17) with other positions to be placed in Bord Bia's offices in London (2), New York (1), Shanghai (2), Lagos (1), Japan (1), Dubai (1), Poland and Germany (2), Netherlands (1) and Singapore (1).
The minimum general requirements for candidates include a qualification in a relevant third level degree such as business, marketing or economics; a minimum of three years full time work experience; proficiency in a foreign language and overseas work experience for certain overseas roles; and a strong interest or experience working in the Irish food and drinks industry.
Applications
For further information visit www.bordbia.ie/careers
The closing date for applications is 30th April 2018.