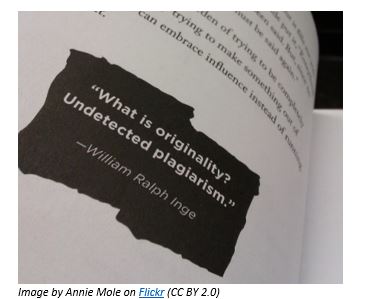 Mairéad Mc Keown – Librarian & Information Specialist, Bord Bia – Irish Food Board
Are you an Irish producer who has ambitions to be original and create products/brands that are different and better? Then the good news is, the librarians in Bord Bia can provide you with access to a treasure trove of case studies on advertising & branding approaches, and product successes and failures, to help you achieve this ambition and grow the commercial success of your business.
In his informative TED-talk, organisational psychologist Adam Grant shares an idea about the surprising habits of original thinkers. The lesson he learned is that to be original you don't have to be first. You just have to be different and better. (Grant, 2016). There's a classic study of over 50 product categories, which draws comparisons between the first movers who created the market to the improvers who created something different and better. The study found that the first movers had a failure rate of 47%, compared to only 8% for the improvers (Golder and Tellis, 1993). Think about how Facebook waited to build a social network until after Myspace, and Friendster, and Google waited for years after Altavista and Yahoo, and you get the picture.
It's much easier to build on someone else's idea than it is to create something from scratch, therefore this article will highlight three great sources of case studies to help Irish suppliers achieve greater commercial success.
WARC is home to thousands of award-winning case studies that reveal the campaign strategies of the world's leading brands. Case studies from every market discipline feature. WARC's tagline is, "when you know, you grow". If you want to learn from successful approaches that maximise ROI, WARC cases will provide you with a wealth of ideas.
"WARC is like a Google for marketing people." Philip Kotler, Kellogg School of Management, Northwestern University (WARC)
GlobalData publishes the Successes and Failures Series of case studies which focus on high-impact innovation and marketing with an emphasis on consumer trends and features some of the most compelling FMCG brands, products, and marketing campaigns globally. Industries covered include food, drinks, retail & foodservice. Each case explores the key factors that have contributed to its success or failure and is supported by tangible evidence of performance, and then contextualised by GlobalData's proprietary research and analysis. Cases always link back to consumer needs, because it's consumers' propensity to buy that ultimately determines success. Given that the failure rate of new product launches in the FMCG industry is cited as being around 80%, an understanding of the reasons for good or poor performance is crucial to inspire innovation. (GlobalData, 2018)
New Nutrition Business creates case studies on food, nutrition and health, which analyse product successes and failures across the world, spelling out the lessons about what works, what doesn't and what the best strategies are for creating and launching new products. These case studies provide valuable lessons from real companies dealing with real challenges – (analyses include market share figures, pricing strategy, promotion and communications strategy, merchandising and distribution), and feature practical usable insights to help you grow your business.
It's much easier to build on someone else's idea than it is to create something from scratch. It's also critically important to learn from products and approaches that have succeeded as well as those that have failed. Case studies can act as a catalyst for new thoughts and ideas, providing inspiration for greater commercial success. So, Irish suppliers who wish to be original and create products and brands that are different and better, should come to visit the Bord Bia Library and start using these case studies to be inspired and informed.
Library visits are by appointment ONLY, contact: Mairead.mckeown@bordbia.ie
Reference : Golder, O. AND Tellis (1993) Pioneer Advantage: Marketing Logic or Marketing Legend?