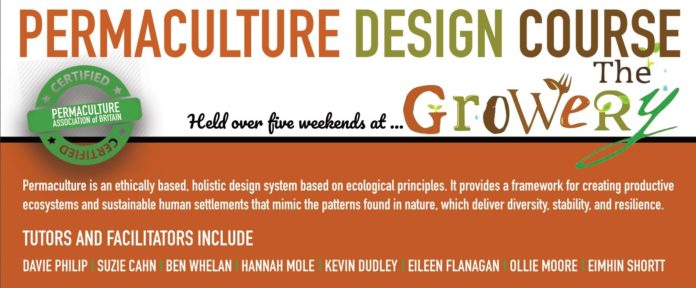 Where: The Growery, No.1 Oxmantown Mall I Birr I R42 V070
Dates:
Weekend 1 – 21st – 22nd March
Weekend 2 – 4th & 5th April
Weekend 3 – 25th & 26th April 
Weekend 4 – 9th & 10th May 
Weekend 5 – 6th and 7th June 
Certified by the Permaculture Association of Britain 
PERMACULTURE
The Permaculture Design Course (PDC) was developed to teach the principles and foundations of ecological design. 
Permaculture is an ethically based, holistic design system based on ecological principles. It provides a framework for creating productive ecosystems and sustainable human settlements that mimic the patterns found in nature, which deliver diversity, stability, and resilience. Although permaculture is most commonly thought about in connection with gardening & farming, its principles, ethics and design methods can be adapted and used in each individual's own work, home and community. 
TUTORS AND FACILITATORS INCLUDE 
Davie Philip, Suzie Cahn, Ben Whelan, Hannah Mole, Kevin Dudley, Ollie Moore 
VENUE
The Growery in Birr in County Offaly is Ireland's first Urban Food Commons promoting organic technologies, local production,  food health and well-being, and climate resilience.  
COST & BOOKING 
COST: €500 for all 5 sessions 
Jobseekers contact your local DSP case officer or local Intreo office to apply for training support.
Bookings I 
birrgrowery@gmail.com