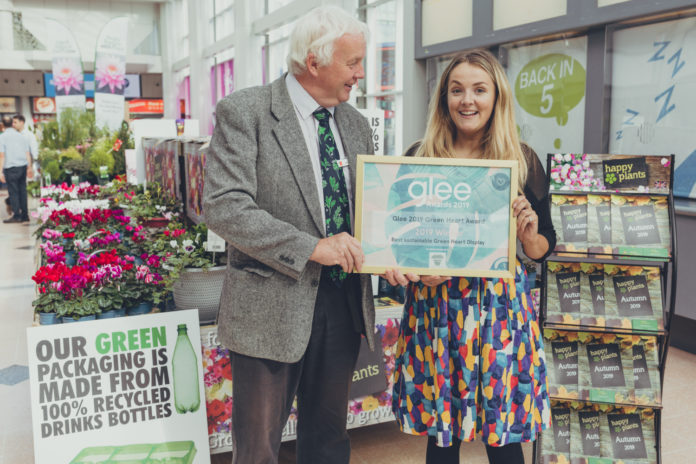 A commitment to sustainability has landed Happy Plants with a top environmental award at Glee. The company has been confirmed as the winner of the Best Sustainable Green Heart Display, for its innovative approach to recycling and eliminating packaging waste.
With every single plant pot and bedding or carry pack in Happy Plants' catalogue made using 100% post-consumer recycled plastics, judges were impressed by the company's closed-loop approach to reducing waste and repurposing unwanted materials, helping to create a truly sustainable approach to packaging.
All of Happy Plants' green packaging is made from recycled drinks bottles, and the packaging can then be rinsed and recycled again after use. As an added bonus, the company's recycled plastics are compatible with kerbside recycling schemes, preventing unwanted pots and packaging from ending up in landfill.
The Glee Best Sustainable Green Heart Display Award was presented to Natalie Porter, by Neil Gow, Glee's Green Heart Special Project Manager.
Glee's Matthew Mein said: "Sustainability and cutting down on single-use plastics is the theme of Glee 2019 and Happy Plants has excelled at every level. The company's green plastics set a new benchmark for a closed-loop approach to packaging, and the fact that consumers can recycle unwanted pots and carry packs after use offers genuine scope to dramatically cut the volume of waste associated with plant retail."
Featuring more international companies than ever before, the Green Heart sees leading brands come together to create the strongest display of new plant varieties and inspiration for plant buyers and retailers looking to develop both their indoor and outdoor plant offering in the coming season.