New ENA Board
In last summer ENA's General Assembly meeting, we held the election of the new board that will guide the ENA association for the next two years. Mr Henk Raaijmakers was elected President, replacing Mr Jan-Dieter Bruns, who has chaired the association for three years. Mr Tim Van Hulle was elected Vice President, and Mr Willy De Nolf was re-elected as Treasurer.
The new President thanked Mr Bruns for his achievements during these years, especially since the COVID, and added, "you inspired me with your work and surprised me with your contacts with everybody, everywhere". Mr Jan-Dieter Bruns, the outgoing President, concluded in his final speech, "it's been a pleasure serving the European nurseries as President for three years; we have had great cooperation in the board, and I wish the best success to the new board and all European nurseries."
ENA's Summer Meeting
ENA held its summer meeting in Bavaria, Germany, from 1 to 4 September 2021. It was the first face-to-face meeting since the emergence of COVID, and delegates from Belgium, Bulgaria, Czech Republic, Denmark, Finland, France, Germany, Greece, Hungary, Ireland, Italy, the Netherlands, Poland, Portugal, Serbia, Spain, Sweden, Switzerland, and Turkey attended the sessions. The German nurseries' organisation BdB (Bund deutscher Baumschulen e.V.) hosted the meeting, that was attended by forty delegates.
The topics addressed during the different meetings were:
Green Cities: 'More Green Cities for Europe' project coordination.

Brexit: details of the implementation of the Agreement on the withdrawal of the United Kingdom of Great Britain and Northern Ireland from the European Union.

Update of the International Plant Names Lists.

Market situation: shortage of plants to meet the growing European demand.

Election of the new board.

Lecture about the current situation in the German nursery sector by Mr Helmut Selders (BdB).

Lecture: 'What are the requirements of the garden and landscape industry for nursery suppliers?' by Mr Mathias Forster (Forster Garten- und Landschaftsbau).

Lecture: 'Garden Center – generation next!' by Oliver Haller (Dehner Garden Centre).
The programme was rounded off by visits to different garden centres and nurseries, and the Weihenstephan Gardens and Arboretum at the Fachhochschule Weihenstephan (University of Applied Science) in Freising. Finally, renowned landscape architect Rainer Schmidt gave the ENA delegates a dynamic guided tour of Munich's essential gardens and urban and landscape interest areas.
Click here to access the summer meeting press release and read the details.
Shortage of woody plants throughout Europe
At the summer meeting of the European Nurserystock Association (ENA) in Germany in September, an important topic was discussed: There is a shortage of woody plants throughout Europe.
Until now, many industry representatives believed that the shortage of trees was only a regional phenomenon. However, the meeting of the European nurseries revealed that there is a plant shortage all over Europe.
The reasons for this are manifold. On the one hand, production in European nurseries has fallen sharply in recent years. The reason for this has been a drop in prices, which has led to nursery producers disappearing from the market. The resulting reduction in production has been flanked by a considerable expansion in demand in the last two years. In all markets, whether for public or private plant users or for forestry plants, demand has increased considerably. This has led to a tense situation in the entire European woody plants market.
In the economic cycles of the past, nurseries were able to expand the supply of woody plants in the medium term. The representatives of the European nurseries agreed that this will not be the case this time in the near to medium future. The reasons for this are the lack of skilled workers, scarcity of land due to competing uses of soils, for example due to the energy transition, but also the lack of generational transition in many nurseries. Thus, a further reduction of nurseries is to be expected in the coming years.
For this reason, but also because of the high inflation expectation, as well as because of the increase in the price of production goods, a rapid increase in prices in the nursery sector is ongoing.
EU legislation update for Xylella fastidiosa
As ENA members are already informed, the EU updated the legislation on Xylella fastidiosa, particularly the lists of host and specified plants and the list of official tests.
Click here to access the Commission Implementing Regulation (EU) 2021/1688 of 20 September 2021 amending Implementing Regulation (EU) 2020/1201 as regards the lists of host plants and specified plants, and the tests for the identification of Xylella fastidiosa, published on the Official Journal of the European Union.
Impacts of the COVID-19 pandemic on our sector
The Committee on Agriculture of the European Parliament published the study "Preliminary impacts of the COVID-19 pandemic on European agriculture: a sector-based analysis of food systems and market resilience". Access it by clicking here.
This study provides a preliminary quantitative and qualitative analysis of the impact of COVID-19 on European agriculture and the agri-food supply chain in light of the responses deployed by the European Union and its Member States to mitigate its effects. The Chapter 3.8.'Ornamental products' highlights that flowers and plants are a category that experienced significant financial losses due to COVID-19 (4.12 billion EUR estimated in the first wave alone). Union Fleurs and ENA are the relevant stakeholders for Ornamental products (flowers and plants).
New editions Lists of Names of Woody Plants and Perennials
The new editions 2021-2025 of the List of Names of woody plants and the List of Names of perennials were published last September.
The up-to-date books contain more than 17,000 new names. They are preferred names, synonyms, and commercial names of almost 45,000 woody plants and 30,000 perennials, and they are the standardized names of the commercial range of nursery stock in Europe. ENA encourages you to use these names in all your catalogues, advertisements, quotations, price lists and all daily operations of your nurseries. Using it is the best way for all of us to understand each other.
The list can be consulted free of charge on internationalplantnames.com. Regarding paper copies, each ENA association can get a discount for distribution among their members.
Follow the instructions in this link to place your orders.
Online access to the Nurseries' lists of each country member
ENA is adding to its website the link to the nurseries' lists of each country member organisation. The aim is to make it easier to find each other and, in consequence, facilitate communication and sharing of information between European nurseries.
Please find the links to the lists of nurseries in each country at enaplants.eu/members.
European Green Cities Award Candidates
Click here to have a look at the pioneering projects which European communities and architects have manifested in 2021.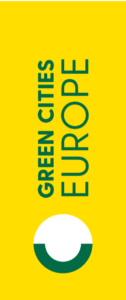 One of these projects will be chosen as the international winner. It will be announced during a conference and award ceremony on Wednesday 8 December 2021. The conference is free of charge and will start at 17:00 (CET).
Just before the award ceremony takes place, a conference will offer lectures of international experts on a political, a scientific and an architectural level that will give their insights on the successful integration of trees and plants into public areas. The event will be opened with a speech by MEP Mr. Norbert Lins, Chair of the AGRI Committee of the European Parliament.
Upcoming Events
SoGreen Conference @ PAYSALIA · Lyon, France · 30/11/2021 · 13:45-15:00 (CEST) ·

Check event information here

European Green Cities Conference & Award Ceremony · Online · 08/12/2021 · 17:00-18:30 (CEST) ·

Sign up here
Our Members
We are grateful for the information and contributions received for this Newsletter from:
Markus Guhl (BdB)

Arno Engels (LTO)

Miet Poppe (AVBS)
As we explained in the previous edition, we want to use this newsletter as a tool for widely disseminating the latest updates of all ENA members. That is why we not only ask you to send us your news but, also, to forward this newsletter to any professional to whom it may interest the subject, so they can subscribe to it.
Dutch nursery association organized successful Youth Day
The Dutch Nurserystock Association (LTO Nurseries) has organized a national event for young people in nurseries. This youth day has attracted almost 150 young growers, entrepreneurs and students from all over the Netherlands.
The event was held Thursday 26 August at De Buurte Nurseries, with 275 hectares, one of the biggest Dutch nurseries. About 150 enthusiastic boys and girls (from age 16 to 35 years) came to De Buurte for a day full of nursery innovations, machines, demonstrations, presentations, fun, food and drinks. So many young people from one industry together, that was never been seen before within the overall Dutch agricultural association LTO. The program was set up with young people from major Dutch nursery areas: Boskoop, Zundert, Opheusden and Horst a/d Maas (southeast of the Netherlands).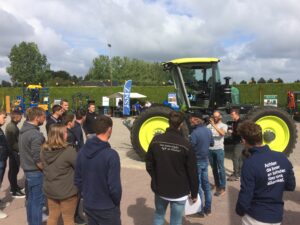 The event at De Buurte started loudly in the morning by a tractor pulling team, 10,000 horsepower sponsored by the nurseries. Then the young people, shuffled into 10 groups, went through 10 subjects of the program. On fields with Buxus, Taxus and Thuja, they were shown machine demonstrations of, for example, trimming plants, lifting with rootballs, spraying and weeding.
The innovations included various weeding robots and autonome tool carriers, like the French field robots Oz and Dino, and a new Dutch nursery prototype called Aigro Up. Another innovation was an agricultural drone with 6 meter wide spans. It was just finished before the event, and it will be tested at De Buurte Nurseries. In addition, Dutch company AgroWizard explained their new system of measuring tree diameters automatically, which is currently being tested on ornamental and fruit tree nurseries in the Netherlands. Also, a future tractor drove onto the site: a Dutch prototype called EOX that runs on electricity and hydrogen, an innovation that hardly anyone else in Dutch agriculture had seen live in action.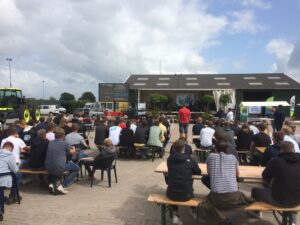 After lunch provided from food trucks, keynote speaker Helga van Leur started talking about climate change and sustainability. She is a well-known meteorologist and TV celebrity in the Netherlands, and years ago she was awarded as best weather woman internationally. Her message to young nursery people: go with the changes in the world. The world will look completely different in future, but we already know that it has to be cleaner, more environmentally friendly, more people-friendly, and you also have to earn money with it. According to her, it is possible to change for the future. She was referring to innovations on the event like the hydrogen-powered tractor. And looking at global warming, she said that trees are the best and most environmentally friendly cooling system. One tree cools as much as ten air conditioners.
Furthermore, young board members of LTO Nurseries presented their view, passion and experience with young nursery and board management. In addition, the youth day had a market place with information on several topics, like phytosanitary inspection for trade and export, and digital systems to improve stock controle and sales. Machinery companies showed their latest novelties for nurseries. And the day ended with a barbecue and a nice chat.
Click here to watch a video of some innovations displayed at the Youth Day.
Belgian Tree Nursery Sylva wins prestigious competition
Belgian AVBS-member Sylva, from Lievegem, won the award "The Lion of the Export" by Flanders Investment & Trade (FIT). The Lion of the Export is Flanders most prestigious competition for exporting companies across the different industries (Belgium).
This award assesses export companies on the main points of their export policy, their innovative approach, the geographical spread and growth of the export and its share in the turnover figure, etc. Efforts for corporate social responsibility are also taken into account. There are two awards each year, depending on whether the candidates have more or less than 50 employees. Tree nursery Sylva won the golden award in the category 'Companies with a maximum of 49 employees'. Other finalists were companies as Molecubes, developer of compact scanners for molecular imaging, and Container Technics NV, experts in cargo lashing and lifting.
Also, the list of honours of the Lion of the Export, now twenty years old, looks impressive, with names such as Duvel (Belgian Beers), Deme and Waterleau. Sylva is the first nursery, and by extension even agricultural company, winning this award, which makes them an excellent ambassador for the nursery sector.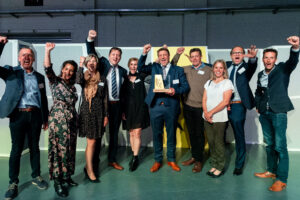 On 115 ha in the Ghent region, Sylva grows around 25 million forest, hedge and landscape plants on an annual basis, about 80% of which are exported. The majority of the range is sown and sold after 2 to 3 years as planting material for forests, but also for gardens and public green spaces at home and abroad. A quality policy with official origins is followed. For example, beech trees destined for afforestation in Germany come from seeds collected in officially recorded forest stocks in that region. In the same way, they also propagate Belgian forest trees of official origin and even native Flemish trees and shrubs. In order to increase efficiency and remain competitive, Sylva is fully committed to innovation. For example, it has developed a sorting and harvesting machine, and also regarding weed control they are very progressive.
Today, the products depart for 40 export countries, mainly within Europe. In the coming years, the company wants to focus mainly on promising non-EU markets, such as Russia, Turkey, South Korea and China.
From ENA we congratulate Sylva Nurseries, and their CEO Tim Van Hulle, for being the deserved winner of the 2021 Export Lion in Flanders and showing the world that nursery companies can lead the way!