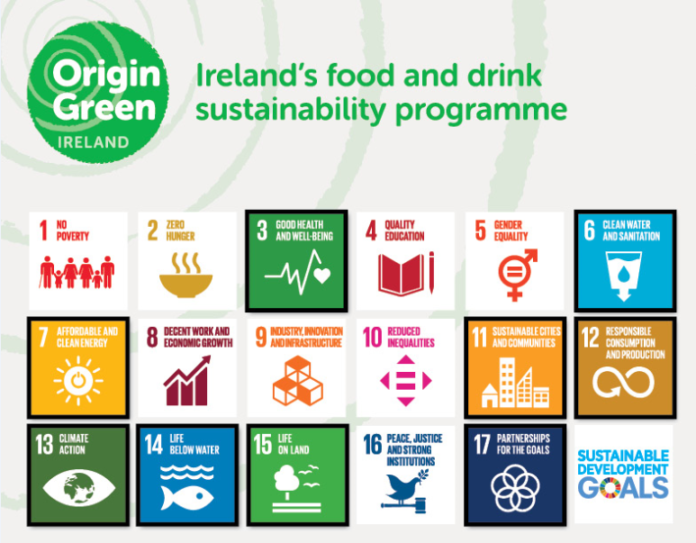 Katie Reilly, Assistant Brand Manager, Origin Green, Bord Bia – Irish Food Board
In 2015, the 2030 Agenda for Sustainable Development was agreed by 193 members of the United Nations. This agenda included the creation of 17 Sustainable Development Goals (SDG). In fact, it was Ireland and Kenya working in partnership with the entire membership of the UN that agreed on the agenda and the SDGs. Essentially the world's to-do list, the goals aim to end poverty, protect the planet and ensure prosperity for all.
This agenda needs action if it is to transform our world and the Irish food industry are playing their part in achieving this global ambition. The Origin Green programme, launched in 2012, aligns to 9 of these goals currently, with plans to align to more in the near future.
Just like the SDGs, Origin Green has partnership – goal 17 – at its foundation. It is the only programme of its kind in the world operating on a national scale uniting government the private sector and food producers, through Bord Bia. Origin Green Ireland partners with national and international organisations and stakeholders to work together to achieve the common goal of sustainable food production. Through their sustainability actions, Origin Green member companies are answering the universal call to action to support the SDGs in the following ways:
Goal 3: Good Health and Well-Being: Developing healthier products, promoting healthier diets and active lifestyles among employees, customers and communities.
Goal 6: Clean Water and Sanitation: Reducing water usage through more efficient production and using naturally occurring rainwater.
Goal 7: Affordable and Clean Energy: Reducing energy consumption through more efficient production and switching to renewable energy sources.
Goal 11: Sustainable Cities and Communities: Focusing on greater contribution to local communities to enhance society
Goal 12: Responsible Consumption: Responsibly sourcing raw material, reducing food waste, providing sustainable packaging
Goal 12: Climate Action: Measuring and reducing emissions in their production process and supply chain.
Goal 14: Life Below Water: Protecting and enhancing marine life by fishing responsibly, reducing marine waste and safeguarding the marine environment.
Goal 15: Life on Land: Implementing biodiversity measures on-site locations and in the communities in which they operate.
Aligning to the goals provide a great framework for making long-term business decisions. They open up a conversation about doing business sustainably as the SDGs are globally recognised.
If you would like more information on how your business could align to the Sustainable Development agenda visit www.un.org/sustainabledevelopment
For more information please contact katie.reilly@bordbia.ie