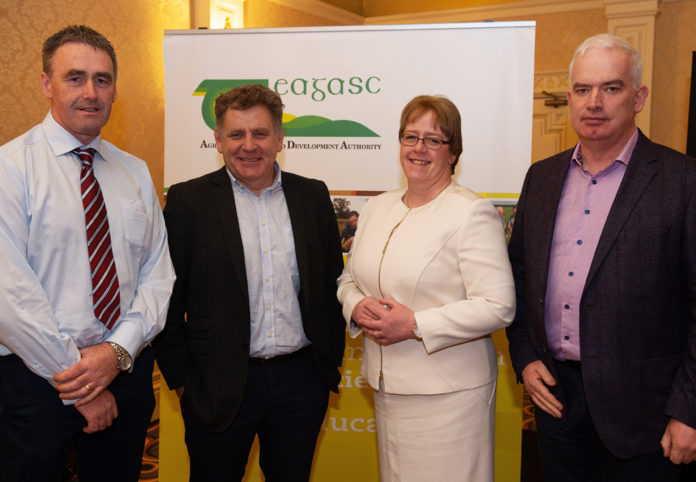 The Teagasc Agri-Environment Conference, in association with the Burren Winterage weekend, took place in Gort, County Galway yesterday, Thursday, 25 October. The location is significant as the theme of the conference was from Burren beginnings to locally led projects, to the broader policy context.
Welcoming the diverse audience of farmers, advisors and those involved in agri-environment, Burren farmer Michael Davoren, acknowledged the key role of Teagasc from the very start of Burren LIFE and encouraged farmers and advisors in all areas on the country to reflect on the distinctive characteristics of their locality that convey a sense of place, that can be developed from the bottom up.
Pat Murphy, Head Environment Knowledge Transfer in Teagasc said; "This conference facilitated the sharing of experiences which was particularly relevant with the recent announcement from the Department of Agriculture, Food and the Marine (DAFM) of the final projects to be funded under the European Innovation Partnerships Initiative (EIP) under the Rural Development Programme 2014-2020."
These 23 locally led projects promote local solutions to specific issues and further advance Ireland's progress in this area in preparation for the next CAP, according to Jack Nolan, DAFM Senior Inspector. He also said biodiversity loss, climate change targets and water quality improvement remain significant challenges to be addressed by society.
Lessons from the Burren Programme, which is '20 years a growing and still learning', according to Brendan Dunford, include the need to do much better at understanding and engaging farmers; move beyond compensating farmers for halting negative practices and instead incentivise positive management, and leveraging 'pride of place'.
Patrick McGurn spoke of the Aran Islands where 75% of the islands are designated under the EU Habitats Regulations and, how through working with farmers in ARAN LIFE, the main threats to grazing management were identified and actions were put in place. Caomhnú Árann EIP will build on this LIFE project.
The challenges in establishing a large EIP project were addressed by Fergal Monaghan from the Hen Harrier Project, which deals with farmers in six Special Protection Areas. The challenge was to develop a programme that could be effective in meeting farmer needs and in supporting breeding hen harriers, requiring investment not only of money but also of energy and imagination. Managing expectations are always a challenge according to Fergal.
Catherine Keena, Teagasc Countryside Management Specialist, said; "the overall message from the conference was that the challenge of environmental sustainability in farming is becoming more important, while its potential marketing advantage must be substantiated by scientific evidence. Biodiversity management practices undertaken by farmers are a key element in farm sustainability and Irish farmers will need to continue to adopt sustainable practices."