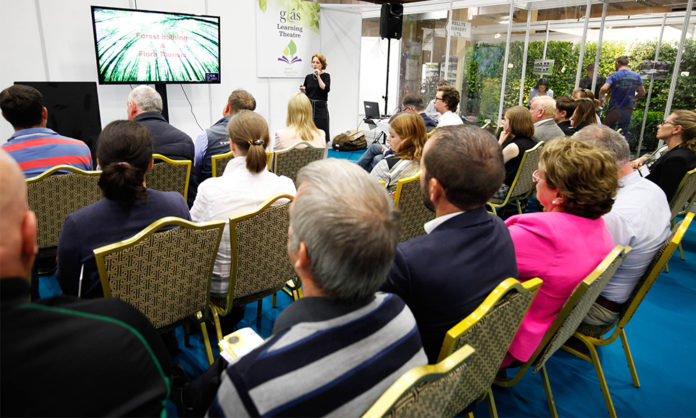 It is now only one week until Ireland's largest horticulture trade show – GLAS. The Garden Landscaping and Amenity Sportsturf event returns to Dublin, on Thursday, July 19, from 9 am to 5 pm.
At GLAS 2018, the Learning Theatre expands to two theatres, with the programme as follows;

BORD BIA LEARNING THEATRE 1
schedule
10.30 – 10.50 & 14:10 – 14.30
SunSmart Campaign for Outdoor Workers
Una Delahunt, Irish Cancer Society
11.00 – 11.30
New Product New Plant Awards & Best in Show Winners Presentations
11.35 – 11.55
Professionalism in Horticulture for the 21st Century
Claire Woods, Chartered Institute of Horticulture
12.00 – 12.35 & 15:20 – 15.55
Being Mr. Christmas
Dan Cooper, John Lewis
12.45 – 13.10 & 14.35 – 15:10
Inspiring the Customer… What makes a customer buy a plant
Andy McIndoe
13.20 – 13.40
Changing trends in planting design – where to from here?
Patricia Tyrell, GLDA
13:45 – 14:05
Update on Trends by Grace Binchy from the Bord Bia Thinking House
Grace Binchy, Bord Bia
Attendance is free, but pre-registration is required HERE >>>. as seats are limited.
TEAGASC LEARNING THEATRE 2
schedule
10.30 – 10.50
Update on Horticulture Apprenticeships by Teagasc
John Mulhern, Teagasc
11.35 – 11.55
Water Wise – best practice guidelines for irrigation and budgeting, including updates from EPA on water abstraction
Donall Flanagan, Teagasc
12.00 – 12.20
Safe, Smart and Sustainable Pest Control
Neil Heyler, NAD/Fargro
12:25 – 12.45
Precision Nutrition, Optimising the nutrient supply to match plant demand , producing healthier plants and reducing disease losses
Andrew Wilson, ICL
12.50 – 13.10
Therapeutic Horticulture…Stress Management and Well-Being for Success in Business
Sean McCarthy, MOCT
13.15 – 13:35
Plant Health Awareness and Emerging Threats
Con Collis, Dept of Agriculture
14.15 – 14.35
Sands for Sportsturf Construction and Maintenance
Paul Campbell, CAFRE Greenmount
14.40 – 15.00
All Ireland Pollinators Plan, a Roadmap for Plant Sales
Peter Cuthbert
15.15 – 15.35 
Turfgrass Disease – Alternative Means of Suppression
Dr. John Dempsey, Royal Curragh Golf Course
Attendance is free, but pre-registration is required HERE >>>. as seats are limited.
Find out more about our Learning Theatre talks, including speakers HERE >>>.
GLAS takes place in Citywest Events Centre July 19th and is a unique one-day opportunity for visitors in horticulture, sports turf, grounds maintenance, and garden retail.