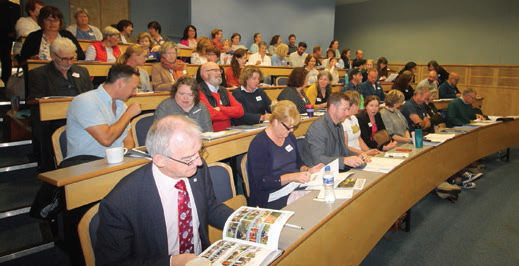 On Friday the 6th of September, more than 70 people from across the island of Ireland gathered at TU Dublin Blanchardstown to hear an array of speakers address the symposium theme of 'Therapeutic Horticulture; Research, Practice and The Future'. This was the inaugural symposium of the newly formed Irish Social, Community & Therapeutic Horticulture community, hosted by TU Dublin, and supported by Horticulture Connected, with organising committee members from GIY, Festina Lente, Airfield Trust, Teagasc Kildalton, WIT, Bradleys Horticulture and Greenside up.
In his opening address, campus principal, Dr. Diarmuid O'Callaghan, acknowledged the breadth of disciplines among those present and noted that 'It is here in this space, in this intersect of disciplines, that the magic happens'. The symposium was a great success with guest speakers presenting on a variety of subjects and there were plenty of opportunities to network and share practice through the informal poster and networking session. The SCTH committee opened the floor to gain insight into what practitioners on the ground required of the network and there were three key messages, networking, education and professionalisation of the sector.
In summing up, TU Dublin, lecturer, researcher and educational leader in the field of Social and Therapeutic Horticulture, Rachel Freeman, noted the following, 'It is clear from those present that they are looking around for recognised quality programmes of study to advance their practice in this field, this is something we are TU Dublin can provide. However, in addition to education, it is clear that they are seeking to be part of a group or network of support as many are working independently, they are seeking to network with other practitioners". However, the question of professionalisation was less clear cut with Dr. Joe Sempik cautioning the group to consider carefully how to proceed.
Throughout the event, the current global environment situation ran as an undercurrent to the day, and was foremost in the minds of attendees, and the day ended with practitioners encouraged and restored by the event and speaking of their intent to return to their respective places to try to impact those in their sphere of influence toward wellbeing with environmental care through the medium of therapeutic practice. More information visit SCTHIreland.com and queries can be forwarded to Rachel.freeman@TUDublin.ie ✽