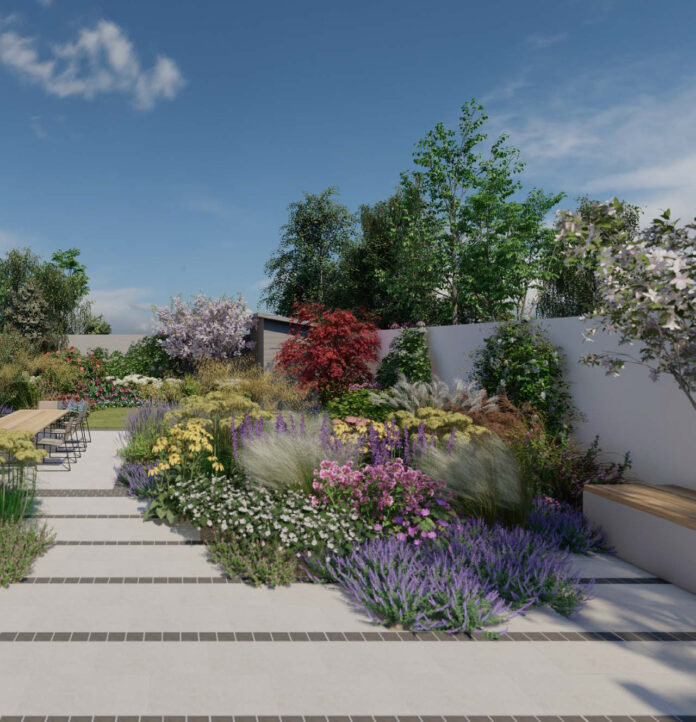 Bord Bia's Carol Marks outlines the Bord Bia Bloom initiative to help novices and uncertain gardeners realise their own dream garden at home, according to the aspect and functionality of their garden, provides a blueprint for success
---
People visit Bloom to get inspiration for their own garden and planting. However, once they have left the festival the key challenge they face is how to translate their ideas into a reality in their own home. To help overcome this barrier Bord Bia has, as part of this year's Bloom at home campaign, launched 'Easy Steps to Dream Gardens, a suite of seven designed gardens which come with planting plans, designed to help people plant their own show garden at home, in their own time and within their budget constraints. Bord Bia has worked with seven Bloom award-winning show garden designers to create garden designs that are suited to a range of different locations. Each of the seven garden designs in the
series is available to download from the www.bordbiabloom.com website, and includes an easy-to-follow planting plan and detailed planting list that can be implemented in the
garden according to the aspect of the garden. The seven designers have also chosen plants that are generally available from Irish nurseries and in local garden centres.
The gardens are all 15 metres x 9 metres in size, and have been designed for different aspects (e.g. north, south, east and west-facing gardens). The plans illustrate a variety of
functional features, such as patios and seating areas and where to place them. The planting plan for each design is a comprehensive guide which shows you what to plant where, how many plants you need and where to place them according to your aspect so as to create a similar look and feel to your favourite garden design.
Commenting on the initiative, Carol Marks, Horticulture Sector Manager, Bord Bia said, "We are thrilled to have worked with award-winning garden designers to create these step-by-step garden designs which can be implemented at home. The plans have been designed to
suit a range of different needs and provide inspiration for transforming your garden. A top tip is that the border details from each design are accessible for any gardener to implement, based on their garden aspect. Each garden design comes with a range of inspirational images, an animated walk-through and a full plant list to make buying the plants as simple as possible."
THE COASTAL GARDEN
Designed by James Purdy, Garden Designer and Chartered Architect
This east-facing garden is inspired by the Irish coast but will suit any location. 'This garden is designed to be robust and will tolerate arid and windy conditions that are typical in coastal locations but it will work just as well inland and lends itself to a good family space,' explains Belfast-based James Purdy. Everything in the garden has been chosen to withstand the elements. Borders are cut into the garden to add interest and feature different heights, textures and colours. Taxus baccata (Irish Yew) is clipped into dome
shapes, while perennial grasses such as Calamagrostis 'Karl Foerster' and Melica ciliata 'Silky Spike' add texture and movement. Perennials are repeated throughout the garden
to create a sense of rhythm. Croscosmia 'George Davison' adds a splash of yellow in late summer and autumn while the purple-hued Geranium 'Rozanne' blooms for months and
suits all conditions. Japanese anemone 'Honorine Jobert', with its delicate stem and pretty white flowers, moves gently in the wind.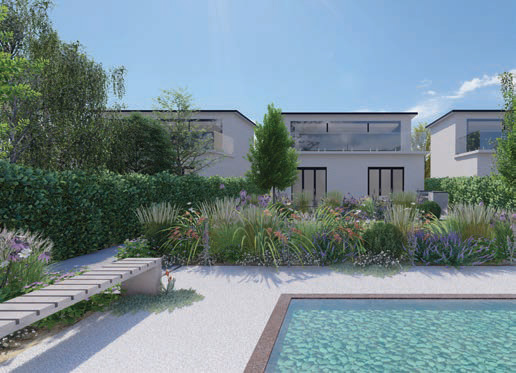 THE NATURE ENTHUSIAST'S GARDEN
Designed by Jane McCorkell, garden designer, landscape architect and landscape horticultural consultant.
Nature enthusiasts of all ages will love this south-west facing garden that is a haven for wildlife. 'People often think that a natural garden has to look uncared for but that is not the case. You can add form and function and still achieve a natural style,' reveals landscape architect, Jane McCorkell. This garden has been designed for a family of nature enthusiasts and will suit every age group. Young kids will love the hedgehog house and strawberry pallet wall while older children and teenagers will appreciate the easy-access bike storage and the outside room which can be transformed into a den or home office as the need arises. The garden is planted in Jane's signature natural style, with a wildflower grass area and pollinator-friendly flowers. 'The shrubs and flowers have been selected to encourage birds, bees and other insects. Bird feeders, butterfly houses, and bug hotels can easily be added to attract more wildlife.' A living wall and green-roofed storage further boosts this
garden's eco-credentials.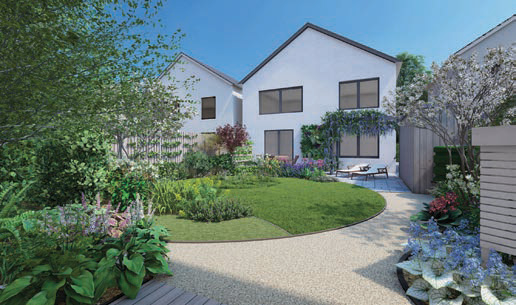 THE ENTERTAINERS' GARDEN
Designed by Linda McKeown, Garden Designer and Horticulturist
This east-facing garden provides flexible spaces for easy entertaining. 'Dividing your garden into separate zones that you can use at different times of the day really makes
full use of your garden,' says Belfast-based award winning garden designer Linda McKeown. She has taken advantage of this garden's easterly aspect by including a patio space where the owners can enjoy early morning sun, a sunken patio with dining table that offers an enclosed space for entertaining throughout the day, and a raised platform at
the back of the garden that provides a casual space to relax in the evening. 'When planting your garden, place the largest plants, such as trees and hedges, first, then add climbers, followed by shrubs,' says Linda. 'A clipped Box hedge (Buxus sempervirens), a line of upright grasses, or some topiary add structure and interest throughout the year and interplant with colourful perennials. Think about how plants perform through each season and how they will work together, if your garden is very small incorporate plants with two seasons of interest.'
THE SHARED SPACES FAMILY GARDEN
Designed by Nicola Haines, Landscape Architect
This west-facing garden is designed for a family with teenagers and young adults but can be tailored to suit any household. 'If you put the right structure in place a garden should last through a family's life,' believes landscape designer Nicola Haines, Partner in Tierney Haines Architects. Her design for this west-facing garden is a prime example. 'The structure is very simple, with three distinct spaces that can be reformatted and customised as your lifestyle changes.' Each space can be used by all of the family together or separately, with a raised bed of grasses and herbaceous perennials providing a semi-screen to other spaces, adding privacy for each area. Vegetable beds in the middle of the garden are followed by a relaxed seating area at the rear where a pergola gives an additional sense of
privacy and also serves as a mount for a hanging chair. The garden is designed in a series of layers with planting in the foreground, midground and background.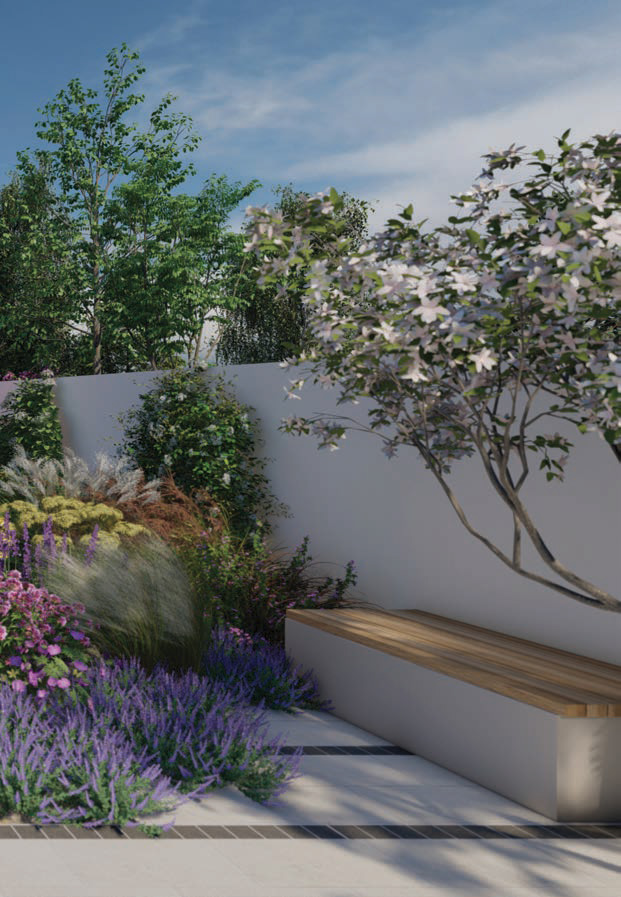 THE EASY CARE GARDEN
Designed by Oliver Schurmann, Garden Designer, Plantsman and Co-founder of Mount Venus Nursery
Though formal in structure, this north-facing natural garden is relatively easy to build and maintain. 'The idea behind this design was to create a garden that people can build themselves if they wish. The materials are all widely available and, while the raised beds are quite large, you will excavate enough topsoil to fill them when constructing the foundations, paths and pond,' says Oliver Schurmann. The two interlocking raised beds define the overall formal structure of the garden and create an instant feeling of space. Trees and shrubs are the backbone of this garden and because the garden is quite small, you can constrain their growth allowing other plants to flourish alongside. Shade-tolerant plants that will provide interest throughout the year have been selected. 'This garden is designed to inspire people,' says Oliver. 'You don't have to replicate it entirely, just take the elements that you like and adapt them to suit your space'.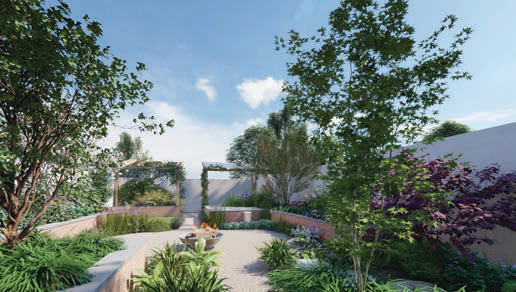 THE FAMILY-FRIENDLY GARDEN
Designed by Maeve O'Neill, Landscape Architect, Sculptor,
and Artist
This south-facing garden is designed to grow with your children. 'There are many practical things to consider when planning a garden for a family with small children. The space has to work for the parents as well as the kids and it needs to adapt as the children grow up,' points out landscape architect, Maeve O'Neill. The design for this split-level garden features three distinct zones: a patio with a vibrant raised bed encased in Cor-ten steel; a lawn with a solid wall where the children can play ball; and a relaxed seating area at the back of the garden, where a playhouse is also situated. The planting is designed to encourage pollinators and wildlife and has been carefully selected to ensure the colour palette, height and textures work together. As well as being low maintenance, the planting suits a busy family with young children who have a keen sense of adventure. 'The plants are robust and will stand up to exuberant play,' says Maeve.
THE PLANT LOVERS' GARDEN
Designed by Patricia Tyrrell, Landscape Architect, garden
designer and horticulturist
This south-east facing garden features an abundant display of flowers and will suit any location that enjoys good sunshine. The design of this garden is quite natural. It has been inspired by meadows with lots of flowers and grasses. Patricia notes, 'I like to feel like I am enclosed in the plants in my garden so here I have brought the planting quite close to the house'. The hard landscaping in this scheme has been kept simple, allowing the plants to be the main attraction. The patio closest to the house includes a built-in bench, 'the ideal spot for morning coffee', while the centre of the garden features space for a table and chairs with a second built-in bench and barbecue. The garden has been designed to give enjoyment throughout the year, while the planting, set out in Patricia's planting plan, is a very easy arrangement. Boundaries are greened up by using climbers rather than a hedge and include the fragrant Trachelospermum jasminoides (Star Jasmine).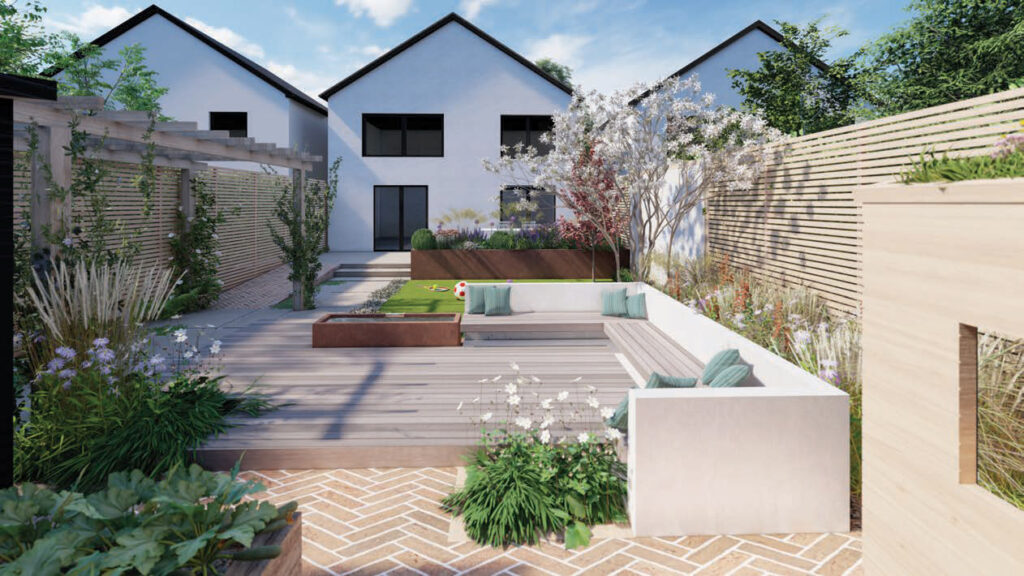 A WEALTH OF SUPPORTING INFORMATION
One of the core objectives of the Easy Steps to Dream Gardens initiative is to make it easy for the homeowner to choose and plant up their gardens themselves. For each garden there are inspirational design drawings, 3D renders, a master plan and a planting plan, along with a plant list, which are all available on the Bord Bia Bloom website. Each planting plan shows where to plant each specified plant, and how many to plant. This is accompanied by a list of plants (shopping list), with the numbers required to achieve the same effect in your own garden. While a design layout and 3D render is shown for each garden, the plans focus on the plantscaping as opposed to the hardscaping and accessories
being specified.
Alongside this, concise, accessible and simple supporting information is available on the website, that enables users to successfully execute the plant designs in their own gardens.
The Easy Steps to Dream Gardens will be a long term and evolving support tool for garden owners, with ongoing information for each garden design available at garden centres and nurseries including; focus border full plant list by garden design, focus border list of plants supported by images on the website, an alphabetical focus border plant list, and a full alphabetical plant list of almost 300 plants across all seven gardens. There is also an Interactive Garden Centre finder map on the Bord Bia website, found by clicking on 'where can I buy the plants'.
The website includes lots more information, hints and tips on how to successfully recreate
the gardens at home and the plants are readily available in 103 garden centres nationwide signposted in store with Dream Gardens point of sale material provided by Bord Bia bordbiabloom.com. ✽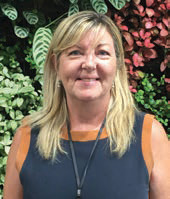 CAROL MARKS, sector manager for Horticulture at Bord Bia, is a graduate of the National Botanic Gardens, Glasnevin. Carol has a background in business management, publishing and public relations, she returned to study horticulture as a mature student. She worked in private gardening and gardening publishing before joining Bord Bia 15 years ago. Carol works across the whole of the horticulture supply chain.