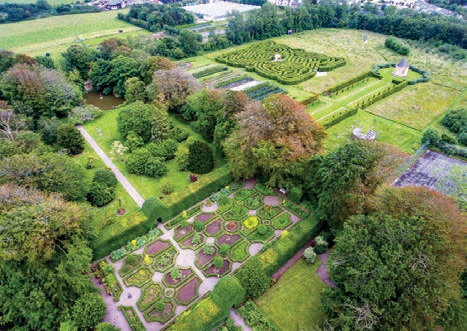 Designing in Challenging Times A Shift in Perspective
---
We recently watched as the Ever Given, a 400metre long container ship, went aground
and blocked a main artery of the world, stuck fast and cutting off the lifeblood of world trade in consumer goods. At such moments, we are struck by the interconnectivity of the world and are amazed that a small, momentary error of judgement could have such far reaching consequences. A year ago, the Garden and Landscape Designers Association (GLDA) held its last 'live' seminar just on the cusp of the virus, well, 'going viral'. The reality of our interconnectivity and the fragility of the world is now something we are truly coming to understand.
The changes we have experienced could not have been countenanced a year ago. The pandemic has had both positive and negative consequences for the environment. Could we make similar sacrifices for the future of all the species on the planet? This year's GLDA seminar, Designing in Challenging Times – A Shift in Perspective, examined if our views are changing on how we design and what that change might look like. Many of the participants of this year's GLDA seminar challenged us, as designers and landscape constructors, to engage with the concepts of designing for sustainability and biodiversity and questioned the role of the consumer in this engagement.
Designing Better Spaces in Neglected Cities
The first speaker, Aniket Bhagwat of Landscapeindia in Mumbai, India observed that 'If you work with an understanding of nature it will not fail you.' Mumbai is the most densely populated city in one of the most densely populated countries in the world. The
environmental challenges are many. Water is a scarce resource as climate change has shortened the monsoon season and has led to a decrease in rainfall. Over time, as in most parts of the world, the population is becoming more urbanised. Central to Landscapeindia's design ethos are the ideas of ecology, space use, and sustainability; an embedded connection with nature. The current circumstances have added new layers to their design
approach, which has evolved into a process that looks beyond the obvious or the minimum, to be a fluid response to the land, focused on ecology, art and society, encompassing ideas of time and culture, past, present and future.
Aniket shared the design process behind one of his projects; Kharawala House. The process involved multiple imaginings and drawings of the site – water flowing, vegetation, textures, smells, mapping trees, sky, and sounds (birds, leaves, insects) to get to the spirit of the place until the designers' minds were suffused by the site. Ideas fell into place like 'active meditation', a sort of subconscious stimulation. The first presentations to the client set the scene and context. Site analysis is often perfunctory, but this approach allows the space to be explored holistically, with an appreciation of what is there and how we respond to that as designers.
Aniket also described the development (with echoes later from Marti Franch) of a replicable toolkit for design. In the city of Mumbai, there are many dilapidated parks which Landscapeindia set out to improve and make more resilient by creating a flexible design template including elements such as water harvesting, recharge and conservation, street furniture design, planting for biodiversity, waste collection and composting. This results in a
variety of design typologies with a common foundation. This allows for layers of improvement to the city parks on limited budgets.
The next speaker, Marti Franch, continued the theme of designing better spaces; presenting projects from Barcelona, where more than 53,000 people inhabit a single square kilometer. Cars dominate, and there is little green infrastructure. Barcelona was laid out in 1859 in a grid, with the aim of creating equal conditions for all, and over time areas of green have become prime real estate with increasing densification as a result. Over 1000 people die from pollution related illness every year. The greening of the city and the reduction of car traffic is more about health than biodiversity and a systemic approach is being taken. The proposal is to reduce access for cars so that blocks within a 'Superblock' are only accessible to local traffic at 10km per hour, pedestrians, bicycles and scooters. Successful pilot projects to make 'livable' streets, have been implemented, with painted
streetscapes and street furniture. This is a new perspective and approach in a city where cars rule. Another example of Marti's work in Barcelona demonstrated design through the lenses of pollution control, soil quality, interconnectivity, noise and temperature reduction, and tree pollution capacity.
Marti also shared a unique, self-initiated project in his hometown of Gironna, where the outskirts of the city are ignored and treated like a backyard. Through a series of studies and, in conjunction with the municipality, they initiated a 'design by management' project; creating accessible spaces of beauty and value, while also creating models of ecological succession within the wild prairie vegetation. This approach has been a huge success, exploring a 'design by management' approach. A new perspective.
Concrete Ideas
Dermot Foley's talk, as part of Dublin City Councils sponsorship of the seminar, focused on the work on Bridgefoot Street Park in Dublin city. Springing from Dermot's PhD on concrete reuse, construction waste is used to create the hard landscape of the park. Dermot has come up with new design approaches, creating an experimental area to try out and demonstrate how his approach might work and constantly revising the set of drawings
to optimise and illustrate the on-site design. The concept of concrete reuse is both interesting and challenging and highlights the volume of demolition waste created and sent to landfill. How much thought do we give to designing for sustainability or to the materials we use? It is easy to design concrete walls and patios, quite another thing to think about the source of these materials and their future destination to landfill. Concrete is the most
consumed man-made material in the world. Cement production is said to be the third largest producer of CO2, accounts for a 10th of the world's industrial water use, and contributes to dust and air pollution.
Dermot's design process also incorporated the sustainable design principle of involving the local community and allowing their voices to be heard, so that a sense of community ownership develops and the park is embraced by the community, with less vandalism and more care.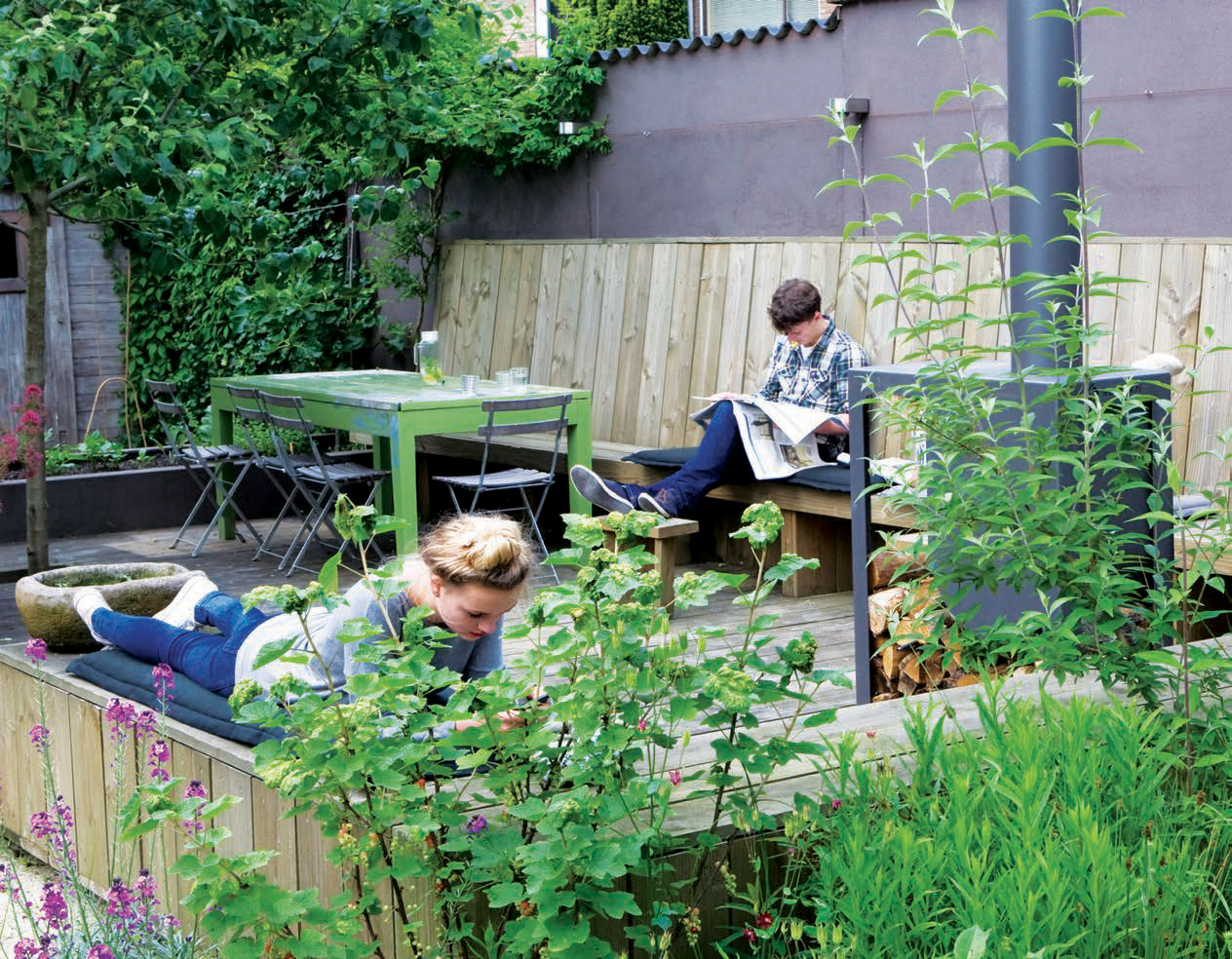 Sustainability Versus Resilience
A word often linked with sustainability is resilience, but what is the difference? The definition of sustainability is "the ability to meet the needs of the present without compromising the ability of future generations to meet their own needs". Resilience is the
capacity to deal with change, to adapt or bounce back. Resilience and sustainability are inextricably entwined. If a garden or a landscape is not resilient, it is likely to be demolished and rebuilt eventually.
One of Aniket's projects illustrated resilience in design, fusing ideas not necessarily demanded by the specification, creating multifunctional spaces; not just an office, but also a gallery, a place where people could gather and an elegant car park which could serve other community purposes.
Garden use over the past year demonstrates why resilience is important. Our gardens and outside spaces have become focal points of activity, growing food, tending flowers or just enjoying the space as plants grow and change. If the weather is good, it's where we eat, where the children play and where we can immerse ourselves in a little bit of nature at home.
Our next speaker was Carrie Preston, an American who has worked for 20 years in the Netherlands, one of the most densely populated countries in Europe. The gardens are small, averaging 6m x 10m. Most owners are not gardeners and see this space as extra living space. Carrie designs resilient and flexible gardens for family life. Utilities (bins, storage, laundry) are addressed at the early design stage. Childrens' play is incorporated by designing multi-functional structures with alternative uses as children get older. A pergola could accommodate a swing and climbing equipment, at another stage it will be a shady place to sit in the evening. Seats double as storage or incorporate an insect hotel. Structures and paving are ordered but her planting has a wildness to it which, used in combination with vertical poles, creates translucent curtains, subtle screens and enclosures, making intimate spaces within the garden. This allows residents to be together in the garden or to have space to themselves. The garden allows them to be who they want to be.
Sarah Eberle has built many Chelsea gardens. Her last garden was The Resilience Garden, sponsored by the Forestry Commission, in 2019. An idea born in a world damaged by climate change and threats from pests and diseases. Britain has 35 native species of trees and 50% of these are in danger, resulting in a change of character in the landscape. Sarah's current project was inspired by the learnings from that garden. She will be developing a resilience garden around a 500 year old farmhouse in Normandy. An experiment with unknown outcomes, but an adventure in resilience and sustainability. As work progresses, Sarah hopes that the project will become a hub for groups and students to come and work and learn.
Darina Allen of Ballymaloe Cookery School, Cork spoke passionately about the importance of the most fundamental and overlooked material beneath our feet – the soil. The health of the soil, plants and people are all connected and indivisible. If nutrients aren't in the soil they can't be in our food. She quoted Hippocrates, 'Let food be thy medicine, medicine thy food'. Ballymaloe Cookery School epitomises sustainability. More than just a cookery school, students are taught about the interconnected nature of their chosen career. The organic farm has a fruit and vegetable garden, an edible garden, a heritage orchard and wildflower meadows. As a resource for the school there is a herd of Jersey cows, heritage
pigs, 600 free range hens, a micro-dairy for making cheese, yogurt and butter, a fermentation room, an artisan bakery and a farm shop and café.
Echoing Sarah Eberle's thoughts, Darina also feels a passion and an obligation to pass on the knowledge and skills she has gained. Darina's demonstration, urban garden of 12.5metres x 7metres, with a small greenhouse and cold frame, shows it is possible
to feed a family of four, by ditching the lawn and planting fruit, vegetables and herbs.
Conclusion
It is clear there is potential at every stage of the design and building of an outdoor space for improvements in sustainability. Client expectation is a cornerstone for nature friendly gardens, so how do we persuade our clients to be more sustainable? We must use our skills as designers to articulate clients' desire for change, that they themselves cannot voice. To do this, we must be committed to real change and educate ourselves about the choices we make and their impact on the environment. Is there a lack of sustainability in our very design approach? Do we need to be more flexible about our processes, to create something more sustainable, which allows more depth and elasticity? For example, planting plans make little provision for and do not, perhaps even seek to understand, how plants can be layered to contribute to sustainability and maintenance.
To keep what is natural and beautiful in a site involves creating a narrative, in words or images, of the environmental value of what is there, or could potentially be created, and the rewards of protecting it. Aniket described this approach; before a design is carried out, he shows to the client, not a design, but images representing man's place in the world, setting the scene for a design which optimises the natural elements of the site and
changes the client's perspective.
A detailed and well thought out process for construction is something that can be overlooked in the design process, particularly when it comes to the soil. Soil holds more than double the terrestrial organic carbon that's stored in vegetation. It mitigates climate change through carbon sequestration and reduction of greenhouse gas emissions. Uncompacted soil will retain and filter water. A quarter of the planet's biological diversity exists in soil. The soil is often in good condition when the contractors arrive, but deteriorates due to compaction and contamination, and often a veneer of imported soil is added. Protection of the soil on site should be a priority. This can be done by carefully planning the construction process, using protective fencing and the right equipment in sensitive areas and communication with the contractors.
Above the soil, keeping valuable, biodiverse planting should be a priority. Small trees and thickets are often overlooked in surveys, but this type of natural regeneration could be valuable on a site. In the past, gardens were made from local materials and would often, if untended, disappear back into the earth from which it came. If local stone was used, it could be re-used by another generation. Evidence of man's activities, interestingly,
mainly express themselves in stone and in earthworks, which remain and leave a lasting but subtle mark on the landscape. The current 'fashion' is for hard surfaces and paving. Perhaps this is an expression of our current relationship with the world and environment. But what if, as in the past year, our garden was the sole area we could occupy? Is this what we really want from a garden? Will we go out each day and admire the unchanging
paving and concrete walls, or will we walk around our garden to see what is new, the flowers, the fragrance, the birds and insect life. A gentler and more natural approach to the genius loci is needed.
Education is key to a future healthy planet, as Darina Allen remarked, during discussions about the importance of skills and trades. We are losing our horticultural skills and a true
understanding of plant and soil science. Interest in nature and science should be nurtured and valued from early schooldays. Horticulture, a subject embodying much of science and nature should be part of the school curriculum. This has implications for future career choices and future skills. Looking after gardens or landscapes post construction requires knowledge and these skill sets are being lost. Resources go into growing and tending
plants for planting and, losses due to lack of knowledge, at the design stage or the maintenance stage, are unacceptable for the environment.
This seminar succeeded in shining a light on often overlooked corners, giving a new perspective. It is clear that we need to examine every aspect of landscape and garden design to create spaces that are resilient and truly sustainable, from process to design, and from construction to maintenance. This will involve new approaches to how we work and the materials we use. It will require campaigning for better education in crafts and trades to expand the fundamental skills for the construction and maintenance of gardens. Successful sustainability is achieved by examining the layers of our environment and how
they are connected. By immersing ourselves in our projects and exploring all the layers, new perspectives on sustainability will emerge into view. ✽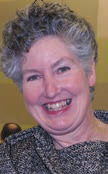 PATRICIA TYRRELL is an award-winning garden designer with two Gold Medals and Best in Category from Bloom. She holds an honours degree in Landscape Horticulture from UCD and is also a Masters Graduate of the School of Landscape Architecture at UCD.