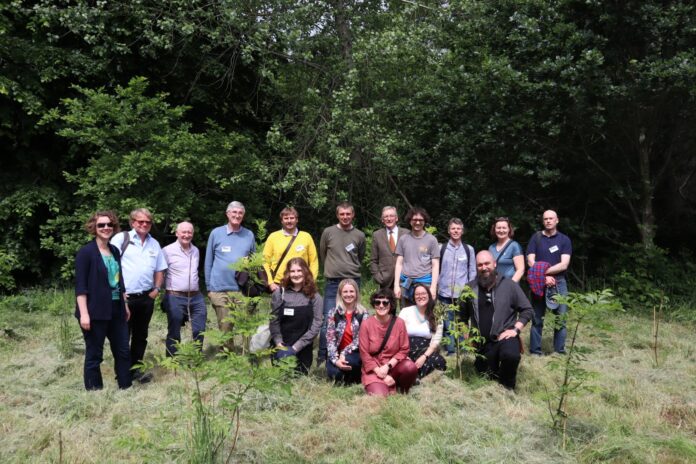 Teagasc, in collaboration with Skogforsk, Sweden, were delighted to co-host a recent two-day workshop on methods of propagating Ash for future restoration at the Ashtown Research Centre on 13th – 14th June, 2022.
The focus was on propagation of Ash plant material tolerant to the dieback disease.
Representatives of both academia and industry from seven European countries attended and participated in this important workshop. It focused on the production of ash cuttings to increase efficiency of breeding activities. It is envisaged that this work will help maintain full range of ecosystem services provided by this keynote species. Practical demonstrations formed a popular part of the workshop which featured different methods of grafting, budding and soft-wood cuttings for the propagation of Ash plant material tolerant to the dieback disease. An outdoor excursion also included visits to the two Ash gene-banks established at the Teagasc Oak Park Research Centre in Carlow, and the Phoenix Park, Dublin.
Speakers at the workshop shared insights on both potential and challenges for breeding ash tolerance to Ash dieback disease in Ireland and Europe. During the event, discussions focused on emerging future threats due to climate change that can be included in on-going research, while breeding for disease tolerance to ensure that "our trees must be future ready."
Speaking at the opening of the workshop, John Spink, Head of the Teagasc Crops, Environment, and Land Use Programme said: "Teagasc is pleased to be leading the research on improving the genetic tolerance of Ash to dieback in collaboration with Department of Agriculture, Food and the Marine, Coillte, Irish universities, and other European partners. Our objective in hosting this workshop is to expand our knowledge, strengthen existing collaborations, build new networks and broaden our research capacity."
Mateusz Liziniewicz, forestry researcher from Skogforsk, Sweden said: "The scope of the workshop relates to the focus area of the Nordic Forest Research which incorporates maintenance and increased utilisation of ecosystem services. The new propagation techniques demonstrated at the workshop will help to conserve Ash as an important component of Nordic forests, thereby maintaining critical biodiversity with high, or obligate associations to ash."
Dheeraj Rathore, Teagasc Tree Improvement Researcher, said: "The hands-on training and presentations delivered at this workshop equipped attendees with the capacity to successfully propagate tolerant ash genotypes to include in collections for lab and field assessments. It is crucial that we continue to share both our research knowledge, experiences and applications with each other to speed up the research on breeding ash for disease tolerance and to address other future threats."
Research is currently being undertaken at Teagasc Oak Park and Ashtown research centres on establishing field trials, indoor seed orchard and progeny testing for dieback disease tolerance. This workshop was funded by SNS Nordic Forest Research in collaboration with Teagasc.