Terry O'Regan on strategies to deal with time lost due to weather conditions
---
Any tennis fan who tunes in to coverage of Wimbledon every summer is intimately familiar with the frustration that arises when the slightest spattering of rain grinds the tournament to a halt. The TV cameras provide us with panoramic shots of thunder-laden clouds drifting over the London skyline and the players gather up their gear and head for the dressing rooms.
On landscaping sites facing similar threats, rain can stop more than play, but it is often a slower process. The oncoming downpour is greeted with optimistic mutterings of, "It might not come to much," and work continues until the rain becomes torrential. Even then, weather gear is donned, and work proceeds until conditions are finally intolerable. As workers retreat to uncomfortable van cabs, there are already suggestions that "It's brightening in the west!" Australians in their bluntly perceptive style call these the 'wet ass days'! 
It's very hard to plan for the weather in Ireland and a delayed tennis match is small fry when compared to a new lawn, raked out and ready for seeding, being washed away by a thunderstorm! I well remember one of the most challenging projects we had around a period house north of Carrick on Suir, it featured geometric slopes and very large level areas all just finished and seeded when a cloudburst created havoc. 
Landscape folk have little choice but to plan as best they can for weather events. Rain is not the only disrupter of landscaping activities – frost and snow play their part in the drama also. In a world where every breath we take seems to be legislated for, it is extraordinary that the bureaucrats in Brussels (let alone the Custom House) have yet to sink their teeth into the 'wet ass day' issue!
I recently came across a Dáil Éireann debate from December 1945, between a Mr. Lemass and a Mr. Dockrell. It concerned contributions to a Wet Time benefit fund and payment arrangements thereof. Painters of lamp posts, certain types of railings, and petrol tanks were not entitled to the benefit, whilst painters of buildings were. 
Things have not moved on. In fact, over the intervening years, our elected representatives seem to have washed their hands of the issue. This is illustrated by the following extracts taken from the Workplace Relations Commission's website, on the topic 'Absences due to Extreme Weather Events'. 
"In general, there is no statutory entitlement for an employee to be paid if they cannot attend work because of extreme weather. Any more beneficial arrangement is a matter of agreement between the employer and the employee.
Normally, employees are entitled to notice of at least 24 hours of a roster change. However, this does not apply in exceptional circumstances as with extreme weather events.
In these circumstances, the employer may put employees on a period of 'layoff'. An employer may lay off employees when there is no work available for a temporary period with that employer. If employees are laid-off then the employer is not obliged to pay employees. Laid-off employees may be entitled to Jobseekers Benefit or Jobseekers Allowance from the Department of Employment Affairs and Social Protection for the days they are not working.
Employers may have included policies and procedures in their contracts of employment to cover severe weather events which may include: The taking of annual leave for the days absent to avoid employee loss of earnings; Agreement to work back the hours/days lost; Alternative opening days on a day where the business is normally closed; Working from home where feasible and practical; Working from an alternative location where feasible and practical or other beneficial arrangements."
Landscapers straddle the great divide between agriculture and construction and are not bound by construction sector agreements. However, many work on larger projects where they might find themselves facing obligations arising from an SEO (Sectoral Employment Order – Construction Sector), so it is worth noting the following extract from an Irish Times report on 29/07/2021: 
"Trade unions in the construction sector are to seek a minimum guaranteed 39-hour week for workers as part of a proposed revised sectoral employment agreement. Essentially the unions want to see an end to the practice of construction workers being sent home without pay when work was not possible due to inclement weather."
I remember chatting with a German landscaper about how they dealt with long cold winters. He said that they simply closed down and staff went to the south of Spain or Italy. I was envious of that solution. A visit to discussion sites on the internet throws up a wide range of approaches to the problem from construction sites across the world.
You may choose to turn a blind eye to the issue, but leaving aside the added risks of global warming increasing the severity of our weather events, and despite the illusion that the only weather disruptions in Ireland comprise of gentle mists or soft rain, in almost every year there will be a few disruptive weather events. Well-managed enterprises aim to minimise 'fire engine' responses as much as possible.
In our case, the 'fire engine' was a long, lean, hungry rat easing himself in under the shed door. He focussed my mind on the need to get to grips with the weather. Winter 1990-91 had delivered an extended hard cold snap, with the ground frozen solid for weeks. By late January the rats were seeking refuge in the back corners of our corrugated iron shed. I was standing in the shed discussing the weather situation with my business partner when, out of the corner of my eye, I spotted that particular rat arriving to join our conversation. 
We had tried to keep staff productively occupied until the ground thawed, but there is only so much pruning and cleaning-up you can do on a work site. For many years, we'd already had a limited scheme in place to deal with weather disruptions, but it was not designed to cope with weeks of hard frost. In 1991 we reviewed and expanded that scheme.
The scheme involved management building an agreed fund by retaining the extra pay portion of overtime typically worked during the summer months. We would use that fund to pay employees when weather events prevented them from working. The scheme was more complex than that and included the addition of a small percentage to recognise the saving in bank interest as effectively the fund was working capital. Also, when an employee's fund reached its maximum target, the employee could draw on it to an agreed extent, towards time off for personal reasons. The scheme involved administrative time input each week. It was agreed with staff and was incorporated into our contract of employment document. It served us well over subsequent years. 
To conclude, I would suggest that all enterprises in the landscape/nursery-stock sector should have systems in place to deal with most aspects of anticipated disruptive weather events. Or maybe you would prefer to wait until a long lean rat eases his way under your shed door! ✽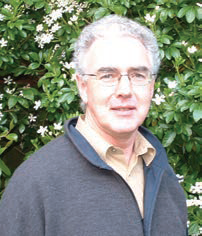 Terry O'Regan pursued a career in the Irish landscape sector for some 50 years as a contractor and consultant, before "retiring" recently. For much of that time, he was also an advocate of 'bigger picture' and 'outside the box' thinking. He continues with the latter and also provides a mentoring service for landscapers. He can be contacted at +353 87 240 7618 and terryjoregan@gmail.com