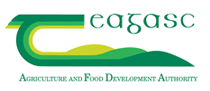 ICL'S LOCKSTAR FOR WEED CONTROL
Alan Abel of Complete Weed Control (South & Central Wales) says that ICL's residual herbicide, LockStar, has become an essential product in his armoury. Since its launch last year, LockStar has been well received in the turf and landscaping sector. Public green spaces, amenity areas, and transportation infrastructure were suffering from weed infestations, a reduction in available chemical solutions, and reducing budgets for control. This new herbicide, which controls a broad spectrum of weeds, has been keeping areas such as these weed-free, functional, and visually pleasing.
LockStar's innovative formula contains diflufenican and iodosulfuron-methyl-sodium, which is the first new weed control active ingredient to be released in the UK for many years. Alan has been using LockStar throughout the past season and has reported hugely encouraging results. "I've found it to be excellent and the longevity is fantastic," he said. "It has been effective on all fronts for up to five months with just one application." When applied before germination, LockStar creates a dual barrier at the soil surface ensuring that soil is kept weed-free for up to five months. To control weeds that are already present, it can be tank-mixed with glyphosate or a 'fatty acid'. Alan went on: "For those weeds that are already present, I have mixed LockStar with both glyphosate and another herbicide, I've applied them at half rate and again, the results have been fantastic."
Alan says that the product has been a huge hit with local authorities and councils especially when it comes to the treatment of areas that need frequent strimming. "We have applied LockStar to many fence lines, wall lines, tree bases – areas that need strimming at least once every three or four weeks," continued Alan. "With LockStar applied to these areas, they don't require to be strimmed at all, which saves our grounds teams a lot of time."
ICL recently announced an update to the label of LockStar, which provided users with more effective and flexible weed control, as Colman Warde, country manager for ICl explains: "The label update includes extended use of the product meaning it can now be applied at any time of year instead of the previous limited window between February and June. It was most welcome news to contractors and grounds managers as it gives them the opportunity to adapt their approach and give them greater control over weed growth." Alan agreed that these new permissions provide a lot more flexibility.
Please contact ICL on 044 1473 237100 or visit www.icl-sf.ie
Follow ICL on Twitter @ICL_Turf ✽
ICL NEW APPOINTMENT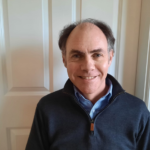 ICL has appointed Brendan Howell to the new role of ICL Sales Development Manager for Professional Horticulture across Ireland. His appointment is part of a strategic move that sees ICL offer its full range of Professional Horticulture product solutions to professional growers in the Republic of Ireland and Northern Ireland. Previously Bord na Móna's national account manager for Professional growing media in the UK and Ireland, Brendan brings a wealth of knowledge and experience to the role. Brendan will help growers to transition away from peat with ICL's new Levington Advance growing media range. Alongside the Levington Advance growing media range, ICL is offering its full portfolio of industry-leading controlled release and soluble fertilizers, wetting agents, plant protection products, and biostimulants. Commenting on his appointment, Brendan said: "I look forward to working directly with growers and distributor partners to help them meet the challenges that lie ahead in the professional grower market".
Brendan will be assisted by Andrew Wilson (ICL Fertilizers and Plant Protection Products Technical Manager for the UK and Ireland) and Dr. Eleni Siasou (ICL Product and Development Manager for Growing Media). Brendan's contact details are: Tel : +353 (0) 830987436 or Email Brendan.howell@icl-group.com ✽
RESUMPTION OF HORTICULTURAL PEAT HARVESTING RAISED AT WORKING GROUP MEETING
The resumption of peat harvesting, by way of derogation of emergency legislation, was the focus of a second meeting of a working group on horticulture peat.
Peat producers and vegetable, mushroom, and nursery growers are being forced to import peat from the Baltic States, Canada, Russia, and the UK after the High Court ruled that milling peat on bogs over 30ha requires planning permission from An Bord Pleanala and an EPA license. A working group was established to examine the issues identified during the Review on the Use of Peat Moss in the Horticultural Industry, comprised of representatives from the Department of Housing, state agencies, industry stakeholders, and environmental non-government organisations. The working group has been warned that 17,000 jobs are at risk due to the 2019 High Court ruling. Calls are now being made for a derogation or legislative amendment to save the 2021 harvest.
John Neenan of Growing Media Ireland (GMI) which represents most of Ireland's horticultural peat producers has said, "The Department officials appear to definitely rule out a derogation and are not over positive on emergency legislation," and went onto say "As far as I am aware, there is no legislative proposal available from the members to deal with this at present. However, GMI is working with their legal advisers and hopefully will have proposals available shortly."
Bord na Móna suspended peat harvesting operations last year following the landmark High Court decision. It then formally ended all peat harvesting on its lands in January of this year. It is understood the closure of BNM's peat division means CO2 emissions from peatlands in Ireland will reduce by over 97%. Just 0.12% of total Irish bogland has been developed for horticultural peat harvesting. The annual CO2 emissions from this area is 0.15% of total Irish emissions.
Speaking to The Irish Times, Just Transition Commissioner, Kieran Mulvey said: "Importing peat is nonsense. We're importing the same product from another European country that doesn't seem to have the same directives applied to them as are being applied to us on the same bogs."
Without Bord na Móna, many Irish horticultural peat producers and vegetable, mushroom and nursery growers have had to import peat from across the globe. John Neenan commented, "Collectively, what the industry wants is a return to horticultural peat harvesting in 2021 – whether this is by way of emergency legislation or a temporary derogation (short term) and an amendment in the current legislation to allow peat harvesting continue, subject to an EPA license, and based on a phased reduction on peat use in line with the development of responsibly sourced peat alternatives. Neenan added: "Harvesting should be carried out in a responsible way and in line with good practice and under an EPA license." A third meeting of the horticulture peat working group will take place shortly. ✽
OUTDOOR TEACHING RESUMES AT THE TEAGASC COLLEGE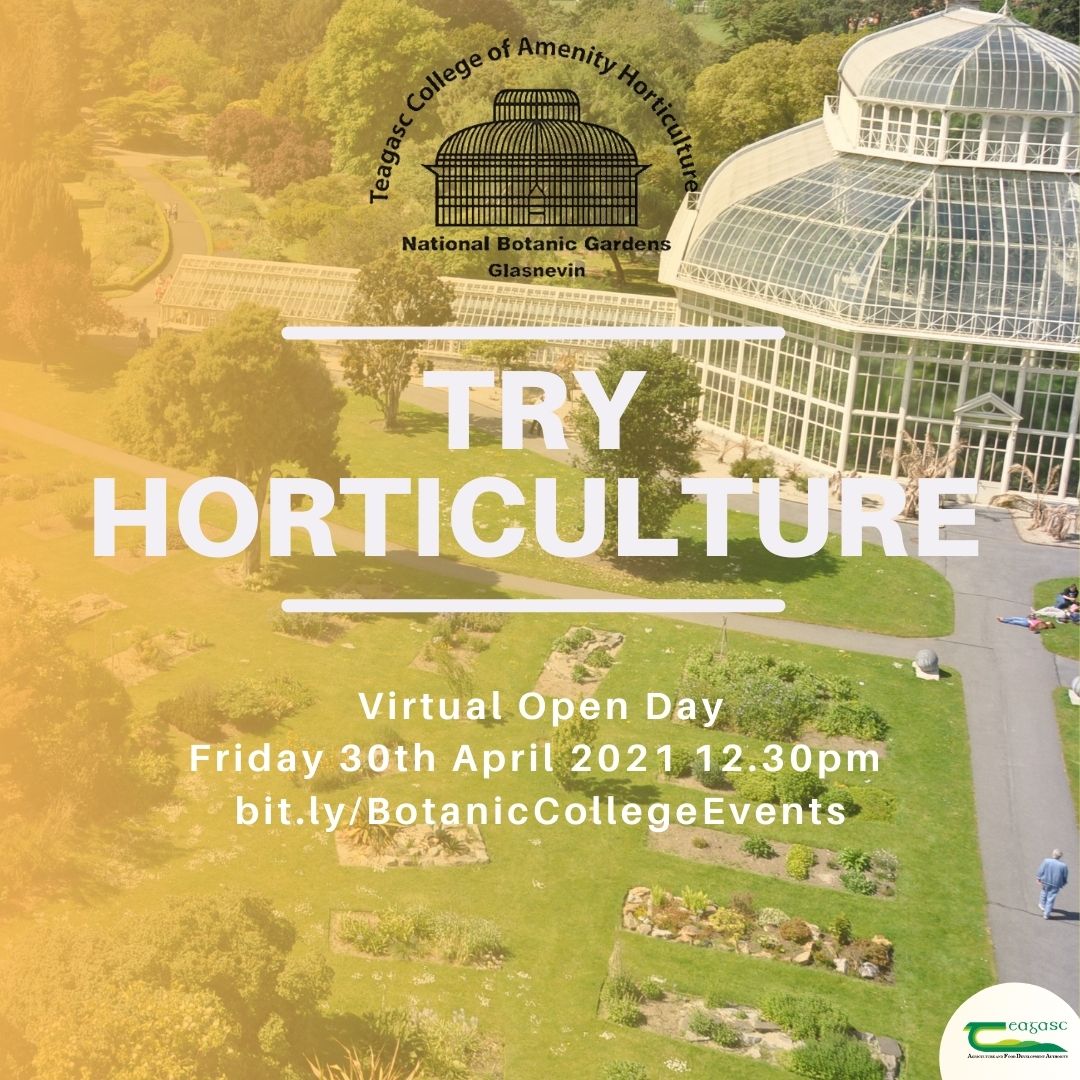 The Teagasc College of Horticulture in the National Botanic Gardens has been able to resume outdoor practical delivery of its programmes in April, with the easing of Level 5 restrictions. All outdoor activity had been paused due to the pandemic but thankfully we can now operate outdoor, safe, socially distanced practicals. Students doing the advanced certificate and degree programmes will be joined by certificate students in May to complete programmes for practical instruction and assessment in different modules. All activities are closely risk-assessed and follow strict HSE protocols to ensure safety procedures are followed at all times. Students work in specific pods groups for their nominated outdoor activities. Students have been delighted to be back on-site in Botanics Glasnevin and the Ashtown Teagasc.
There is ongoing interest in courses for next year and on the last Friday of each month there is a virtual event called TRY Hort which is an online programme highlighting the coursework and programmes offered. Past TRY Hort events can be viewed on the National Botanics College page of the Teagasc website. This month's event, on Friday April 30th at 12.30 pm, will showcase the level 7 degree that is offered with partner Waterford Institute of Technology, covering what this programme can offer for learning and work placement and how it can prepare students for a career in horticulture. Register for the event at: https://tryhorticultureaprilvirtualopenday.eventbrite.ie. Interest in next year courses is strong and there is an online application portal open available for the Certificate Level 5 programme at: https://www.teagasc.ie/education/going-to-college/ apply-online/horticulture-courses. ✽
INTRA ECO SHIELD – ENHANCING CROP GROWTH
Intrahorti, in collaboration with Whites Amenity, brings a new product to the Irish market, Intra Eco Shield, which empowers the natural strength of crops. Intra Eco Shield is made up of a high level of orthosilicic acid, the addition of which can benefit plants in many different ways.
Silicon is an element present in nature and its effect on crops is often underestimated. As we understand more, it is apparent that Silicon is one of the trace elements necessary for crop growth. Growers demand high yields from crop planting, and by adding a silicon-based product that is highly available to the plant, Intra Eco Shield helps the plant to thrive.
Intra Eco Shield ensures the formation of strong and healthy crops, creating a shield in the outer cell wall of the plant, protecting the cell against external hazards, and improving nutrient uptake, particularly calcium and potash. It also stimulates photosynthesis and increases rooting along with improving pest and disease control. Intra Eco Shield helps growers to keep crops healthy and increase yields. ✽