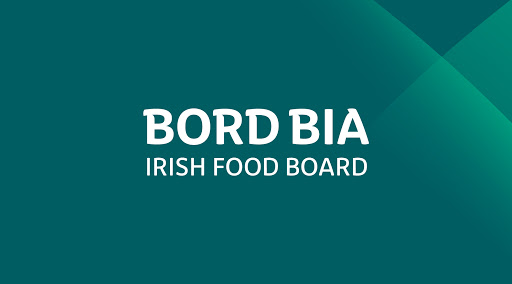 NATIONAL POTATO DAY 2021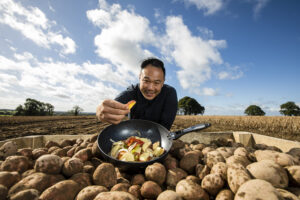 Friday 1st October marked Bord Bia's National Potato Day, an annual celebration of the potato and its contribution to the Irish diet and culture. The chosen theme for this year's campaign was "It All Starts With Potatoes", highlighting the versatility of Ireland's favourite vegetable and its suitability for all diets and age-groups. The campaign also championed the popular indoor and outdoor activities that helped us all get through lockdown, with the aim to highlight the potato as nutritious food to enjoy before or after any activity. 
As part of the campaign, Bord Bia worked with four trusted ambassadors representing diverse lifestyles and audiences. These included an Irish Potato Grower, renowned chef Kwanghi Chan, Mum/Family influencer Sarah Battle, and Outdoor Activity Enthusiast  Rachel Purcell. Each showcased their love for potatoes, and how "It All Starts With Potatoes" in their lives. ✽
EU POTATO CAMPAIGN – 'POTATOES PREPARE TO BE SURPRISED'
Bord Bia's three-year EU funded millennial campaign, 'Potatoes Prepared to be Surprised', was awarded a bronze Effie award in the category of Public Service, Government & Utilities. ✽ 
CELEBRATING THE UN INTERNATIONAL YEAR OF FRUIT AND VEGETABLES!
To mark the UN International Year of Fruit and Vegetables 2021, Bord Bia are encouraging people to add one more fresh fruit or vegetable to any meal. This coincides with Bord Bia's annual 'Best in Season' campaign, which highlights the convenience, taste, texture, vibrancy and colour of seasonal fresh fruit and vegetables. In an effort to provide simple tips on how to eat more fresh produce, they have partnered with dietitian Orla Walsh.
"If everyone in Ireland were to 'add one more' locally grown fruit or vegetable into their daily diet, they would become healthier," says Orla. "However, another motivation to eat more in season, local produce is that it is often the more sustainable choice, and taking on the 'add one more' challenge can also help to avoid food waste. Leftover vegetables in your fridge or from dinner are delicious in your morning omelette and ideal for use in pasta sauces and stir fries."
Lorcan Bourke, Sector Manager for Fresh Produce and Potatoes, Bord Bia said, "For the International Year of Fruit and Vegetables, it's very heartening to see that the latest market data shows Irish consumers are continuing to purchase more fresh produce, with the record sales achieved during the pandemic being sustained into 2021."
New market data in July, showed an increase in the purchase of fresh produce in Ireland, with the total retail market valued at €1.78bn. Consumers increased their average annual spend on fresh vegetables by 7.5% from the previous year. The total retail market for fresh vegetables, which makes up 37% of all fresh produce sales, is now valued at approximately €659.7m annually, an increase of 8.6% over 2020.✽
EU FRUIT AND VEGETABLE CAMPAIGN 2022-24
The Horticulture department has been granted funds by the EU for a multi-country Fruit & Veg millennial campaign and promotional programme. The €5.4m Fruit & Veg Multi-Promotion, in partnership with Interfel and AIB (banana promotions) – both from France and Brussels based European Fresh Produce Association, Freshfel – will deliver a €1.5m investment in promotional funds for the Irish Fruit & Veg sector over the next three years. ✽ 
FOOD FOR THOUGHT: IBBA AND BORD BIA CREATE SCHOOL LUNCHES THAT KIDS WILL ENJOY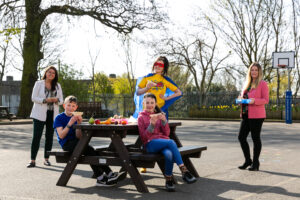 Healthy Heroes, the popular lunchtime nutrition programme, is underway in hundreds of primary schools around the country as the Irish Bread Bakers Association and Bord Bia join forces again to help children improve their eating habits and fitness levels. Studies show that just one in ten Irish children meet the national physical activity guidelines, while at least one in five nationally are still overweight or obese. 
Ailbhe Byrne, FDI Public Affairs Executive from IBBA, says "Healthy Heroes is now in its eighth year and is still hugely popular among teachers and students. School lunchtime is an important opportunity to develop positive attitudes towards food choices and nutrition, nurturing life-long eating habits. Furthermore, children can be a very important influence over their peers' eating and exercise habits." 
"Primary School is a time when many changes take place, which is why nutrition is so important", says Dr Elizabeth Finnegan, Healthy Eating Executive at Bord Bia. "A lot of growth happens in these years and children need the right balance of nutrients to help them reach their full potential. It is great to see programmes like Healthy Heroes encouraging this type of in-school and at home activity." 
For more information on the programme visit Irishbread.ie. ✽
LET'S GROW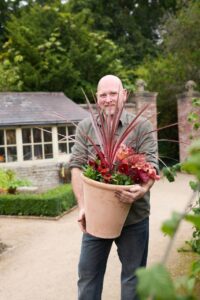 Over the course of the pandemic, and especially during lockdown, many new consumers have developed an interest in gardening. However, recent research shows that many of these consumers find it hard to acquire the knowledge and skills needed to begin their journey.
Simple gardening advice is always in demand and insights from the GroMor website show that the monthly to-do list has been their most valued resource, especially for new gardeners. Some other topics of interest on the site included: how to get kids involved in gardening, gardening for the environment/biodiversity/bees, and the physical and mental benefits of gardening.
Additionally many younger consumers came into the category this year and last through an interest in growing their own fruit and vegetables. As many within this cohort are renting, they respond positively to container gardening and simple tips on growing fruit and veg on a balcony or outdoor space.
The GroMor programme is now being streamlined into the Let's Grow campaign, with key content from the initiative being migrated to BordBia.ie. Features on the BordBia.ie gardening hub include monthly gardening advice and to-do lists, a map showcasing garden centres and nurseries nationwide, and plant guides highlighting Irish grown ornamental plants from Irish Nurseries, in addition to inspirational and educational content. Activity is pitched at new or beginner gardeners who are not confident about gardening or growing their own food. 
In preparation for the autumn burst of activity, video footage of Fiann Ó Nualláin was captured at the Botanic gardens, creating a range of seasonal containers, including a window box herb garden. The focus was on Irish grown plants, and how seasonal bedding can really lift a container.  
In addition to this, several of the advice guides were animated to make them suitable for Facebook and Instagram. There was an intensive digital promotional burst for the material in the middle of October, on Facebook, Instagram and YouTube. Full results are still awaited, but it is estimated that the ads for the videos will have been displayed 800,000 times, with 80,000 video views. 
Plans are in place to launch the Let's Grow campaign in March of 2022 with a range of spring gardening tips. The campaign will engage with consumers through videos, animations, infographics and inspiring images. It will feature well known and up and coming gardeners, across both plants and fruit and vegetables, with regular, engaging content. ✽ 
MINISTER MCCONALOGUE AND OLYMPIC CHAMPION KELLIE HARRINGTON LAUNCH BACK TO SCHOOL HEALTHY EATING CAMPAIGNS 
MINISTER MCCONALOGUE AND OLYMPIC CHAMPION KELLIE HARRINGTON LAUNCH BACK TO SCHOOL HEALTHY EATING CAMPAIGNS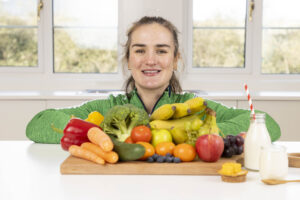 Launching the campaign at Kellie's former primary school, St Vincent's Girls National School in Dublin, Minister McConalogue said "I am delighted to launch the Back to School Campaigns for the School Milk Scheme and the Food Dudes Programme, both of which play a key role in meeting school children's dietary requirements in a school setting, and also encourage children to make healthier eating choices outside of school."
Congratulating Kellie on her Olympic Gold Medal win the Minister said "Kellie is a positive and inspirational role model for school children. As a School Milk and Food Dudes ambassador, she has empowered many school children to make healthier eating choices by drinking milk and eating more fruit and vegetables"
The Food Dudes Programme is an award-winning, curriculum-linked and evidence based healthy eating programme developed to encourage children to eat fresh fruit and vegetables. Now entering its 17th school year, over 1.2 million school children have participated in the programme to date.
Dr Elizabeth Finnegan, Healthy Eating Executive with Bord Bia says "The most recent National Children's Food Survey highlights that school children are still consuming well below the recommended 5 to 7 servings of fruit and vegetables per day (3 servings per day)." This research corresponds well with the recent National Teen's Survey which showed teens aged 13-18 years-old are consuming less than 3 servings of fruit and vegetables a day. Indeed, a recent Consumer Insights Fresh Produce Study by the Bord Bia Thinking House also revealed that Irish people aged 18-34 are only eating on average 3.9 portions of fruit and vegetables a day. Thus the need for continuous promotion of healthy eating and the benefits of increased fruit and vegetable consumption amongst the population is warranted.
Dr Finnegan continues "Early intervention is key to behaviour change. The Food Dudes Programme has been shown to bring about significant change and improvements in school children's eating habits. Our most recent evaluation conducted by researchers from the National Nutrition Surveillance Centre, UCD, found that the programme effectively increases provision and consumption of fresh fruits and vegetables at home and in school, both in the short and long term."
For more information visit fooddudes.ie. ✽