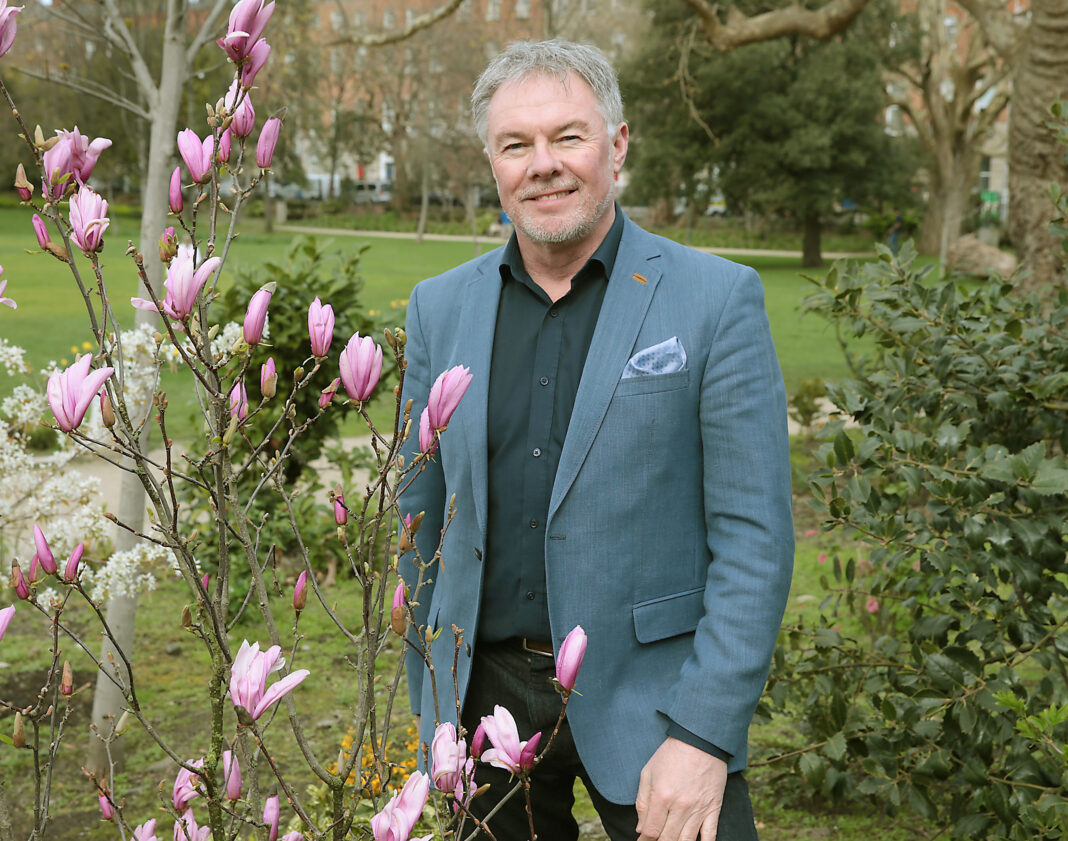 With his departure from Bord Bia imminent, Gary Graham talks with Barry Lupton about a career dedicated to the promotion of horticulture and what the future holds.
---
LET'S CUT TO THE CHASE. YOU'VE BUILT A SUCCESSFUL CAREER AND REPUTATION WITH BORD BIA; WHY ARE YOU LEAVING? 
It was a tough decision and I'm very proud of Bloom, but after 20 years between Bord Glas and Bord Bia it's time for me to get my teeth into new projects. Bloom is well established and I am confident that it will run and run. 
OF THE FACTORS WHICH HAVE INFLUENCED YOUR DECISION TO LEAVE, WHAT WAS THE MOST SIGNIFICANT? 
The need to have more autonomy and more focus on horticulture rather than the wider Bord Bia remit and processes.
WHAT WILL YOU MISS MOST ABOUT THE WORK YOU WERE DOING? 
Working with Team Bloom and the brave creative designers who are at the centre of a €4M event that inspires a €40M consumer spend every year. I'll really miss the judges and those fascinating debates about design and construction.
OBVIOUSLY, I MUST ASK, WHAT WILL YOU MISS LEAST? 
I was always gutted for designers who gave it their all, but fell short of the top medals. Awarding low medals was always heartbreaking. 
MOST PEOPLE IN THE INDUSTRY MOST CLOSELY ASSOCIATE YOU WITH BLOOM, BUT YOU WERE INVOLVED IN THE SECTOR LONG BEFORE AND IN DIFFERENT CAPACITIES PRIOR TO IT STARTING. WHAT WAS YOUR CAREER PATH AFTER GETTING THOSE TWO HONORS AND THREE PASSES IN THE LEAVING?
Thankfully, my lousy Leaving Certificate didn't stop me from getting into the National Botanic Gardens, after two attempts, and a great internship at the Chicago Botanic Gardens. After some time landscaping and many years of business studies/night classes the IFA gave me my big break and I got off my tools. Building a representative structure for the horticulture sector gave me great insights into what was required to develop the sector. So far, I have actioned at least three of those requirements, export development, TV and Bloom. 
YOU COULD HAVE MADE A CAREER IN THE COMMERCIAL SECTOR, WHAT STEERED YOU TO BORD GLAS? 
I could never make it as a grower, designer or contractor. Working at "industry" level, where I can facilitate and support others in their success, is very rewarding – a sort of vicarious satisfaction
LOOKING BACK OVER YOUR CAREER, AND LEAVING BLOOM ASIDE, WHAT WOULD YOU SAY HAVE BEEN YOUR MOST SIGNIFICANT CONTRIBUTIONS TO THE SECTOR.
There have been many, but never on my own, always with great people. Negotiating changes to tax and VAT on plants, getting exports moving, securing support for the horticulture sector in challenging times e.g. floods, droughts, and securing the rights for growers (strawberries) to sell their produce directly at the farm gate/on the road.
IN ACKNOWLEDGEMENT OF YOUR SELF-DEPRECATING NATURE, IT'S ONLY FAIR TO ASK FOR A COUPLE OF EXAMPLES OF THINGS THAT JUST DIDN'T WORK OUT.
There are even more failures and these are my own! Establishing an industry-funded development/promotion scheme, creating an Irish version of the HTA, providing more support for regional garden shows, boosting the production of Irish-grown plants, working closer with owners/managers of great Irish gardens, bringing more RHS-type initiatives to Ireland and the list goes on. Thankfully, I have a few years left to tackle some of these.
TRANSLATING BLOOM FROM A WHITE BOARD CONCEPT TO A SUCCESSFUL EVENT WAS AN ENORMOUS UNDERTAKING. WHAT WERE THE MOST SIGNIFICANT CHALLENGES YOU AND THE TEAM HAD TO OVERCOME? 
Money was the biggest challenge, and it still is. In recent years it has taken close to €1m to create the show gardens. This is incredibly good value when compared to other shows, like RHS Chelsea, but it is still difficult to raise. Operationally, we struggled in the early years as there was no other event like Bloom in Ireland to learn from.
HOW HAVE THOSE CHALLENGES EVOLVED OVER THE YEARS? 
On the operations side, now there is a well-oiled machine that is very familiar with every aspect of Bloom. On the financial side, Bloom is now a household name and beloved by sponsors and many great charities and not-for-profits.
EVERYBODY AGREES THAT THE EVENT HAS HAD A POSITIVE IMPACT ON THE SECTOR. WHAT DO YOU THINK HAVE BEEN THE MOST POSITIVE IMPACTS?
Raising the nation's awareness of the importance of garden design and championing the joys and benefits of plants and gardens. Providing a platform for excellent designers and horticulturists, not to mention art, sculpture, food and drink. Getting lots of kids interested in plants by bringing in circa 20,000 free of charge most years. Establishing a linked TV series i.e. Super Garden and putting gardening on the front pages and on the main news every year.
I CAN'T QUITE RECALL WHO GAVE YOU THE MONIKER, MR BLOOM, BUT I THINK IT STUCK. JOKING ASIDE, PERSONALITIES AND RELATIONSHIPS ARE IMPORTANT FOR THE DELIVERY OF SUCH EVENTS. HOW WILL THE SHOW GO ON WITHOUT YOU? 
I completely agree that relationships are key but I am very confident that the show will go on to greater heights. I have also made it clear to Bord Bia that I am available to assist where required with special relationships.
IF THERE IS TO BE A NEW MR. OR MRS. BLOOM, WHAT ADVICE DO YOU HAVE FOR THEM?
Remember to keep horticulture at the centre of Bloom and to do everything possible to facilitate the designers to create amazing gardens.
HOW WOULD YOU LIKE TO SEE THE EVENT EVOLVE OVER THE NEXT FEW YEARS?
Like many others, I want to see Bloom use its important place in the Irish social calendar to help us to mitigate the climate crisis and stop biodiversity loss. How? By placing sustainability at the centre of every garden, feature and piece of infrastructure. I would also like to see RTE step up and provide the sort of coverage that the BBC provides for RHS Chelsea.
SPEAKING OF MONIKERS, YOU WERE AFFECTIONATELY REFERRED TO AS SIMON TROWEL WHEN SERVING AS LEAD JUDGE IN THE GARDEN MAKEOVER SHOW SUPERGARDEN. WILL YOU STILL BE INVOLVED, AND IF NOT, WHAT'S NEXT FOR THE SHOW? 
My son Geoff came up with that name. In the early days of Super Garden I was very aware that professional landscape contractors were trying to maintain high standards, so I came across as a little cranky. Yes, the show will go on and I am involved. Super Garden 2022 is already "in the can" and there will be two great winners bringing their gardens to Bloom next year. I do not know what will happen for 2023 but I would love to stay involved – the "Bloom ambassador" maybe. "Envoys" are getting bad press these days.
THE CONFLUENCE OF INCREASED ENVIRONMENTAL AWARENESS, THE MAINSTREAMING OF GARDENING, A RISE IN LANDSCAPE APPRECIATION AND EVEN THE PANDEMIC HAS CHANGED THE DIRECTION OF IRISH HORTICULTURE. WHAT DO YOU THINK WILL BE THE MOST SIGNIFICANT CHANGE OVER THE NEXT DECADE? 
Recently I heard RHS Vice President Baroness Floella Benjamin suggest that "ornamental horticulture" could be better and more accurately described as "environmental horticulture." I was jealous that I didn't think of it. I believe that, at long last, horticulture will find its place in the sun at the centre of everything that we do in the economy and in society for our human and planetary health and wellbeing.
FOR SUCH A SMALL SECTOR, WE HAVE OUR FAIR SHARE OF REPRESENTATIVE BODIES; THE ALCI, ILI, GLDA, IFA, ISNA, HIF AND THE HORT BOARD TO NAME BUT A FEW. IT'S BEEN ARGUED THAT THIS FRAGMENTED REPRESENTATION IS DETRIMENTAL TO ACHIEVING SHARED GOALS. DO YOU THINK THERE IS SCOPE FOR OVER-ARCHING REPRESENTATION, AND IF SO, WOULD YOU CONSIDER LEADING IT? 
Yes there is always scope for collaboration and pooling of resources. I would always want to assist this sort of initiative if there was an ambition to make great things happen.
YOU HAVE A NUANCED UNDERSTANDING OF THE HORTICULTURE SECTOR'S LIMITATIONS AND OPPORTUNITIES. WITH THAT KNOWLEDGE – AND IF YOU HAD NO RESTRICTIONS – WHAT FIVE THINGS WOULD YOU CHANGE TO MAXIMIZE POTENTIAL? 
There is no shortage of good ideas. However, in my experience, you need well-resourced champions to bring ideas to fruition and someone has to help them to pay their bills. That said, a good start would be to increase Irish horticulture production and to place more value on green infrastructure and the people who design, build and maintain it. This would include better pay for staff, more appreciation for green public spaces, parks and street trees, and more emphasis on horti-tourism with better promotion of the green spaces/gardens that we have. More joined up thinking and actions across state/commercial/representative bodies would also serve to maximize potential. 
IT'D BE UNDERSTANDABLE IF YOU CHOSE TO USE THIS OPPORTUNITY TO REFLECT, CHANGE COURSE, OR SIMPLY BUY A YOGA MAT AND A DRYROBE, BUT I SUSPECT HORTICULTURE HAS NOT HEARD THE LAST OF YOU JUST YET. SO, WHAT'S NEXT FOR GARY GRAHAM? 
I already have the meditation cushion and I'll be getting the Dryrobe soon, but I plan to work for another decade or more if I'm able. I will continue to work as a board member/trustee of The Sanctuary and The Lafcadio Hearn Japanese Garden – two great charities. I would like to use more of my executive coaching and my mindfulness training.
THAT'S ALL GREAT, BUT WHAT DO YOU REALLY WANT TO DO? 
I will focus on the house and garden for a few months and then I will focus on a few projects that I had to park for 20 years. They are all horticulture-related but it is too soon to name them. 
YOU HAVE FIVE MINUTES WITH YOUR YOUNG SELF, JUST AS YOU'RE FILLING IN YOUR CAO FORM. WHAT ADVICE WOULD YOU GIVE YOURSELF? 
Try to find a passion or career that makes the world a better place for both sentient beings and/or the environment. Remember to have some fun, practice mindfulness and try to be kind, starting with yourself. ✽
Gary can be contacted at gary@hortitude.ie