Michal Slawski outlines Bord Bia's Brexit action plan for the horticulture industry.
The departure of the UK from the European Union on December 31, will have profound implications for the Irish horticultural industry.
Exporters to the UK will face new customs procedures, possibly tariffs, and will need to understand how phytosanitary requirements may impact them. Producers will also need to consider what the impact will be on inputs sourced from the UK like packaging and fertilisers. There are also potential delays for goods transported using the UK land bridge to and from the EU.
To help producers and companies prepare for Brexit, Bord Bia has prepared a series of guides covering all the areas of importance with checklists of activity, available on the Bord Bia website under the Brexit action plan tab.
The following areas are covered:
CUSTOMER RELATIONSHIPS
How to strengthen customer relationships and unlock new growth opportunities. It provides useful guidance on understanding your market position and on developing commercial marketing strategies.
SUPPLY CHAIN
Focusing on steps to take in order to get a better understanding of supply chains and the risks that Brexit poses to them.
CUSTOMS AND CONTROLS
This focuses on main points of customs and controls such as new customs formalities, including import and export declarations, pre notifications for certain products, license requirements and other regulatory requirements as the UK will become a Third Country at the end of the Transition Period.
FINANCIAL RESILIENCE
Key actions to take to improve financial resilience against the uncertainties of trade with the UK as it leaves the European Union. It looks at understanding the impact of currency exposures, hedging, and cost reduction.
BUSINESS CONTINUITY
How to identify, monitor, and manage risks to your business in the run-up to the end of the Transition Period. It also provides some tools that businesses can use to help manage risk more effectively.
MARKET DIVERSIFICATION
Explains how to develop a strategy for expanding into new geographies.
The Department of Agriculture, Forestry and the Marine also has a good Brexit section, with features on plant regulations, animals and animal byproducts, and pallets.
Bord Bia will be running online seminars covering important Brexit topics in the coming months, the details of which will be relayed by regular communication with horticultural producers.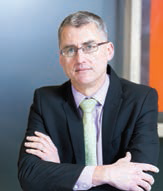 MICHAL SLAWSKI is a Development and Marketing Specialist in the horticultural department of Bord Bia, with responsibility for mushrooms, fruit, and protected crops.
He has been with Bord Bia for more than 10 years and has a Masters in Project Finance & Venture Management from NUIM.