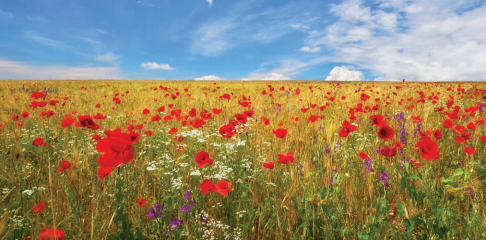 Design By Nature, Ireland's long-established Irish wildflower grower, is celebrating another great year of increasing sales and customer numbers. 
Sandro Cafolla, founder of Design By Nature comments,  "While the 2019 autumn rain and 2020 summer rain put our  crops under serious pressure, the late 2020 summer sunshine  helped save much, and the barns – while not bulging – are full  with seed." 
Covid-19 and slow internet rates delayed the testing and launch of their new website, however, web development will resume over the winter with an expected launch date pushed out to February 2021. 
Brexit will cause huge challenges to competitors who import UK wildflower, says Sandro. "While this is a great opportunity for us, it is off-set by more exacting demands on product specification, species, and performance. Already new entrants, in trade, retail, and giftware markets, are examining the gap in the market. While some will only sell native Irish,  others will not. 
"The horizon is bright, yet it will be many years before these crops can be mass-produced on a scale to reduce price and better regularise supply. Until those new entrants on the horizon come in on the tide and invest in production, we are committed to conservation first, keeping wild plants wild while selling first and second-generation wild seeds. "Increasing our production and scale-up is not easily solved. There are only so many harvest days and only so many products that can be hand and craft harvested. This micro SME capability is based on the skill level of each employee, and most take individual instruction for three years to learn the many varied aspects of the work. Our long-term staff of four manages about 10 satellite farms and production centres and all sales. 
"There is always employment here for knowledgeable horticulturists who can also advise and support our customers. Our next recruitment window is in February 2021." 
Seasons greetings from this small horticultural team,  Sandro and the Seed Heads. www.wildflowers.ie.