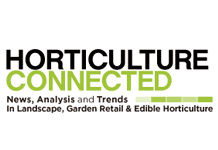 Offset your carbon footprint using Enrich compost
Composting is the circular economy in action. Organic materials are recovered at source from parks and gardens. Without this segregation, these organic materials may go to landfill where they would produce greenhouse gases (GHGs) such as methane. As a GHG, methane is 28 times more potent than carbon dioxide. Enrich compost is a sustainable soil improver, it offsets the use of finite artificial fertilisers and peat. So, the act of composting is, in itself, reducing the release of GHGs.
During the composting process bacteria and fungi in the compost pile transform the organic matter into complex stable organic matter, often referred to as humus. Biologically stable compost contains approximately 200kg of stable organic matter per tonne. Carbon makes up 58% of this organic matter. Therefore, every tonne of Enrich compost used in your project sequesters up to 400 kg (0.4 tonnes) of carbon dioxide (CO2) equivalents. The average carbon footprint of an Irish person is 13t of CO2 per year.
Visit www.enrich.ie.✽
Blended learning plant propagation course at Teagasc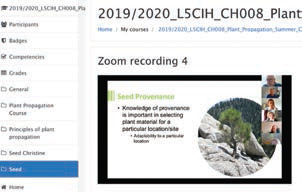 The COVID 19 pandemic situation is driving new ways of doing things in education.
June saw the commencement of blended learning modules for Teagasc College with the start of their Level 5 Plant Propagation Summer Course. This involves delivery through live Zoom and recorded lectures, which are made available to the class through their virtual learning environment MOODLE. There are 30 students taking two modules this summer in Plant Propagation and Garden Design.
The college's recruitment is taking place in earnest at the moment and September numbers look strong. The training delivery will be blended and the college hopes to have theory classes replaced by online options. The practical aspects of Horticulture will be done in small, targeted, socially-distanced groups with relevant PPE in widespread use in both The
Botanics and Teagasc Ashtown. ✽
A new horizon for horticulture at UCD
As the incidence of Covid-19 disease in the country continues to diminish the number of track and trace centres required have been reduced. As a consequence horticulture students from UCD who had been involved in contact tracing and processing samples for Covid-19 testing have finished these duties.
Students have now taken up professional work experience placements in the horticulture food sector and in the amenity sector, in garden centres and in the landscape construction/maintenance industry, under strict social distancing and hygiene guidelines.
Horticulture academic staff have completed assessment and grading, and plans are underway for September, to ensure that students have as close to a traditional university education experience as possible. Our students will have a blended educational experience with some lectures online with face-to-face tutorials and practicals.
Those students who are considering attending university in September should continue with their plans. ✽
Wild wetland work at FH Wetland Systems
FH Wetland Systems started out designing reed beds and treatment wetlands in 1996, but have evolved to become involved in a whole variety of new wetland habitat projects.
These include the Living River Project designs for Tullamore; the new management plan for Westfields Wetland in Limerick; and smaller projects for community groups from Cork to Cavan and many counties in between. Each new protected habitat space is part of a growing corridor for bees, bats and a host of native wildlife. Wetlands and wild spaces have long been shoved aside for housing developments, agriculture, roads and almost any other project that comes along – at great cost to these valuable habitats and the wildlife living there. In recent years, however, things seem to be changing for the better. Interest and funding are growing for rewilding, wetland protection and management projects.
See www.wetlandsystems.ie for more info. ✽
Farmony signs European distribution agreement with Sananbio
Irish Agtech company, Farmony, has signed a European distribution deal with Sananbio for their vertical farming Radix systems. The Dublin-based startup, established in 2018, will incorporate Sananbio's technology into their controlled environment vertical farming solutions.
"As our climate continues to change and populations across the globe expand, food production must evolve in order to keep pace with these unprecedented changes," says John Paul Prior, Strategy and Sales Director, Farmony. "We are delighted to announce our partnership with Sananbio; global leaders in cutting-edge vertical farming technology developed to empower the modern farmer and spur sustainable local food production. Sananbio is the ideal technology partner to complement our own customised, automated controlled environment software and hardware solution."
"In Farmony we have a partner that adds significant value to our product offering through exceptional sales and marketing, IOT focus and new product development," says Michael Yates, Vice President Sales, Sananbio. ✽
Lockdown boosts small tunnel sales online
With everyone confined to their homes and gardens during the lockdown, Colm Warren Polyhouses saw an upsurge in web sales from homeowners keen to start growing their own produce.
"Since the start of lockdown we have had a huge increase in sales through our webshop," says Deirdre Warren. "Customers have been purchasing small tunnels and also repair sheeting for their old tunnels, 'rediscovered' during the lockdown.
"Having a webshop has been hugely important to us through this period. We've also been very active on Instagram and Facebook, which has also helped keep our sales brisk. We've also spent the last few months working on a new webshop which we will launch during the next few months." ✽
Rising to COVID-19 challenge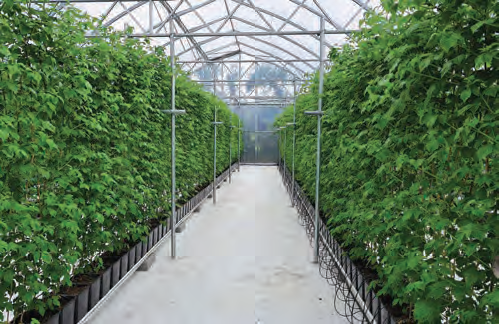 As lockdown took hold of the country on March 27, Irritec Irrigation Technology was slap bang in the middle of their busiest March in living memory. Owner, Paul Kunkels, shares his COVID-19 experience.
"The month started dry and after a week of no rain, I knew we would be busy, my phone was ringing constantly with requests for servicing and 'when can you start?'" says Paul.
"We had an installation lined up for Saturday, March 28, the only day that week that I could dedicate all five team members to be on-site together. The install was for new raspberry plants – 4,000m of drip irrigation and all the associated pumps, piping and control system. At a push, we would have it done on the day, with maybe a small bit to do on the following Monday.
"When the lockdown came into effect from midnight on the 27, my only option was to tell everyone to stay at home for at least two weeks. The plants were already on route to the grower, so the installation had to go ahead, so it was up to me and a helper supplied by the grower to complete the whole installation." "I started on Saturday, then worked Sunday and every evening that week. The plants were planted Thursday and by the time the last plants went in on Friday, the irrigation was complete." ✽
New safety guidelines onsite
Design by Nature has successfully conveyed to sectors of the infrastructure industry and some of the main contractors they work with that all sites where seed sowing is carried out can be deregulated from construction to horticulture zones.
That means a zone where no construction workers or machinery are allowed for the duration of sowing and plant establishment.
A horticulture zone means no hard hats, no steel toe-capped boots, gloves or long sleeves for seed sowers and planters.
Sandro Cafolla, owner of Design by Nature says, "We argued if we need hard hats, then we need full body armour because flying objects are just as likely to hit the body as objects falling on the head.
"Instead, we need to isolate our sowers and planters; exchange the hard hat with a cap, the work boot for tough soled double-stitched waterproof and breathable walking boots. With those changes to our workwear, we find the strain caused by hard hats as we stooped to sow or plant has disappeared. The sweat from our boots went too, and we work and walk faster." ✽
Summer lawn care from Goldcrop
Mid-summer is now upon us and lawns should be at their best. The early spring work of weed and moss control with weed, feed and moss control products should all now be completed. If still required, then this should be carried out as soon as possible.
The dry weather in many parts of the country has left lawns looking stemmy with patchy growth apparent in many places. Barry Murray, Chief Agronomist, Goldcrop Limited has this advice, "These lawns require urgent remedial action by the application of a good quality slow-release fertiliser such as Landscaper Pro Spring and Summer to feed the grass and encourage tillering (thickening of the lawn).
"Regular mowing is essential to keep the lawn nice and leafy and to prevent the plants from becoming stemmy. Raking out of thatch with a metal rake will also help keep your back garden looking its best. Patching with a high-quality lawn seed containing a minimum of 60% dwarf perennial ryegrass, 35% creeping red fescue and chewings fescue would be ideal provided moisture was present."
Barry adds, "Going into the autumn regular mowing should continue and an application of a lawn feed containing phosphate for rooting should be applied." ✽
Hygeia's nature safe range and BioGold Vigor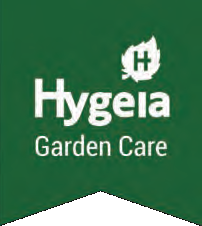 After the recent rainfall, now is the ideal time to put goodness back in soils and also provide plants with all the nutrient requirements needed for vibrant summer flowers and bumper harvests. Hygeia has a range of products that are ideally suited for the gardener at this time.
BioGold Vigor is an exciting new tomato and plant food, formulated with Hygeia's nutrients and Alltech's 100% natural fermented blend. This liquid feed is simple to use and provides higher root development, greater quantities of fruit and vegetables with more succulent fruit and tastier vegetables.
The Nature Safe range contains no animal by-products, providing organic and vegan-friendly solutions for gardens. The unique formulations are specifically designed to put goodness back into the earth, while also providing the ideal environment for healthy plants. Hygeia's Nature Safe range provides plants with immediate feed requirements in forms easily absorbed by plants, while also helping to maintain healthy, disease-free plants. ✽
Bayer launch brings turf benefits for greenkeepers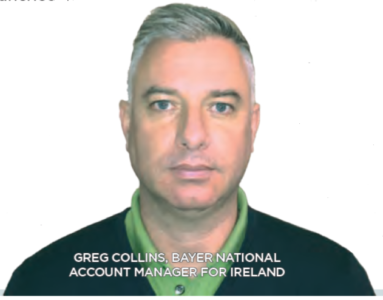 Bayer's latest new fungicide to be launched in Ireland introduces a radical preventative approach to disease management, offering a new active ingredient and new chemical group to the turf industry.
Greg Collins, Bayer national account manager for Ireland, says Signature® Xtra Stressgard® is Bayer's most advanced turf formulation to date and has been scientifically proven to maintain overall plant health, providing consistency of playing surfaces and increasing golfer satisfaction.
"This new active ingredient fosetyl-Al combined with Stressgard® Formulation Technology has been engineered to optimise the product's performance and to tackle two of the most prevalent golf course diseases, Microdochium Patch and Anthracnose."
Signature® Xtra Stressgard® is the first true systemic fungicide to offer shoot to root protection.
"This fully systemic solution allows the fungicide to move up the plant's xylem, and also down into the phloem. This means plants are healthier and better equipped to combat disease and mitigate stress," explains Greg. ✽
Positive results from Nangle & Niesen's two-year soil improvement program
Hils Murphy, the South African born soil guru based in London, carried out a soil analysis for Nangle & Niesen recommending a two-year program of work and treatments.
"We began by clearing the land," says Ronan Nangle. "At the end of the first year, we removed tree stumps and treated the fields with locally-sourced cow manure, followed by locally-quarried lime.
"We sourced fine basalt from Scotland that was high in the minerals and trace elements in which we were deficient and spread it on the prepared ground. We then seeded with a special mix which contained eight grass seeds, four clover seeds, chicory and plantain. The resulting green crop grew fantastically well through the summer and autumn of 2019, visibly improving the structure of the soil.
"We mulched and spread another layer of cow manure then ploughed, power harrowed, subsoiled and planted.
"The soil was the best we have planted into, in many years, with a very rich humic content. The trees have coped well with the stress of the long drought during April and May and the growth, despite the cold weather in June and July, has been well above expectations." ✽