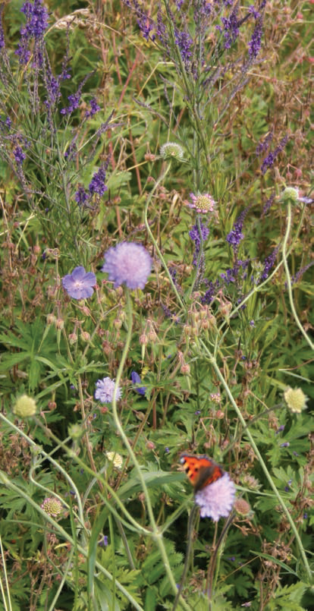 GLDA SEMINAR REPORT

BY PATRICIA TYRELL
---
Met Éirean warned of Storm Jorge, and recommended that everyone stay at home, but that did not deter the 250 delegates who flocked to the GLDA Seminar at the Crown Plaza Hotel in Santry on the last day of February. What's a little hurricane to those who are inured to the great outdoors and the vagaries of the Irish weather?
Working in an industry as old as time, but still open to new and exciting ideas and approaches, is one of the great pleasures of horticulture and garden design. Those who attended were up for the challenge and eager to learn more. The buzz of conversation during the breaks was a testament to the sociability of the day, chatting with old friends, making new ones, meeting the speakers and chatting with the sponsors about their latest products.
AMAZING DESIGN WITH LOW-MAINTENANCE PLANTING
Our first speaker was Cassian Schmidt. With a landscape architecture degree, a Master's in horticulture, and more than 25 years' experience as a professional plantsman, Cassian Schmidt is at the forefront of the New German and Dutch Wave movement.
Cassian is the director at Herrmanshoff Gardens, Germany a privately funded trials garden opened in 1983. It attracts about 170,000 visitors a year and its main aims are research, education and display. Garden planting is an experiment and therefore is always changing, exploring and pushing boundaries. It showcases everything from annual beds to perennials and grasses and other structural plants that offer a naturalistic look, changing seasons of interest and beautiful colour combinations. The planting style changes rapidly as you move through the garden to demonstrate various styles or habitats.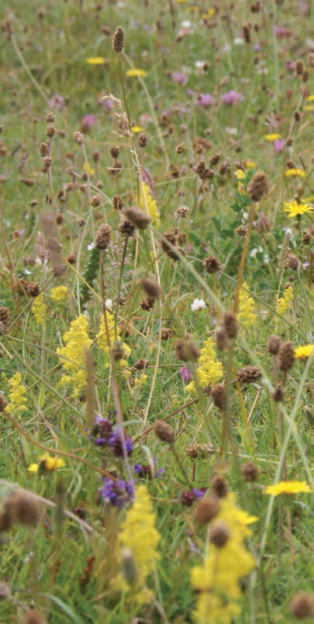 Cassian's research builds on the work of Professor Richard Hansen, who founded the trial garden and institute at Weihenstephen near Munich in 1948. Hansen experimented with grouping plants in the garden setting into plant communities and wrote the book Perennials and Their Garden Habitats, Hansen & Stahl. Now sadly out of print but still for sale second-hand if you have deep pockets. The title of Cassian's talk was 'New Perspectives in Design and Maintenance in the Future – How to Create an Amazing Design with Low-maintenance Planting'.
Fundamental to all garden design is maintenance, but how do we achieve low-maintenance in planting? Cassian set the context for the day, providing us with a means to categorise the degree of maintenance of different types of planting, according to habitat, stage of succession, geography and survival strategy, based on his research at Herrmanshof.
Natural habitats are layered, in species and also in time. As one plant fades another is expanding into its place. The aim is to have communities that are self-seeding, self-sustaining plant communities with limited editing by the gardener. In order to achieve this, Cassian has experimented with different plant communities from different geographic areas and habitats. Plants from different habitats vary in their survival strategies. These divide into stress-tolerant communities, competitive communities and ruderal communities. Stress-tolerant communities have the best strategy for low-maintenance as they are low in nutrients and water and therefore have less requirements and grow less weeds. These types of plants come from dry habitats, such as steppe. Woodland is also a stressed system with each plant competing for light, water and nutrients and is therefore very low-maintenance.
Competitive communities are high in nutrients and compete effectively with their neighbours for light and space. This demands higher maintenance inputs to keep a balance of species. Ruderal communities tend to be colourful and have a high aesthetic. The plants tend to be short-lived and therefore high-maintenance. An example might be planting with a lot of annuals.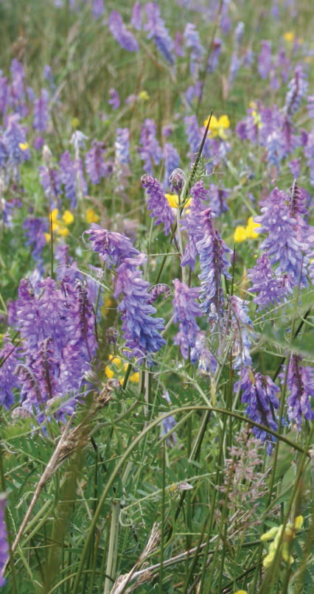 Based on his research, Cassian has developed some standardised low-maintenance plant mixes with a balance of structural, seasonal and filler plants that can be implemented over a large area using a matrix. These planting mixes are close to self-sustaining with very low inputs of water and nutrients.
In collaboration with his wife Bettina Jaugstetter, who is a practicing Landscape Architect, these standardised plant concepts have been implemented in many landscape projects with success, and these, in turn, become part of the research project.
PLANTS FIRST
Our second speaker was Sarah Price from Wales. With several Chelsea Gold medals and well known also for her work on the 2012 London Olympic Park Gardens, the title of her talk was 'Plants First', because, for her, plants are why we garden. Hard surfaces stay the same, but plants are dynamic.
With a background in fine arts and influenced by time spent in the Welsh countryside as a child, her gardens take their inspiration from nature and natural patterns. Using native species and creating drifts of plants that blend into each other gives her plantings a painterly quality consistent with her training. While our other speakers focussed mostly on perennials and annuals, Sarah prioritises trees. She sees trees as sculpture and likes to choose trees with character. Textures and natural plant layers and associations are more important to her than colour.
Sarah communicates her vision through the medium of art and the audience was particularly taken with her sketches and models which allow us to visualise instantly what she has planned. When it comes to implementation, she feels that onsite input is very important, to get just the right effect.
Fitting with her calm and meditative presentation, many of her projects are in hospital or rehabilitation settings such as Maggie's cancer care centre in Southampton and Horatio's Garden at Cardiff Hospital. Sarah has also collaborated with Nigel Dunnett on the Olympic Park.
WILDFLOWER POWER
Sandro Cafolla saved us from a post-prandial slump with his fresh, entertaining and passionate talk on wildflowers and wildflower meadows on which he is the leading Irish expert. He explained that most of his talks go on for an entire day, and I for one will be putting the next one in my diary. He prefaced his presentation by showing us some handmade tools which would have been in common use before mechanisation. These were ergonomically designed by the local blacksmith to fit the height of the user and also to fit the purpose intended. Part of a vast collection which Sandro has gathered over the years, lest they be lost forever.
Sandro is self-taught and driven by a life-long interest in nature and biodiversity. He first started collecting and growing wildflower seeds at a time when he could not source any. By following his passion, he has created a business which is now at the forefront of modern ideas on biodiversity and the creation of natural landscapes. This is really Sandro's time.
He spoke of the problem of environmental erosion and the importance of local genotypes. We need to be careful as Sandro has pointed out, about the provenance of seed. It is more transportable and less traceable so it would be easy to inadvertently destroy the makeup of locally evolved species by importing from abroad.
He explained in great detail the progress of a meadow, from year to year and how it should be maintained. As he explained, his book is his website, and all of the information is shared there for free. He is also involved in a European-wide initiative calling on all craft gardeners to give a square metre of ground to endangered seed species. This initiative is called 'Imithe', the Irish for gone, and if interested there is more information on Sandro's website www.wildflowers.ie.
LOW-INPUT, HIGH-IMPACT PLANTING
Speaker, Nigel Dunnett – recently retired as Professor of Planting Design and Urban Horticulture at Sheffield University – is a plantsman, designer and pioneer of the new ecological approach to planting gardens and public spaces. His work revolves around the integration of ecology and horticulture to achieve low-input, high-impact landscapes that are dynamic, diverse and tuned to nature.
Nigel told us he has never come across a garden that inspired joy, uplift and positivity; unlike the natural world which constantly takes our breath away. If you could choose a premise for a good horticultural debate, this must be it. On the one hand, we can agree nothing surpasses the natural world, but then think of those gardens with the wow factor. On our doorstep, Powerscourt Gardens and further afield in Italy, Villa d'Este; a garden where the rush of a waterfall is captured in a myriad of different ways, the effect of which stays with you forever. You could argue that these gardens are 'nature enhanced' which is essentially what Nigel is striving for – the immersive experience of nature, but better.
He works a lot with colour and has developed what he terms a 'Pictorial Meadow', which is a meadow inspired by nature but enhanced by adding colourful annuals that look at home within it. He is taking the idea of a meadow and making it better. These meadows have a high ecological function but with the advantage of low inputs, being easy to maintain. The high visual appeal attracts people to them. Successional layers allow waves of changing colour as the season progresses. These enhanced meadows have high visual appeal and also high ecological function. Designed for climate adaptation and easy to maintain with low inputs. This is a formula which translates to green roofs. Chicago City Hall being one example amongst many. Like Sandro, a formula for the layout has been developed, which repeats over a given area, rather than a detailed planting plan.
From all the speakers it becomes apparent that the standardised planting plan may become a thing of the past. Planting the more natural landscape requires new ways of thinking about planting design. It also requires new ways of thinking about how we communicate that design. Nature works in layers and each of the delegates emphasised this idea. We looked at landscapes grown from native seed from Sandro Cafolla and Nigel Dunnett's enhanced natural meadows, self-maintaining plant mixes born of meticulous research from Cassian Schmidt and landscape planting inspired by natural vegetation from Sarah Price. We are now looking to nature and studying how natural communities grow together, rather than the sterile shrubberies or ground cover of the past. The skills of the plantsman and horticulturist will be ever more essential as we move away from formulaic planting plans and spacings to achieve biodiverse, climate-resilient and low-maintenance landscapes. There is nothing new in the world of horticulture, just new ways of thinking. ✽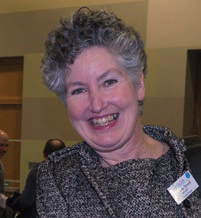 PATRICIA TYRRELL

is an award-winning garden designer with two Gold Medals and Best in Category from Bloom. She holds an honours degree in Landscape Horticulture from UCD and is also a Masters Graduate of the School of Landscape Architecture at UCD.