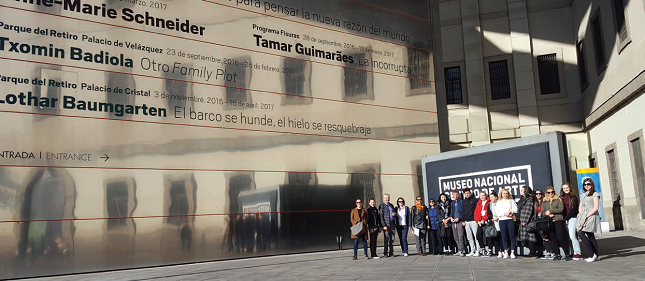 Maria Achtida
, Architect, Environmental Resource Manager, and Senior Lecturer at Blackrock Further Education Institute (BFEI), sets the record straight about the profession and explains how BFEI can provide you with the skills, knowledge, and experience to pursue a successful career
---
2016 represented a challenging year on several fronts: the refugee crisis in Europe, Brexit, the US elections and rising perceptions of insecurity all contributed to a less than positive feel. While the geopolitical landscape remains insecure, increased economic activity in Ireland has provided a sense of optimism. Things are being built, investments are being made and jobs are being created. 2017 presents new opportunities for those willing to
exploit them, but we must be cautious and considered in our activities or we will simply repeat the problems of the past.
If we desire to create a sustainable island nation we must think carefully about the long-term in every decision we make.
Although not fully appreciated or recognised in Ireland, the discipline of Landscape Architecture is potentially the most important in ensuring the sustainability of our way of life, particularly when employed in early-stage planning. The Landscape Architect draws together all disciplines and manages the complex interface of the human habitat and the
natural world.
MISPERCEPTIONS AND
UNDERSTATEMENTS
Unfortunately, the profession of landscape architecture is often misunderstood. I find it frustrating to hear "Oh great, you'll have to have a look at my garden" when I tell people
what I do. Or "Yeah, I want to learn about growing dahlias" from prospective course applicants. As a society, Ireland has a long way to travel before it comprehends, acknowledges and appreciates the true importance of the Landscape Architect. We are getting there, but it's frustratingly slow.
Confusion about the profession is not isolated to the general public. Many professionals in the wider horticulture sector also have trouble understanding what Landscape Architects do. Most frequently, professionals will confuse garden or landscape designers and even landscapers with Landscape Architects. While these professions share a related history, and many Landscape Architects undertake smaller, private work, I've not heard of a domestic designer or landscaper undertaking the work of a Landscape Architect. A garden designer is a professional focused on the creation of private spaces often domestic in nature. He or she will typically work independently or have strong relationships with contracting companies. A landscape designer also tends to focus on private space but typically on a larger scale.
Landscapers, or more correctly, landscape contractors are the builders of gardens, landscapes and just about any external space. Such is the confusion regarding the titles, that we had to change the title of our course from Landscape Design to Landscape Architecture. This better reflects the focus and will aid applicants making the right choices.
SO WHO AND WHAT ARE

LANDSCAPE ARCHITECTS

?

Landscape Architects are focused on and responsible for the enhancement of outdoor space through good design, the management of the built and natural environment to safeguard
the public's physical, mental health, and welfare. In broad terms, it is – in collaboration with other design/construction disciplines – creating, managing and sustaining values of outdoor spaces (from small to large scale) in urban or rural settings.

As an emergent domain, Landscape Architecture continues to grow in complexity, drawing and feeding into fields as diverse as the natural sciences, engineering, architecture, psychology, art, sociology, horticulture, construction, planning, and computing. And in an era of rising concern about our environmental and climatic future, our role has an additional responsibility that goes far beyond aesthetics.

As professionals and people, Landscape Architects are typically passionate about global environmental and political issues, such as water shortages, habitat loss, climate change, sustainability, pollution, and biodiversity. At the same time, they are intensely interested in solving problems at local and regional levels through the creation of quality shared spaces. They are interested in people, plants, materials, spaces, buildings and the interactions between them. In addition to requiring knowledge of such diverse fields, the contemporary Landscape Architect will have excellent communication skills and be able to work independently in dealing with complex situations, while also working as part of multidisciplinary teams.
CREATING TRAINING
AND CAREER PATHWAYS FOR LANDSCAPE ARCHITECTURE
In 2000, I helped establish a two-year course in Senior College Dun Laoghaire (now BFEI) to respond to the market needs in Landscape Architecture and design. As a further education college, we wanted to open the profession to a more diverse range of learners and abilities, particularly those who may not have had such positive experience with the traditional education system. Up until that time, it was only accessible through traditional university pathways, which essentially left no option for many potential students. Having established the course, we began to build industry links and to develop progression pathways so graduates could continue their studies. The course was and remains accredited by the key accrediting body in the UK – BTEC Pearson – and our successful graduates receive a BTEC Diploma in Landscape Design awarded by Edexcel.
BTEC higher national diplomas are higher education qualifications offered in the United Kingdom and internationally that are equivalent to the first and second year of a degree course. Successful BFEI graduates have direct entry into year three in the bachelor degree course in Landscape Architecture at the University of Gloucestershire.
Being a further education college, the course has given many students the opportunity to complete a degree, which otherwise might not have been possible. Some have had negative experiences in their school years and were not able to progress to the third level. Others have been professionals in the landscape or garden design business and students with degrees in horticulture and other disciplines and these have been able to develop their design skills or, in the case of other types of professionals, to change their career paths. It personally gives me great pleasure to assist students to pursue careers which they previously had not thought possible.
Some 17 years on, we are proud to see so many students completing our course and going on to receive their degree, postgraduate and masters qualifications. Many of them such as Joe Clancy and Jane White-Fitzgerald received major landscape awards in the UK. All those who completed their studies find themselves in full-time employment in the public and private sectors in Ireland, UK, Australia, New Zealand and the Middle East. Although the garden design is a minor subset of the course, our students and graduates have won awards at every Bloom in the Park since its inception.
COURSE
EMPHASIS
The landscape course in BFEI is design-project focused with students completing a wide range of proposals from small urban spaces to large public schemes. Complementary fields of study such as history, computer-aided design, horticulture, graphics and draughting, botany, environmental studies and construction crossover and feedback into the primary project work. We pride ourselves on providing students with authentic educational experiences and strive to make all primary projects live, for instance, working directly with a practice or local authority. After 17 years, we like to think we have the balance between theory and practice just right. That said, like the profession, we continue to adapt and evolve to new changes.
While the program and final qualification remain the same we are now introducing a QQI syllabus for the first year of studies. This is to enable greater linkage with related Irish institutions. Year two will remain under BTEC allowing graduates to maximise our progression routes.
Student work can be seen at our end of year exhibition in May. Applications and more course information can be found on our website www.bfei.ie/courses/landscape-architecture. ✽
MARIA ACHTIDA MScAg, BArch, DipMusTHC, MIAEG (TEE) is a Senior Lecturer and Course Coordinator at Blackrock Further Education Institute.
Combining music theory with architecture and environmental awareness Maria brings a unique perspective to the BFEI team. After graduating with an honours diploma in music theory, harmony and composition from the Greek National Conservatoire in 1992, she spent a scholarship year at the University of Rouen in France researching the relationship between architectural space, sound, and human psychology. In 1995 she graduated with an honours degree in architecture from the University of Athens before going on to complete a postgraduate Masters degree in environmental resource management at University College Dublin.