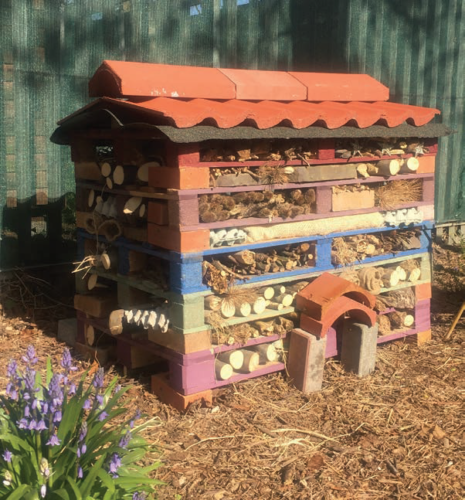 In her second feature exploring the wider benefits of horticultural activity,

Rachel Freeman

shares her insights into the role horticultural education can play in sharing knowledge and building resilience in communities
---
Ireland has a rich history in community-based activities, such as community gardening and
environmental improvement endeavours. Although popularised in recent years, their
the underlying philosophy is nothing new. For centuries meitheals came together to gather the harvest in towns and villages all over Ireland. Gatherings and helping out neighbours and friends in the community is a long established part of Irish tradition. The number of community garden spaces and related horticultural and environmental activities is on the rise, flourishing in towns and villages throughout Ireland. These spaces are often situated in urban areas on previously neglected and forgotten pieces of ground, at the outset many
are devoid of even the most meagre amount of plant material. Through a gathering of like-minded individuals prepared to roll up their sleeves and get involved, these community gardens become havens of the natural environment, providing a structure and horticultural opportunity that people can easily engage with.
COMMUNITY GARDENS AND HEALTH
Working in community gardens offers the potential for very positive social and economic outcomes, as well as having a good environmental impact on the community. Growing our own food and eating well, spending time outdoors, exercising through work and in companionship, using the social nature of the space, practicing sustainability, reducing and composting waste, harvesting rainwater and recycling all lead to positive benefits for individuals and communities. Opportunities are offered for people to socialise, and because of their non-threatening nature are easy to take part in. For individuals in the community, these spaces can give purpose and meaning to life, or become a credible alternative to gyms or keep fit classes.
A recent headline in the Irish Times ('Ireland set to become the most obese country in Europe') is based on a report from the World Health Organisation indicating that Ireland's obesity rate is rising rapidly. Couple this with the increase in mental health issues, and it's easy to see that these spaces need the recognition and support they deserve as beneficial therapeutic spaces.
Being in an outdoors environment enjoying our natural surrounds provides for our innate emotional need to connect with nature. Environments such as community gardens have a proven restorative effect on human beings. They inspire, grow and heal our bodies and
minds while improving our natural environment. Moderate activity in a natural environment can improve mental health. Gardening fits right in with this thinking, with the added benefits of gaining our daily vitamin D quotient, burning calories while releasing positive mood-altering endorphins.
EDUCATION AND ENVIRONMENT
Just last year in the Irish Times, Laura Burke, director general of the EPA, was quoted saying: "The development of key economic sectors depends on a clean, green Ireland. We need to mobilise everyone living in Ireland to place the environment at the heart of their decisions and actions every single day. Only by asking 'What is this doing to our environment?' can we build a sustainable future? We need to eat, work and travel. But our challenge is to do this within the planet's capacity. Recent World Wide Fund for Nature data shows that living like an average EU citizen requires 2.6 planet Earth to sustain us. In Ireland, we live as though we had 3.2 planet Earth at our disposal. The position held by community gardening groups is vital in getting the environmental sustainability message across.
Horticultural education is not just educating students on working within the confines of environmental legislation. It also includes teaching sustainability practices and promoting
respect for the global environment, for now, and for the future.
It is widely acknowledged that education and training are central to economic prosperity and social progress in a modern society. Their provision is crucial if we are to create an inclusive society, where opportunity and incentive to fully participate in the social and economic life exist.
At the heart of ITB's mission statement is a focus on increasing participation in third level education in Dublin 15 and surrounds, providing skilled labour for the local and wider economy. At ITB, as is the case with many organisations we are inundated with requests for assistance, in particular in community spaces. This type of activity is referred to as 'civic engagement' and is just one way of involving communities in education.
Community gardening and environmental activities are attracting local authority funding and mechanisms are in place to support communities, yet many need a little help to navigate their way there and help in getting projects off the ground. This is where civic engagement comes in. As educators, engaging with communities gives us a unique opportunity to provide reality grounded education for our students, as part of third level education provision.
Community-based learning offers a different educational perspective for students, and is key to providing quality, reality-grounded education. Students working with communities get the first-hand experience of the challenges involved in completing projects with real-life clients. They have the opportunity of testing their knowledge and fine-tuning technical skills, as well as developing their emotional intelligence and communication skills through sharing their knowledge with the community. At the same time, they are fostering a sense of volunteering and engaged citizenship.
Our community horticulture module ensures that students are engaging in place-based educational experiences throughout their horticultural learning, not just during their
placement period.
COMMUNITY GROUP
Blakestown Drive Community Group (BDCG) describes itself as 'a group of good-willed local people from all types of backgrounds and family structures who came together in a common bond to promote the stewardship of the environment through work, deeds and education'.
They have three tenets, which they remain steadfast to through their work: education, environment and community. This group aspires to make step driven change through
project work in their community, forging partnerships, making connections and working towards inclusive enabling and proactive environmentally focused local activities. They approached ITB in 2015 looking for some help with a community-based garden project.
The end of spring 2016 saw the creation of the 'Wizard of Oz ' themed community and school garden. A collaboration between BDCG, Scoil Mhuire Blakestown and community
horticulture students from ITB. Through the community horticulture module, staff, students, community members and the school group embarked on a transformation of a
local black spot into an aesthetically pleasing linked school and community garden space which was opened by the then Tanaiste and Minister for Social Protection, Joan Burton,
followed by a widely attended community party and pageant.
ITB students of community horticulture provided feedback through their technical and reflective learning journals kept as part of the assessment. They inform us that overall, there was a huge amount and great variety of learning, that students enjoyed the interaction with the BDCG community and the hands-on experiential learning in the use of horticulture for the improvement of community spaces. This is evident in a journal reflection from one of the students: "Just wanted to say, really loved the module and I've used some of the techniques working at home with my own kids and that means a lot to me. Even though I struggled with the presentations and the IT side of it, I really can't put into words what I have gained from this module. It's been by far my best experience in an educational environment."
The community really came together as a group and enjoyed participating in the build alongside the students, as indicated in this note from one of the BDGC community group members: "It was fabulous to be part of this project and I must say it has really inspired me and also educated me and for sure I know I am walking away with a wealth of knowledge and I know well that I will be using it in the future."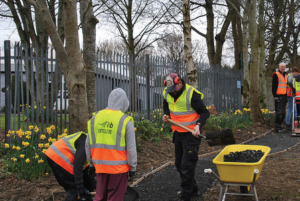 As a direct result of this experience, one of these community group members has taken the leap to return to college and is now studying horticulture at ITB.
Community horticulture at ITB by lecturers Ciarnad Ryan and Rachel Freeman is a similar project planned for this year and we look forward to sharing news of our 2017 community horticulture module. ✽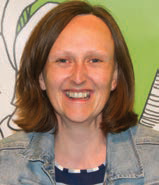 Rachel Freeman is an assistant lecturer in horticulture at the Institute of Technology Blanchardstown, where she is also placement coordinator. In addition to teaching practice, Rachel is also completing an MSc in social and therapeutic horticulture at Coventry University, UK. She can be contacted at rachel.freeman@itb.ie