Mike Neary

,

manager of horticulture at Bord Bia,

shares some positive sales figures for Ireland's fresh produce sector
---
The retail fresh produce market is the most important market for local fresh produce growers. Bord Bia uses Kantar Worldpanel data to monitor the trends in this market which indicate the type, range and format of product that consumers are currently purchasing. It highlights where produce is being purchased, how often, the volume and the average price being paid on the shelf. Over the last year ending March 2016, both the overall grocery market and the fresh produce segment of it have been performing well.
The grocery market in Ireland is currently valued at €9.2bn. This is a value growth of 2.5% on the previous year and the volume purchased was also up by 2%. All the grocery categories showed an increase in value except the alcohol category. The best performing categories were fresh and chilled (which includes fruit and vegetables) and ambient goods.
These categories were both up in value by over 3%. The increases were driven by consumers visiting the stores more often and an increase in spending per household. Five key retailers (Dunnes Stores, Tesco, Musgraves Group, Aldi and Lidl) continue to dominate, with a combined share of over 90% of the grocery market between them.
A total of 15% of the value of the grocery market is made up of the sales of fruit, vegetables (including potatoes). These continue to be the two most important product categories in the grocery basket. The retail market for fresh
"The value of the retail sales of fruit is €617m, vegetables €524m and potatoes €174m"
produce is currently valued at €1.248bn (for the year ending March 2016). This is an increase of 6.8% over the previous year. This increase has been driven by an increased frequency of purchase which is now 149 times per year (up 3%) and an increase in the average price per kg of product purchased. Over this period all the fresh produce categories have shown an increase in both value and volume terms with both the value of potatoes and fruit contributing the most significant increases. The value of retail sales of fruit is €617m, vegetables €524m and potatoes €174m.
It is also worth noting from the data that convenience continues to be a very important consideration for shoppers when purchasing fresh produce. The retail market for fresh prepared fruit and vegetables continues to grow and was valued at €101m over the last year.
This growth was driven by an increase in the frequency of purchase and the volume being purchased.
If you would like to have more details of this research of the retail market contact mike.neary@bordbia.ie ✽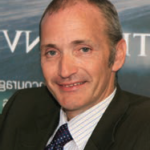 Mike Neary, Manager of Horticulture at Bord Bia. For further information contact the Bord Bia Horticultural Division or the Food Industry Development Division in the Department of Agriculture, Food & Marine at email: Agripromo@agriculture.gov.ie