Landscape quantity specialist

,

Colm Kenny

explains how contractors can improve profits with smarter pricing.
---
There is little doubt that the past 18 months have been among the toughest for Ireland's landscape contractors since the banking crisis sent the economy into freefall in 2008. Demand for landscape services fell away as the economy stuttered to a halt. The wider Irish construction sector was left littered with abandoned building sites, and large infrastructure projects quickly became a thing of the past. Industry rates came under relentless pressure as contractors chased an ever-dwindling amount of work. Furthermore, landscape contractors who had predominantly engaged in construction activities attempted to stabilise their businesses by tendering for contracts in the maintenance sector. As a result, rates decreased across the entire industry.
CURRENT MARKET STATISTICS
The landscape industry has always been viewed as a poorer relation of the construction industry. Having little information and statistics available on the value of the landscape contracting industry, the only way we can gauge the level of activity in the market is to look to our construction industry cousins.
The Central Statistics Office's latest report of Production in Building and Construction Index is the first point of call when attempting to measure activities. This report, published in August, recorded a 16.6% increase in civil engineering activity and a 6.9% increase in non-residential building. The volume of output in building and construction was recorded as being 1.9% higher in the third quarter of 2013 when compared with the preceding period. While there was a decrease of 7.4% in the volume of the residential building, the change in the value of production for all projects was up 3.6%. Ross Carew, Executive Secretary of the Association of Landscape Contractors of Ireland, commented that "the mood of a wide range of our members across the country is one of cautious optimism with numerous members experiencing a rise in the number of enquiries and projects commencing on-site in recent months, and hopefully with the introduction by the Government of the Home Renovation Scheme, it will lead to an increased level of work and create more direct new jobs for our members over the coming months".
"The landscape industry has always been viewed as a poorer relation of the construction industry"
TIME TO RE-EVALUATE
Looking at these recent figures you would have to feel positive about the future. The economy is improving and hopefully, with the increased demand for homes and the recent home improvement tax incentives offered by the government, more homeowners and homebuilders will create an increase in demand for landscaping services. As we begin to embark on another year, it is now the ideal time to re-evaluate your rates to make sure you're still competitive, but not at the expense of your profitability or ability to provide high-quality service.
In order to reassess your rates, you must calculate what your current business overhead costs are. Ask yourself have certain costs, such as insurance, increased? Have certain costs, such as staff costs, reduced? Once you get a clear picture of what your current overheads are, you're one step closer to becoming more competitive. You may find that your overheads have actually increased in the last 18 months but you have failed to take this into consideration when tendering for work. You might have been wondering where all your profits have disappeared from the job that you thought was a lucrative one.
There has been a high level of frustration within the industry over the last number of years with low pricing, especially on some of the larger contracts that were up for tender by local authorities around the country. But the truth of the matter is that these contracts were won by companies who know exactly what their overheads are, have found methods to reduce those overheads and understand how to charge for them. The companies that won the contracts are still in business so all we can do is presume that they are turning over some level of profit. And something else you should keep in mind: a company's overheads will change over time and no two companies have the same overheads. That is why it is important for landscapers to review their costs on a constant basis.
EQUIPMENT IS A DIRECT COST, NOT AN OVERHEAD
A critical mistake many contractors make is to include the cost of machinery when calculating their overhead costs. While this is a convenient way to manage equipment costs, it is not accurate and will result in uncompetitive overhead rates.
For instance, you own a mini digger and a ride-on lawnmower and you include the costs for this equipment in your overhead cost, and then mark-up labour and materials in order to recover that overhead, you'll be charging customers for the mini-excavator and
the mower when you aren't using them. Equipment is directly related to performing work, and thus must be treated as a direct cost. You must charge for the use of your equipment on an hourly basis, just as you do with the cost of your stay.
CHARGING OVERHEADS TO YOUR CLIENTS
There are many ways of recovering your overhead costs and everybody has a different opinion on how to do that. One popular method is to estimate how many hours you and your stay will invoice in a year, and divide your total overhead for the year by that number. For example, if you have €20,000 in outgoings and plan to invoice for 3,500 hours, you would add €5.71 to your currently hourly labour rate.
There are two disadvantages to this labour-only approach. Firstly, you may lose a lot of labour-intensive jobs, and secondly, you may be considerably less profitable on equipment-intensive and/or materials-intensive jobs. Why? Because you are forcing labour to recover all of your overheads. So, you charge too much on labour-intensive jobs, and don't charge enough on equipment and/or materials-intensive jobs. On the other hand, when you use an overhead recovery system that taps into all direct costs i.e. labour, materials, equipment and subcontractors, you are able to more precisely price each job. My advice is to mark-up each of these four areas of direct costs—in a manner of which the majority of the risk is placed on labour; not 100% of the risk, but the majority of it.
THE TOP FIVE

 PRICING ACTIVITIES FOR 2014

● Re-evaluate your company's' cost base
● Identify and calculate your current overhead costs
● Recognise how to pass on overhead costs to customers
● Construct a rate-based estimating system for your business
● Stay positive
ESTIMATING FOR PROFIT
As is the case with calculating hourly equipment costs and recovering expenditures, estimating is a skill combined with experience. In general, contractors do not allocate enough time for estimating the job. The skill of estimating can be learned but care is needed not to make costly mistakes while learning this skill. Successful and experienced contractors have an established production rate-based estimating system. This system reduces financial risks to the contractor by building up appropriate rates and unit prices for different situations and types of activities.
Assume you are going to price a maintenance job. You would, of course, want to measure the area of the lawn you need to cut. But it's not quite that simple. When it comes to grass cutting, it's important to separately measure the areas where you can use a zero-turn mower and the areas where you'll need to use a push mower, for example. That's because you will have different production rates and hourly operating costs for each of those pieces of equipment.
You also want to measure the length of grass you will need to edge. Measure the size of the beds you will need to weed and mulch, along with the area of hard surfaces you will need to spray or power wash.
With a production rate-based estimating system, you also want to account for varying site conditions. That is, if part of the maintenance contract is shrub maintenance, set up three classifications—small, medium and large—because you will allocate a different amount of time to pruning each type area. It's also a good idea to set up classifications such as easy, average and di›cult for mowing. No two properties are alike. Some are wide open, some are hilly, and some have a lot of obstacles and small pockets of communal areas that required your services. It's important to take these variables into consideration when formulating a price for the job.
IT IS YOUR DECISION
Business conditions are improving, but it's still very competitive out there and tendering for work successfully still requires contractors walking a thin line between getting the contract and making money or getting the contract and losing their shirt. Whether or not you raise or lower your prices, it is up to you.
The landscape industry has weathered downturns before, and will again. While nobody enjoys harsh times, a sense of perspective will serve you well in allowing your company to navigate the current choppy seas. By constantly reviewing overheads, your company can continue to succeed in this challenging climate, and emerge even stronger. Advice is based on accurate, logical techniques that worked for me when I was a contractor and continue to work for the contractor clients and customers I work with today. Implementing these strategies takes discipline and hard work; it's up to you to make them happen. ✽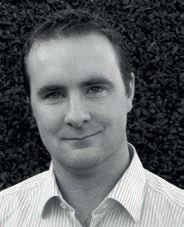 COLM KENNY, B Ag. Sc. (Land. Hort), M.Sc. Quantity Surveying. Colm is a Landscape Estimating Specialist. He provides cost and implementation advice to landscape industry professionals, technical advisors, contractors and facility management companies.

He can be contacted on 087 288 5016 or by email info@landscapeqs.ie