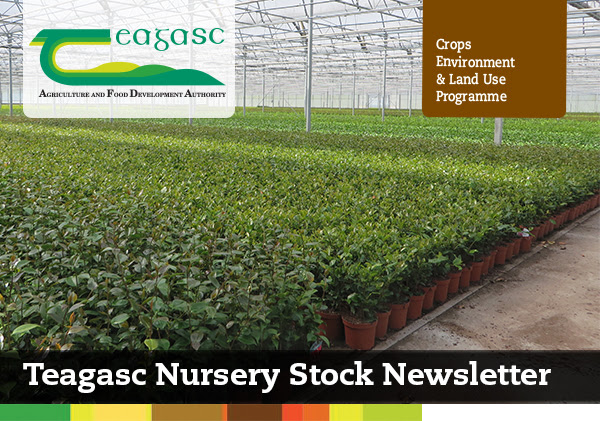 As we reach the beginning of winter the bare root lifting season is nearly upon us. The fine Autumn weather should have left good ground conditions for harvesting to begin.
This weekend will see the Opening of COP 26. Carbon budgets and climate change will be in the headlines again. We can expect great pressures on all industries and sectors of society to contribute to carbon capture and sequestration. We are fortunate to be in an industry that can help the environment to increase biodiversity and capture carbon dioxide. Our industry has made great improvements in recent year; adopting IPM principles, reducing pesticide inputs, use of precision fertiliser, better management of soils preserving structure, efficient use of water, switching to renewable energy sources and many more practices. Our use of peat in growing media has been decreasing slowly, no less than many of our neighbours. While peat has been been an excellent component of growing media the level of research in the area will hopefully give greater gains as time goes on.
Climate Friendly Nurseries is worth a mention as they have some tools available to measure green house gas emission and methods to increase production and glasshouse efficiency.
Nursery Stock Seminar
Teagasc Ashtown Research Centre and online via Zoom. Thursday, November 4, 9.30am
Teagasc are very happy to be able to welcome back growers for the first in person event in some time. The last eighteen months have been a challenging time for many reasons but it has also seen strong market demand for our products.
The event will begin with a growing media focused session chaired by Dermot Callaghan, Head of Teagasc Horticulture Development Department with contributions from Dr. Bart Vandecasteele,  Kevin Mahon and Dr Michael Gaffney. Dr Vandercasteele is a highly regarded and influential researcher. He has recently chaired a globally important conference Growing Media 2021. he will join via Zoom.
A second session will follow looking at technical updates from Andy Burke, Conor McGee both from the Department of Agriculture, Food & the Marine (DAFM) and Dr Andreas Wrede. Dr Andreas Wrede is Head of Horticulture Testing, Chamber of Agriculture Schleswig Holstein and will deliver the results of a wide range of recently completed research. He will discuss growing media, crop nutrition and climate change issues being addressed by the research centre. This will be a prerecording and he will not be physically present on the day.
This will be a hybrid event. The event will be in person and shared as a webinar.
Budget 2020 – Minimum wage increase & grant aid for horticulture
The recent budget saw the announcement  that the statutory minimum wage is to increase by 30 cents from its current rate of €10.20 per hour to €10.50 per hour from 1st January 2022.
Main Headline Items —Budget 2022 by Kevin Connolly Teagasc Financial Management Specialist
The income tax standard rate bands have been increased by €1,500.  The income tax rates (20% & 40%) have not been changed
There has been a €50 increase in the principle tax credits
There has been a minor change made to the 2% USC band
There have been changes in corporation tax but farming companies will not be affected
There is no change in the Capital Gains Tax (CGT), Capital Acquisitions Tax (CAT) and Stamp Duty rates.
Stamp Duty relief for Young Trained Farmers has been further extended until 31st December 2022
There have been significant changes to Social Protection Payments for 2022 with a general €5 weekly increase applied
Further changes have been made to Carbon Taxes and Vehicle Registration Tax.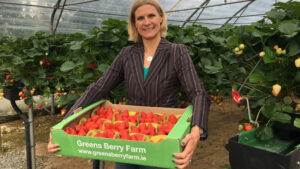 2022 Scheme of Investment Aid for the Development of the Commercial Horticulture Sector
The scheme was recently opened by Minister of State Pippa Haccket. The scheme has secured a funding allocation of €9 million for a second year. The scheme provides capital grant aid at a rate of up to 40% to all approved investments. This can increase to 50% aid for young growers ie under the age of 35. The scheme aims to facilitate environmentally friendly practices, promote the diversification of on-farm activities, improve the quality of products and improve working conditions. Typical investments in the recent past have focused on automation and increasing productivity e.g. potting machines, harvesting equipment, growing structures etc. there has been a small but significant trend in investments that support the welfare of employees which can help in employee retention. Any structures requiring planning permission must have all permissions approved before the application is submitted.
The closing date for the 2021 scheme is the 17th of December 2021. Please contact me or your local advisor if you are considering applying for the scheme.
Full details can be found on the Department of Agriculture website 
New General Employment Quotas for 1,000 Horticulture Operatives
Minister Damien English has announced a new scheme for work permits which follows a trial scheme in 2018. This new work permit scheme will be used to address skills and general labour shortages in a range of sectors including horticulture. The Department of Enterprise, Trade and Employment will administer the scheme which opened on 28th October. The scheme will see the permit lasting longer than in the pilot with a 1-2 year permit potentially extendable to 5 years.
The scheme has set out the basic payment to cover wages and can include health insurance. Application process fee is €1000 for a contract of between 6 and 24 month. The Department web site states "A General Employment Permit can be issued for an initial period of 2 years and can then be renewed for up to a further three years. After 5 years, the applicant may apply to the Immigration Service Delivery (ISD) for long term residency."
The employer must carry out a labour market needs test.
For full details see Department of Enterprise Trade and Employment General Employment Permit
Plant health: Prohibited imports of certain plants from UK 
In an effort to increase the protection of European Union from invasive pests, additional phytosanitary measures were introduced in 2019 (Regulation (EU) 2016/2031). The EU required the National Plant Protection Office (NPPO) exporting a range of higher risk plants from outside EU to submit data that they would not pose a threat to the EU. As the UK has left the EU they are now in a process of submitting this data. Until the EU approves the applications a range of plants may not be imported. These includes:
Acacia, Acer, Albizia, Alnus, Annona, Bauhinia, Berberis, Betula, Caesalpinia, Cassia, Castanea, Cornus ,Corylus, Crataegus, Diospyros, Fagus, Ficus carica, Fraxinus, Hamamelis, Jasminum, Juglans ,Ligustrum ,Lonicera ,Malus, Nerium, Persea, Populus, Prunus, Quercus, Robinia, Salix, Sorbus, Taxus, Tilia, Ulmus.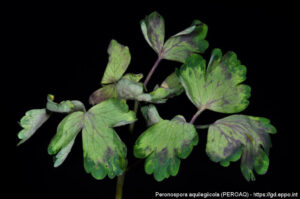 Aquilegia downy mildew
As the growing season wraps up there has been a high level of mildew due mild and damp conditions. One new species to watch out for is Peronospora aquilegiicola, see photo above Courtesy: T. Brand (Landwirtschaftskammer Niedersachsen, Germany). It is a relatively new disease not yet seen in Ireland. It has become more common in GB in recent years. A report in the European Journal of Plant Pathology in 2019 said it was only to be found in GB and "Peronospora aquilegiicola should be seen as a high-risk pathogen due to its aggressiveness, its production of oospores that outlast unfavourable conditions, and the production of air-borne conidia which are produced abundantly". By 2020 it was reported to have spread to Germany having been found on established plants in the North of the country. The database, EPPO, repoted this summer that 2 commercial sites in Nord Rhine Westphalia had positive cases of the disease resulting in 87,620 plants being destroyed. EPPO has no further recordings in Europe however it notes the disease is widespread in Wales and England.
Plant protection products
Reminders – Revocations during September, October and November
Reminder PRCD – Recently Withdrawn Plant Protection Products (agriculture.gov.ie) shows forty five products being withdrawn in June e.g. Basilex Ultra PCS# 04815. The products can be withdrawn for many reason not just that the active ingredient is no longer permitted. Items may be withdrawn and replaced with an updated, active ingredient, label and PCS number.
A range of over 30 products lost registration in September and October. Two further products will lose their registration in December
Oblix 05286 31/12/2021
Valdor Flex 05612 31/12/2021
Updated off label extension of use list of plant protection products 2021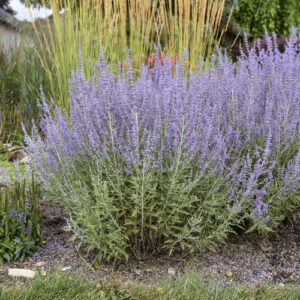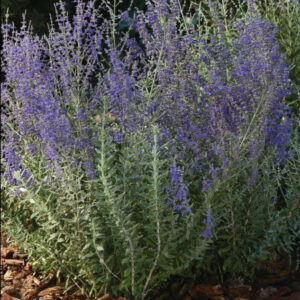 Russian sage trial results 
Russian sage is a useful alternative to lavender and due to its hardiness. Blue spire and Little Spire are common in the trade here and have been well and truly tested for performance. It has a recently revised name of Salvia yangii which replaces Perovskia. Chicago Botanic Gardens have recently posted results of a Russian Sage trial. The trial was run over 7 years looking at the latest introductions, however the common varieties Blue spire and Little spire were not tested as no standard form could be identified. The new varieties better meet market requirement of longer flowering period and compactness. The highest rated varieties were: Blue Jean Baby, Blue Spritzer, Blue Steel, Denim 'n Lace and Little Lace.
See Chicago Botanic Gardens for details
Photos above; left Denim 'n Lace courtesy Proven Winners and right Blue Steel courtesy of Florensis.
Winter Weed Control
With fewer selective weed control options it is important to maximise the efficiency of weed control options. A winter clean up and longer lasting controls applied in succession will give best weed control and plant growth.
Seed beds can use Stomp Aqua, Centium/Sitaki, Mitron 700.
Established plants options include: Sencorex Flow, Stomp Aqua, Venzar 500 SC, Sunfire, Emerger and Proman.
See details for control programmes on our weed control webinar and pdf 
Please contact me or your local advisor for further details and advice.
Dates For Your diary