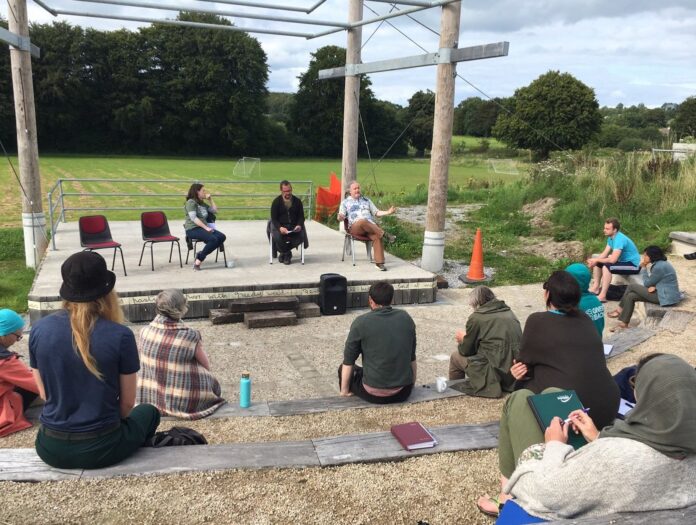 Fairly soon after the nutrient-rich-compost hit the fan in March 2020, it became apparent to us at Cultivate that permaculture – a design system for growing food to designing communities – was more necessary than ever before.
After 20 years of adult education, running the Permaculture Design Course (PDC) and relocating from Dublin to Cloughjordan Ecovillage in 2010, we have seen this design thinking slowly reach the mainstream. Throughout the dark days of the early pandemic messages came in from all sorts of people: those recently unemployed, disenfranchised, isolated, concerned about climate issues… Each one looking for meaning, connection, and ways forward in this strange new world. Despite the over-arching uncertainty, one thing stood firm in our work-plan whilst everything else wobbled; the demand for permaculture design.
Our 2020 course had a new feel. There was a tangible intensity to it, not only due to the safety protocols, but because this was clearly a new phase and a step into the unknown for everyone, us included. After 5 months of lock-down and global turmoil people were hungry for new knowledge, fresh perspectives and meaningful ways of making a living.
Livelihoods have been a feature of the Cultivate PDC for a few years, challenging the idea that permaculture is only for garden designers and upmarket landscapers. Students often write to us about how this design system changed their perspective on work, and gave them tools to merge their passions and natural strengths in making a living. This reflects our common need to find a good balance and common ground between work and life.
The dramatic upturn in Ireland's unemployment put sustainable and ecologically designed
business models even higher up on the course agenda last August. The 'Permaculture Pathways' session brought 7 local entrepreneurs together in the (thankfully) sunny Ecovillage Amphitheatre. Students heard from our member-owned CSA farm (Community Supported Agriculture), Irish Seed Savers, and Crawford's Farm (a raw dairy and meat provider) on their use of the 12 principles of permaculture in enterprise. Everyone involved had stories to inspire each other. The feedback has been very positive and is being used to design this year's programme, continuing our teaching of the integration of permaculture into everyday lives and the creation of livelihoods.
Voices from 2020 students shaping new 'Permaculture Pathways':
"It changed my life, the whole experience of learning, confidence building, vegetarian food and such a mixed bag of interesting people from different backgrounds and amazing tutors.
I decided I needed to take a chance to set up my own business, which was part of my design I did with ye." – Caroline C (implementing a permaculture AirBnB)
"I'm building a tiny house on wheels. First year is an experiment to see if I can downsize my life enough to live in a tiny space, while documenting the process to show others how they can do the same. Longer term plan is to get a bunch of these tiny units together and create our own scalable model of an ecovillage." – Paul L
Email pdc@cultivate.ie or see www.cultivate.ie for details on the Permaculture Design Course.  30th July – 8th August | €600 / early bird €550 before May 31st | concessionary places available. Topics include: regenerative agriculture, green and natural building, local economics, forest gardening, renewable energy, work and livelihoods, ecovillage design, along with tools and technologies including digital fabrication and open source distribution and production.