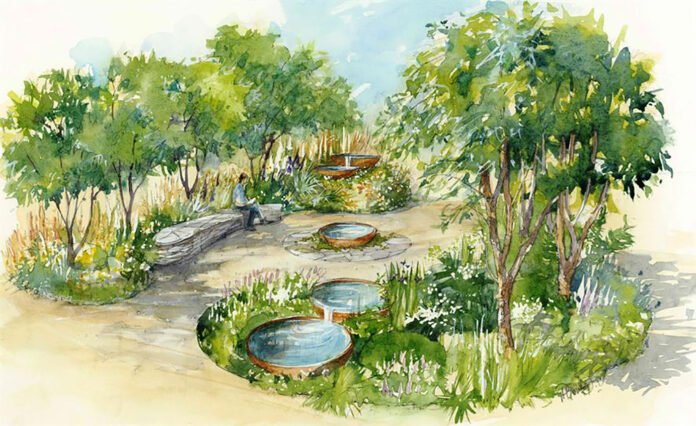 The Royal Horticultural Society (RHS) and Daily Mail have unveiled a garden to demonstrate climate change adaptations at July's RHS Hampton Court Palace Garden Festival (4th – 9th July).
The Daily Mail and RHS Planet Friendly Garden will showcase the important role the UK's 30 million gardeners can play in helping to combat extreme weather events and biodiversity loss.
Created by award-winning designer Mark Gregory, the garden's easy to re-create features include hard-working trees, banks of vibrant, nectar-rich wild flowers and large bowls to catch rainwater that all provide food and homes for wildlife and help give nature a place to thrive.
With wilder weather events expected as a result of climate change, the Planet Friendly Garden highlights ways gardeners can future-proof their plots, planting species that tolerate harsh conditions and help stem climate change impacts on the local environment.
Split into two halves the first section features a raised bank that represents the dry conditions increasingly seen during the summer months. Plants here, such as lavenders, thymes and varieties of rosemary, are drought-tolerant and thrive in arid conditions. The second half of the garden is sunken and boggy, recreating the conditions found after heavy rain and storms. Here, rodgersia, astillbe and carex tolerate waterlogged soils and help mitigate flood risk. A swale channels water away from paved areas, filtering it into the wider environment. Soil coverings are also used, such as mulch and gravel, that can help with water retention in both areas of the garden.
Trees are some of the hardest working plants found in any garden, reducing the flood risk by intercepting water with their leafy canopies and far-reaching root systems. Gregory's tree selection, which includes black birch, has been chosen for the increased ability to take up carbon dioxide and other dangerous pollutants from the air. The trees will also form part of a live experiment to monitor their impact, by being attached to sap flow sensors that will record their water uptake.
In addition to showcasing the benefits of planet friendly gardening for weather and wildlife, the garden features recycled materials and will be re-homed once the Show finishes. The trees will be returned to their grower Majestic trees, the water features will be returned to Torc Pots, and the plants will be rehomed by the RHS.
Garden designer Mark Gregory, said: "It was a real privilege to design this garden that tackles head-on one of the most prevalent issues of our time. As well as being a space that excites and intrigues it is intended to inspire people to make small changes to the way they garden to reap big rewards for wildlife and the environment."
The Daily Mail and RHS Planet Friendly Garden will feature at the RHS Hampton Court Garden Festival from 4 to 9 July, tickets available from www.rhs.org.uk/hampton
For more information about the RHS' Planet Friendly Gardening campaign and practical tips for your plot visit: www.rhs.org.uk/gardening_for_the_envrionment