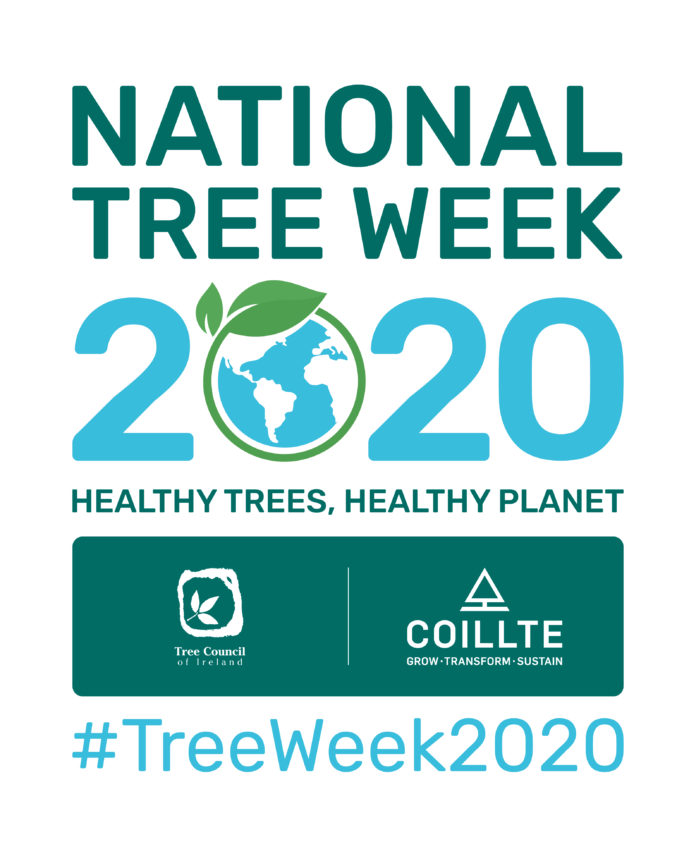 ---
About this event:
Created by Pranvera
---
Update
Following the guidelines as laid out by the HSE in relation to COVID-19 specifically regarding social distancing, the Tree Council of Ireland, in partnership with Coillte, have made the decision to postpone:
National Tree Week 2020 and all its related public events.
To this end, we have closed our Events Programme until further notice.
We understand this will disappoint many people who had arranged such Tree Week planting events around the country, but we want to prioritise the health and well-being of our communities.
We would like to thank you for your cooperation and we will keep you updated as the situation evolves.
Please stay safe during these times and follow all advice and guidelines as laid out by the HSE particularly in relation to social distancing. https://www.treecouncil.ie/nationaltreeweek2020
---
#treeweek2020   #healthytreeshealthyplanet
The Tree Council of Ireland and Coillte are again partnering for National Tree Week and this year's theme is  "Healthy Trees Healthy Planet".
The theme this year is to promote tree health and the important role trees play in protecting our planet by taking on climate change and providing natural renewable resources. It also references the health benefits, both physical and mental, that trees and forests provide.
When: 21-27 March 2020
Trees will be available for collection across the country through the local County Councils who have applied to us at the Tree Council for trees. We are urging all schools and community groups to register their events with us here and then contact their local County Council to obtain saplings. (subject to availability)
Coillte will donate 30,000 native tree saplings during National Tree Week 2020 such as oak, birch, alder, and rowan in coordination with the Tree Council of Ireland.
Pat Neville, Communications Manager for Coillte, said,
"We're extremely proud to be continuing our partnership with the Tree Council of Ireland for what we hope will be the best Tree Week yet! National Tree Week reminds us of all the benefits of trees and helps bring attention to climate change issues, and the positive role trees play in our communities. We are encouraging everyone to register their events and use the campaign hashtag #treeweek2020 to promote their events"
National Tree Week 2020 is also on message with the United Nations Food and Agriculture Organisation who has declared the year 2020 the International Year Plant Health. National Tree Week 2020 supports this theme by striving to raise awareness about protecting plant and tree health while protecting the environment, and boosting economic development, as the Irish forestry sector supports 12,000 rural-based jobs in Ireland and contributes approximately €2.3 billion to the economy every year.
Coillte has supported National Tree Week since 1989, providing over half a million trees to the annual campaign.
President of the Tree Council of Ireland, Joseph McConville, said,
"National Tree Week provides the ideal opportunity for local groups to get together and make a lasting difference in their communities. Last year we saw over 300 events take place around the country and we'd love to see more parents and teachers get involved and educate their children about trees and the diverse role they play in rural and urban environments."
As the week draws closer you will find a list of all registered events on the Tree Council of Ireland's website. There will be tree planting and educational events taking place across the country, where the public can find out what trees do for our environment, which trees suit the Irish ecosystem and how you can ensure your tree stays healthy throughout the whole year.
If you're planting a tree during National Tree week, please be sure to tag @3council @coilltenews and use the campaign hashtag #treeweek2020.
Coillte is a commercial forestry company, owned by the State, that manages approximately 7% of the country's land.
They operate three strong businesses from Ireland:
– their core forestry business,
– a wood panels manufacturing business MEDITE SMARTPLY,
– a land solutions business.
Coillte export to over 30 countries worldwide.
To find out more visit www.coillte.ie