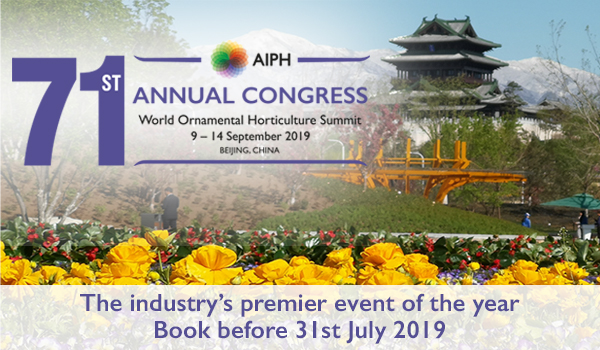 ---
About this event:
Created by Pranvera
---
The International Association of Horticultural Producers (AIPH) has released the speaker line-up for the World Ornamental Horticulture Summit 2019. The event programme includes prominent industry figures such as: Mr. Biense Visser, CEO of the leading international breeding and propagating company – Dümmen Orange; Mr Marco van Zijverden, CEO of the world's largest cooperation of flower and plant companies – the Dutch Flower Group; and Mr. Lu Zhipeng, Manager of Ornamentals and Horticultural Products Sector, of the world's largest retailer and e-commerce company – the Alibaba Group.
The Summit, which is open for registration until 31st July 2019, is set to take place in the Yanqing District of Beijing from 11 – 13th September. Hosted for the first time in China, the Summit will present a variety of important, contemporary perspectives on breeding, growing, law and policy to finance, trade and markets. This panoramic view will provide delegates with the opportunity to develop a more comprehensive understanding of the world's fastest-growing economy and consumer market. Through doing so, the Summit aims to foster new, global industry opportunities and collaborations.
When: 11 – 13 September 2019
Where: Yanqing District of Beijing
Joining the speaker programme will be Dr. Edgar Krieger, Secretary General of CIOPORA, to provide expert insights into the area of Intellectual Property Protection (IPP) for plant innovations. Mr. Long Sanqun, Deputy Director General of PBR Office, National Forestry and Grassland Administration, will outline current regulations for implementing PBR in China and how such regulations are enforced. Mr. Wang Zhijian, President of the Yunnan YinMore Flower Industry Company, China, will speak about his success in collaborating with breeders outside of China. Mr. Fabian Saenz, Vice President of Costa Farms China Far East (AIPH International Grower of the Year 2016), will present a case study on successful cooperation with China in the pursuit of expanding global markets.
The third AIPH International Vision Project report, covering the ornamentals market in China, will be launched at the 71st AIPH Annual Congress. Three separate panel sessions will feature Summit speakers with the addition of Tewodros Zewdie, Executive Director of Ethiopian Horticulture Producers Exporters Association (EHPEA), and John Khalil, Executive Director of Lynch Group, Australia, on Thursday 12th and Jiang Shengde, President of Zhejiang Hongyue Flower Company, on Friday 13th September.
The World Ornamental Horticulture Summit will form part of the 71st AIPH Annual Congress to be held in Beijing from 9 – 14th September. Full event details are published on the AIPH website: http://aiph.org/aiph-events/71st-annual-congress-beijing/. Registration for the 71st AIPH Annual Congress and World Ornamental Horticulture Summit is available online via the AIPH website and at: http://event.31huiyi.com/1675562720. PLEASE NOTE: participants must register by 31st July to secure a place.
The Summit is organised by AIPH in partnership with: AIPH member, the China Flower Association; China Council for Promotion of International Trade (CCPIT); the National Forestry and Grassland Administration, China (NFGA); the People's Government of Beijing Municipality; the Bureau of Beijing International Horticultural Exhibition Coordination; the People's Government of Yanqing District, Beijing; and the Beijing Flower Association. The Summit is supported by the National Afforestation Commission, China and the Ministry of Foreign Affairs, China and sponsored by Pera Event.