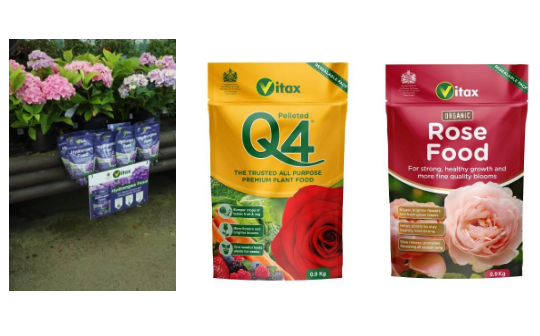 Vitax will be showcasing more than just new products at the Unichem Trade Show following further investment in its point of sale materials and marketing support for customers.
Designed to help gardeners choose the right product and ensure garden centres promote the right product for the right gardening problem, Vitax will be providing customers with a range of promotional materials from 2018 varying from sales buddies and branded boxes through to signage and product guides.
This is the first time Vitax has provided both indoor and outdoor promotional material to customers but follows many years of developing new packaging and products in conjunction with customer feedback.
Gardeners are demanding more from their products not just in terms of specialist feeds and fertilisers, but also guidance on how to use them to get the best out of their crops and flowers.
To help educate and support both experienced and young gardeners, during 2018 Vitax will be rolling out a range of helpful 'How to' guides and additional product information.
We will also continue to invest in the www.gardenworld.co.uk website which contains all the information a gardener needs to make an informed product selection.
In addition to the new point of sale material, Vitax has also weather-proofed some of its leading brands.
Q4 Pelleted Fertiliser, Clematis Feed, Organic Rose Food and Azalea & Rhododendron Feed have all undergone a packaging transformation with the addition of 900g pouches.
Developed to aid garden centres to promote products next to plants and shrubs, the new
waterproof pouches will enable centres to use them outdoors next to its plant displays.