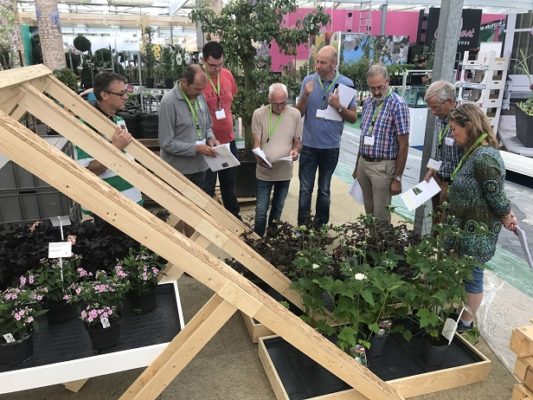 Garden Trials and Trade is the main event where the latest plant varieties in the area of woody plants and perennials are exhibited. This will take place for the first time in the Plantarium building at the International Trade Centre Boskoop-Hazerswoude on 12, 13 and 14 June 2018. Garden Trials and Trade is an initiative of the Nursery Trade Fair Foundation (organiser of Plantarium) and the Greenport Business Center.
During this three-day event, breeders and specialised licensing bureaus will exhibit the latest innovations in the assortment of woody plants and perennials. This offers every international branch professional the unique opportunity to admire these novelties in full bloom in the middle of the garden season.
Visitors get a glimpse behind the scenes of international breeding and innovation in assortments. Because the producers of these new plants are also present, supply chain partners are able to put together their garden plant programme for the coming season on the spot. This makes Garden Trials and Trade an inspiring commercial event in a period when plants are at their most beautiful.
Independent showcase
As an independent partner, the Royal Society for Boskoop Cultures (KVBC) will organise the judging of the new genetics. This will automatically give this new event an independent quality boost.
Strong cooperation
Garden Trials and Trade is an initiative of the Greenport Business Center (GBC) and the Nursery Trade Fair Foundation (SVB). Both organisations simultaneously noticed the need for a nursery event that focuses on innovation as well as commerce. They got in contact with one another and this resulted in cooperation. As the organiser of Plantarium, the SVB has ample experience in the successful organisation of trade fairs. The GBC aims to develop and promote commercial initiatives that contribute to the innovative strength of the sector. "A good combination to firmly establish this new event. New energy and familiar forces unite. It is for this reason that the widely known trade fair name 'by Plantarium' has been added to the logo" says Jos van Lint, who is responsible for the daily organisation.
Preparation
Over the coming period, the organisation will begin by informing potential participants and making preparations for this event. Further information about the event or about participation can soon be found at www.gardentrials.nl or via Proba bv, tel. +31 (0) 172 235400.