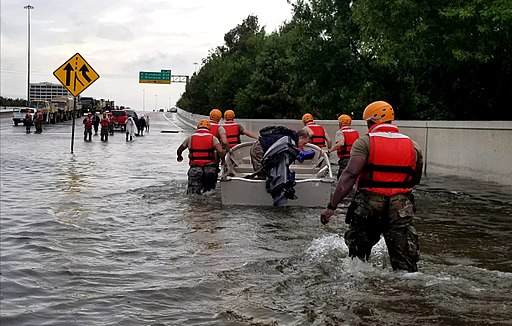 Zach Corish, New York office, Bord Bia – The Irish Food Board
Hurricane Harvey hit the state of the Texas at the end of August and the result was devastating. There were winds of up to 130mph with the highest flooding up to almost 7ft which has led to the hurricane receiving a category 4 rating. The main areas affected were Houston and Beaumont and especially in the metropolitan areas. A total of approximately 30,000 people had to abandon their homes. Yet with all the disaster and damage there was still some good to come from the hurricane.
The food and beverage industry banded together to help the communities that were badly affected by the hurricane. The likes of Walmart, Weis market, Kellogg's, Pepsi Co, Starbucks, AB InBev and Amazon donated numerous amounts of money to the Red Cross as well as donating numerous amounts of readymade meals, fresh water, ready to drink protein and a number of snacks. A number of supermarkets around the US held collections and day events to donate to the people of Texas as well as a number of producers opening cook sites to help feed people.
The company who probably shone the most out of everyone was the Texas-based retailer HEB. When all of the emergency relief organisations arrived on the scene like the Red Cross and Salvation Army, HEB was well prepared to help the affected communities. HEB had a number of mobile kitchens, water tankers, a disaster relief unit as well as food donations and kits which is unheard of for a retailer. It may not have been HEB's role but they took great pride in helping those in need in a number of affected communities. When the city of Beaumont couldn't get water HEB were the only people able to supply water in tankers. The company had most of its stores up and running as soon as possible in order to get food and beverages to the people of Texas. Volunteers from their workforce wanted to help the people in their communities while only asking for a pin to show that they had been involved in helping the communities.
The question you may ask yourself is why HEB had these emergencies units and plans in place or why they were so quick to help a large number of affected communities or why so many companies outside of Texas raised money to help? Having a strong brand image like HEB or Walmart is key to a company's success. Giving back and helping local areas not only shows a brand in good light but encourages a consumer to interact and purchase from a brand as they show they have good values. This can be seen as creating extra value to a consumer which is why there were lines of customers for HEB once the stores re opened in comparison to some of the other stores in Texas. HEB not only realised that they needed to get back up and running but they realised many communities in Texas relied on them which shows that they are a great retailer for the community. If Irish brands can plan to give back to local communities and create a brand that resonates well in these communities there is a very good chance of creating some very loyal customers. People now are value seekers and look for brands with real authenticity and origin. Irish companies are more than capable of creating this for the Irish population and undoubtedly in the Food, Beverage and Horticulture industries.
For more information please contact zach.corish@bordbia.ie